Across Canada, more childcare centres and schools are introducing new outdoor spaces with natural features designed to stimulate play-based discovery and exploration. As opposed to the typical metal or plastic play structures, natural playgrounds are designed to take advantage of landscaping and organic materials to encourage children to engage in creative, open-ended play.
Active for Life spoke with two non-profit early childhood education centres to learn about the changes they've both recently made to their outdoor play spaces, and how they're creating opportunities for children to explore, engage in active play, and develop a healthy relationship with the natural world.
Getting "back to basics" in Revelstoke
Linda Chell is the executive director of the Revelstoke Child Care Society in British Columbia, where its Stepping Stones Child Care Centre is encouraging risky play and physical literacy with last summer's opening of a new natural playground. Though the centre already had two traditional play areas, educators at the centre recognized the potential of a large unused field that was already accessible from two of the childcare rooms.
Natural play materials
During the initial consultation with staff, it was clear through their inspiration board and discussions that everyone was passionate about getting "back to basics" with natural play materials and creating a space that would complement the mountain community's landscape.
Local contractor Little Big Works worked with the centre to create a space that would inspire creativity and give opportunities for movement, experimentation, and lots of all-weather fun for the children, who range from infant to school age.
---
Related read: Why natural playgrounds are essential for young children
---
A key feature is a central compass with donated logs forming the cardinal directions, and a perimeter of logs dug into the ground at various heights to promote exploration. Hills for crawling and winter sliding are an essential part of the design, and large rocks allow children to climb from the top of one clover-covered hill to the other, while an embedded double slide makes for a quick trip back down. Another highlight is the huge sculptural maple tree that was salvaged from a nearby municipal park and "replanted" upside down in the nature playground.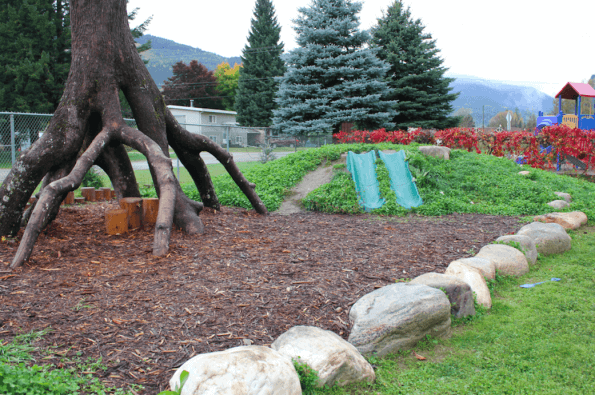 "Rob and Dave from Little Big Works saw it being removed from the city park beside us and asked about reusing it in the playground," said Chell. "It's become a real focal point and provides so many opportunities for open-ended play."
Multi-sensory experiences
Additional features include logs to roll and balance on while building core strength; a mud kitchen that engages children in hands-on, multi-sensory experiences as they touch, mix, and smell; child-directed water barrels; a wood tunnel; and natural picnic tables. Two covered areas also provide summer shade and shelter from the abundance of snow that the area receives in the winter.
Once the playground opened, the excited children—who'd been watching its progression—headed for different areas of the space.
"It was interesting and heartwarming to watch them disperse and explore the playground and natural materials," said Chell. "As they climbed and explored the upside-down tree, both the children and educators recognized that there was a learning curve using natural materials. There were some scraped knees and legs as the children developed their new knowledge of moving on tree bark versus plastic."
The early childhood educators have observed the children's curiosity with the natural materials and noted the kids building their self-confidence, playing more cooperatively and collaboratively, and developing physical literacy.
---
Related read: 18 ways to get kids to go outside
---
All-weather play environments
Contrary to traditional post-and-platform play structures that often can't be used year-round due to fall heights and frozen or unsafe surfacing, natural spaces are adaptable to all-weather use.
"Less-is-more" at discovery playground in Hamilton
Likewise, the new outdoor play area at the Kiwanis Boys and Girls Club in Hamilton, Ont., is not just a playground, but a rich multi-sensory play environment designed for discovery.
Janice Morgan, manager of the Early Years Services at the Boys and Girls Clubs of Hamilton described the club's creation of the new infant and toddler playground as a "less-is-more approach focused on the childrens' outdoor experience being as natural as possible."
Since it opened in December 2018, educators have witnessed improvements in the childrens' development and meaningful connections created with the outdoors, she said.
"We're making sure that we're bringing that concept of "risky play" and outdoor experiences back to life, and the children are a captive and curious audience. When they first stepped out and saw the new playground, their faces were absolutely unbelievable," said Morgan.
Imaginative, cooperative play
Foregoing the traditional riding toys and permanent staged spaces, the new environment, designed and constructed by Bienenstock Natural Playgrounds, promotes imaginative play opportunities and nurtures early childhood development.
A variety of ground covers, such as grass and wood chips, stimulates the senses, different heights and materials create progressive physical challenges, and the affectionately named "Mud Playground" engages collaboration, cooperation, and language skills.
Mud pits, logs, and climbing hills
Morgan recounted how the trench-like mud pit evolved over a number of years, and how the children are naturally drawn to it: "Having that type of engagement for the younger learners is fantastic; the educators watch how the kids interact, and then go with their lead. The children do their own version of planting, or someone will call out: "I found a worm!"
Embedded logs, shrubs for playing hide-and-seek, stumps, and small hills are inviting spaces for creative and physical play. Crawling up and around the hills and touching the grass builds confidence, and is great fun for even the youngest non-walkers.
An outdoor blackboard is an opportunity for drawing and designing, and the surrounding seats are a natural meeting place for group participation.
Calmer kids, happier educators
Morgan noted that the educators are also enjoying the new green space and its improved functionality. They report that children seem more calm, and that educators have increased their own interaction and engagement with the children.
---
Related read: Teachers: Take your kids outside (yes, during class time)
---
Tips for building natural play areas
Both Chell and Morgan offered advice to childcare centres or community groups wishing to develop similar play areas.
Chell suggested gathering ideas from the people who will be using the space, hiring a good contractor who you trust, and looking for "easy and cost-efficient options" such as donations from local businesses.
"Recruit parent volunteers, make a mud kitchen out of wood pallets, and stop buying plastic. Also, mud and water are free! Just be prepared for an adjustment period and make sure the kids have extra clothes," Chell said.
Morgan stressed the importance of keeping it simple and making sure to keep educators and parents updated on the planning and construction. Explaining the benefits of outdoor experiences and risky play and showing different resources and studies on lifelong health can also help alleviate any concerns, she said.
Healing the broken bond between our young and nature is in our self interest, not only because aesthetics or justice demands it, but also because our mental, physical, and spiritual health depends on it."

-Richard Louv, Last Child in the Woods
Playground photos (excluding main story photo) courtesy of Revelstoke Child Care Society.