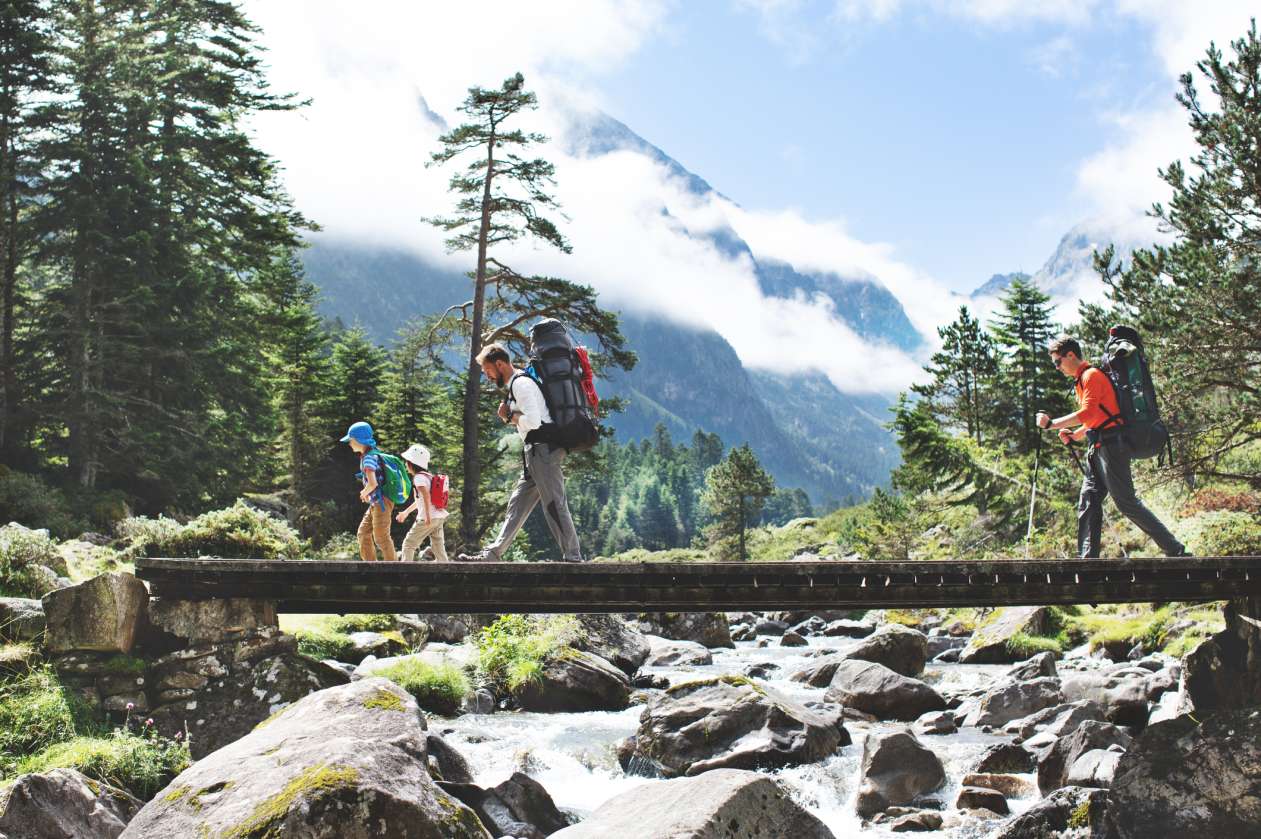 7 kid-friendly games to play on trail walks and nature hikes
Trail walking — one of our favourite activities — can be enjoyed in any season and by virtually all ages and abilities. Most young kids love the freedom of running down paths, climbing on fallen logs, examining animal tracks, and everything else our Canadian trails have to offer.
But, every now and then, little ones need fun distractions to keep them going and it's handy to have a few games or activities ready to avoid any potential meltdowns (and of course, bringing along snacks and water can buy you extra time on the trails as well).
Inspired by Active for Life role model Karen Ung's homemade hiking game that makes nature walks with kids easy breezy, we've listed a few ideas to keep everyone moving forward and having fun.
Homemade hiking games
1. Giddy up
Thanks to Karen for this idea: she and her kids make hiking more fun by riding "horsies" down the trails, making "gates," and using secret passwords to go through.
2. Follow the Leader
This simple game is an adaptation of an Active For Life activity. Encourage your child to "lead" you through the trail, over, around, and under obstacles, incorporating as many trees, shrubs, and rocks along the path as possible.
3. Nature scavenger hunt
Create a list of natural treasures and prepare each participant with a bucket and marker. Next step: Hunt! You can find a scavenger hunt template on our Pinterest page. For a fun twist on the scavenger theme try this nature ninja scavenger hunt where the hunt becomes focused on interacting with nature, rather than collecting it.
4. Geocaching
For a tech-savvy update on the nature scavenger hunt, try geocaching in a nearby outdoor space. You can find out if any "caches" are in your neighbourhood trails by visiting geocaching.com.
5. I Spy
Walk and talk your way down the trail by testing each other's eyesight in nature. If you want to prolong the game throw out "I spy something green" when it's your turn.
6. Hide-and-Go-Seek: Trail edition
As the "seeker" stays back, the "hiders" run a short distance ahead in search of a safe place out of sight. Be sure to predetermine acceptable boundaries (and don't forget to look up).
7. Pick up sticks
Something as simple as choosing the perfect hiking stick can give kids a sense of ownership over the trail. Bonus: leaving the sticks at the trailhead can teach little ones to pay it forward and continue the search on the next hike.
Keep these activities in your back pocket for when you sense a mid-hike meltdown coming on. If you have a trick of your own, we encourage you to share it with the AfL community. Happy trails!