Hockey tips from Olympic gold medalist (and mom) Mélodie Daoust
The first time Olympic hockey player Mélodie Daoust hit the ice at her local outdoor skating rink, her mother was there to hold her hand. The sweet moment was short lived, though, as the determined five-year-old quickly took off on her own, racing across the ice.
"I still like to go to outdoor rinks," Daoust says fondly. "They remind me why I started playing."
In February, Daoust will be traveling to Beijing for her third Olympic Games. We recently spoke to the decorated Canadian hockey champion (and mom-of-one!) to learn more about her Olympic journey and get expert tips for kids and parents who love the sport as much as she does.
Support from her #1 fans—her family
As a toddler, Daoust often sat in the stands with her mom while her older brother played hockey. Enthralled by the game, Daoust was eager to join a team of her own. After initially hitting the ice as a figure skater, the 29-year-old Quebec native started playing hockey at age five and has been on the ice ever since.
"My mom played the taxi role and was our biggest supporter," Daoust says, remembering a time when her mom drove her between two tournaments in the same weekend despite the lengthy drive in between locations. "It was awesome to have her as part of my journey. We created so many amazing moments together in the car, and I'd say that brought us closer."
Daoust also speaks very warmly about her brother, Samuel, who also played hockey at a high level and inspired her to try the sport in the first place. "He's had a big impact—probably more than he thinks."
Daoust's dad played another key role and has always been there to cheer her on, traveling all the way to Sochi, Russia, and then Pyeongchang, South Korea, to watch Team Canada compete in the Olympics.
When Daoust won gold and silver medals, respectively, her parents were there cheering her on in the stands.
"They've always had a passion for watching me play hockey and they don't want to miss anything, and I think they have as much fun doing that as I do playing," Daoust says. Her mother recently expressed gratitude that her hockey career has helped their family see the world—an excellent perk of wanting to cheer their daughter on in person. "It's really cool that they've had these life experiences," Daoust says. 
Inspiration and a drive to win
Athletic success is often about perseverance as well as skill, and Daoust is driven to win. Some of that drive is inspired by the memory of Daoust's cousin Christina, who died of cancer at age 18.
Daoust was 13 at the time and has subsequently strived to carry on the impact her cousin made. "The legacy she left behind after fighting for her life has touched me a lot, and it influenced me from a young age to be able to keep believing and pushing until it's over, over. Throughout my career I've been cut but it's a matter of perseverance and how to fight back. To this day, it's something that I carry on."
Chasing the Canadian Olympic dream
Going into her third Olympic Games, Daoust is feeling the pressure—but in a good way. "I would say anytime you go to the Olympics, if you feel no pressure, you probably aren't participating!" she says. "There's always the pressure you put on yourself and your team, but that's because you care and want to do well. But I take that pressure as a positive mindset."
In 2014, Daoust won gold with Team Canada and in Pyeongchang, they brought home silver. As for 2022? They're ready to take back that top spot. "I think redemption is something we're after. We want to come home with the gold medal."
Mélodie Daoust's tips for hockey families:
Before she was an Olympic gold medalist, Daoust was just a kid who loved hockey. Here's what she's learned from her parents, her career, and her hockey journey.
Keep the pressure low. Don't be "that parent" at the rink, Daoust advises. "That's something my parents did with me that I really appreciate, and that's probably one of the reasons I love hockey so much," she says, noting that she chose to pursue the sport versus being pushed into it. She encourages parents to be supporters and avoid taking things too seriously. "Try to let your kid make most decisions, and let them have fun."

Manage your expectations. Very few kids become professional hockey players—and that's totally okay! Remember, this is about letting your child play sports with their friends—not about turning them into the next big thing. "Most of the kids will just play for fun and won't make it to the NHL, so don't try to live your dream through your kid. Always offer support and help them have fun. Never push them to get better." Keeping these three fundamentals in mind can help you to be a supportive and positive parent inside and outside the rink.

Practice your drills. If kids want to improve their game play or stamina, they should practice their drills. It also helps to spend time playing other sports, like soccer or tennis. "When you're younger, you want to be a good athlete in any sport, and [athleticism] will translate later on in your own sport."

Take time to relax and reflect. "I love golfing, I love snowboarding, but I try to stay away from it because I have bad knees. I love tennis and outside of sports, I love boating. I live on the water. We train in the gym and then I try to go boating. It's a place where I can reflect. And obviously, I love spending as much time as possible with my son!"

Don't obsess about hockey off the ice. "After games, my parents would give me one positive comment about my game and mention one thing I could improve, and then we would stop talking about the game and go on with life."

Focus on having fun. "Try to find time to play just to have fun, especially when you're young. I still remember going outside at the outdoor rink and I could do anything I wanted and no one was watching. I had so much fun and that stays with me to this day."
Putting it into practice
Here's a great way to try different types of movements and activities. Check out our printable activity dice [PDF]! Simply print, cut, fold, and glue or tape into a cube—then roll for an active challenge.
Or, for a challenge you can keep track of, check out this printable activity tracker [PDF] that encourages you to try new things, keep track of your progress, build momentum and develop confidence and self-esteem while you're moving.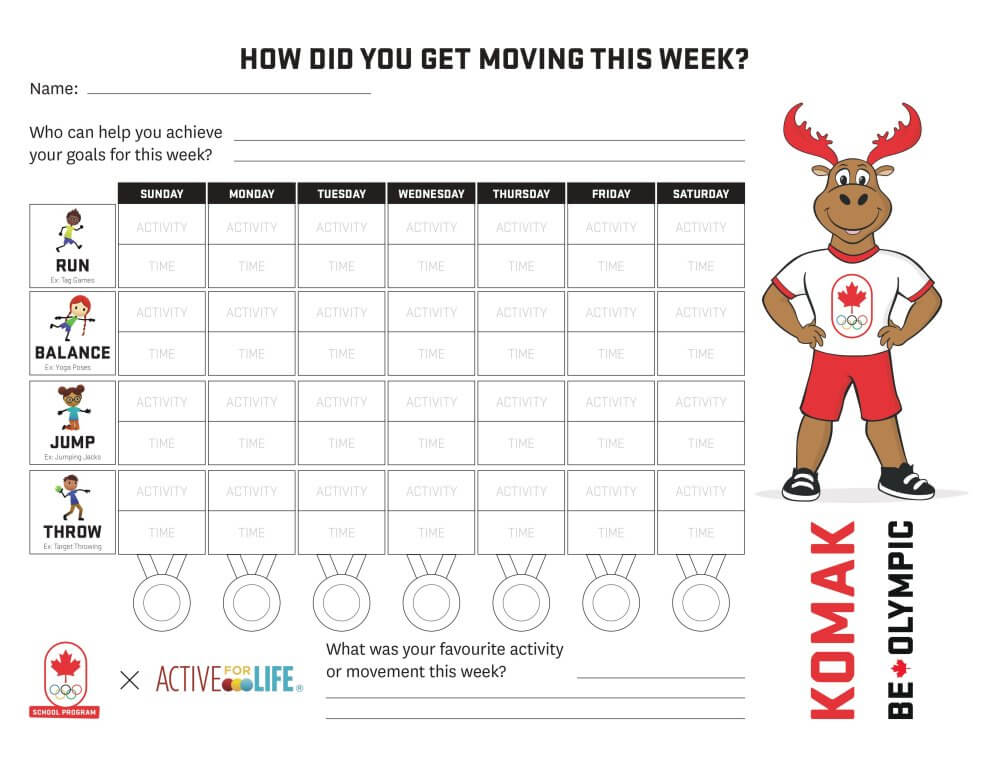 Photo: Vincent Ethier, Canadian Olympic Committee
---
Check out more hockey tips for kids and parents: