Five-foot-two Carol Huynh's first true sporting love was basketball. As a tiny (but fierce and fast!) basketball player, she had no idea how her life would change when her rebellious older sister decided to join the traditionally male sport of freestyle wrestling.
"My sister inspired me to give wrestling a try," says Huynh. "I saw how she grew in her confidence. She's small—smaller than me!—but she always had a strong personality. Once she joined wrestling, she was suddenly strong physically too. I was in awe of her!"
Sport leads to friendship
Female competitors were still relatively new to the wrestling room, but Huynh never felt excluded.
"A whole bunch of my girlfriends joined at the same time, when we were in grade 10. All those girls coming with me was a game changer. Their camaraderie made it really easy to get into wrestling and start to love it."
Belonging is an underlying theme of Carol Huynh's whole career: "Being around powerful, strong women who were my teammates and friends … and then also having great men who supported the programming around women's wrestling … they all made me feel like women wrestling was normal, not like 'this is weird' or 'girls aren't welcome here.' Not ever."
Huynh's father did initially present a bigger hurdle.
"My dad was a very traditional Chinese man. He did not approve of us girls wrestling. He wanted us to focus on our studies. My sister, though, chose to exert more power over her life. She softened up our dad, through wrestling. In the end, my father saw that his decision to come to Canada to make a better life for his children was manifested in the unforeseen opportunities available to us. My journey to the Olympic Games was proof of that."
Teammates = friends for life
Success in high school wrestling came quickly to Huynh, and she soon realized that, with her body type, she could go farther in wrestling than basketball. She took a scholarship to join the Simon Fraser University wrestling squad.
The transition to Vancouver was intimidating, but the wrestling team and the forever friends she made there allowed her to cope with the potentially overwhelming changes.
"My SFU wrestling teammates did a lot of bonding events. We were on the road together all the time, mostly in the U.S., to compete and train. Those experiences forged a deep friendship: traveling in a van, bringing all our homework, making weight, staying in strange places. Challenges bring people together. The women I wrestled with in university—we're friends for life."
Alongside the growing friendships, opportunities also blossomed for Huynh. She learned that her teammates had earned spots on the national team and traveled the world for wrestling. "That was huge! I hadn't even imagined experiencing that through my sport."
Less than a year after discovering World Championships, Huynh landed a spot on the national team and flew to Romania to compete in the Junior World Championships.
"It was crazy. Romania! My first year! Eighteen years old. From little Hazelton [in northern B.C.]. Quite the experience! Who goes to Romania for holidays with a whole team of friends? There were so many experiences that I had only because of wrestling," Huynh said.
The Olympic door opens for women wrestlers
In 2000, Huynh gathered with her teammates at an SFU pub to watch teammate Daniel Igali fight for—and win—the Olympic gold. "It was so exciting. I couldn't help thinking, That'd be so cool to have that experience. But women's wrestling wasn't in the Olympics. Then they added it for 2004. I thought: I've been on the national team for how many years now? I'm going!"
However, an obstacle appeared on the road to Huynh's Olympic dream. The IOC included only four of seven women's weight classes.
"My teammate Lyndsay dropped down to 'my' weight class. Being in that SFU training room was so hard. Those first two years, I got my butt kicked every day, by everyone. Lyndsay included," Huynh says.
"After I found out Lyndsay would be in my weight class, I hoped I would still win, but I didn't believe it, and I didn't know how to get to a place where I could be a contender. She kicked my butt."
Rivals become friends and teachers
"Losing to Lyndsay for 2004 showed me how much I wanted to be on the Olympic team, how much I wanted to represent Canada," says Huynh.
Huynh figured out what she had to do. "It can be hard to confront the mirror and really look at your weakness and your gaps." After some serious introspection, she decided to find a new training room.
Huynh's strength had always been her speed, but she struggled with the stronger girls who focused more on close-up wrestling. She chose the program with the strongest girls, the athletes most technically proficient at inside wrestling. The two best were at University of Calgary.
"Okay," she decided. "I need to go to Calgary. I need to figure this out."
In Calgary, history repeated itself. Huynh's regular (and fiercest) training partner made the decision to move down a weight class and challenge her for the 2008 Olympic team. Again, her teammate and friend became her number one rival for that single Olympic spot.
This time Huynh focused on mental preparation. "I decided I'd surprise her right away at a meet by going up a weight class and competing against her. I beat her. I was mentally on. I thought: I'm going to show you what's in store for you if you come down to my weight class."
Huynh channelled that same mental toughness in the final matches at the Olympic trials. "I competed better than I ever did in my whole career."
Huynh won the trials and went on to do what she watched teammate Daniel Igali do eight years earlier—earn an Olympic gold medal with the whole country cheering her on.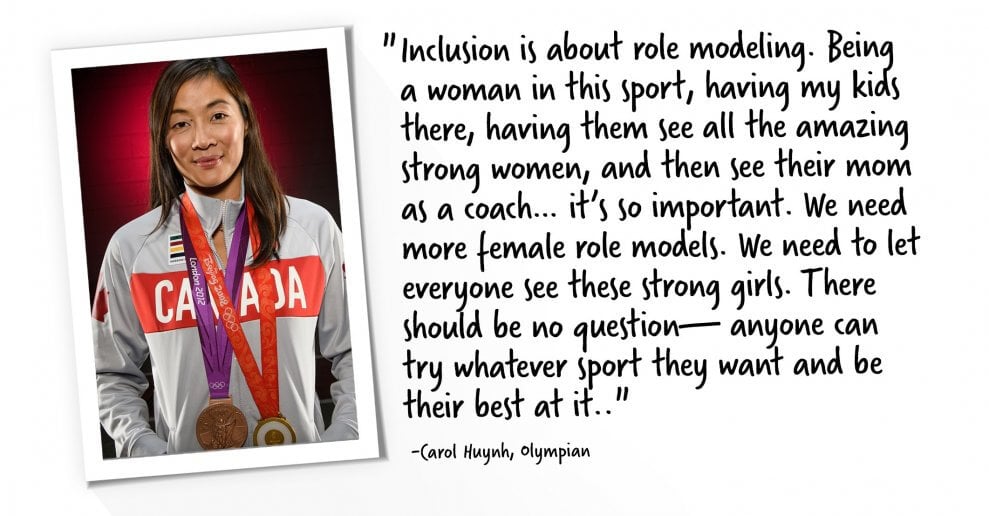 The power of inclusion
Today, Huynh is a wrestling coach and a mother. She remembers running a "girl power" wrestling camp and bringing her five-year-old daughter.
"My little girl wanted to join in with the older athletes. All the female wrestlers included her, letting her be on a team for the relays and participate in the technique sessions."
Olympian Danielle Lapage even pulled the five-year-old up in front of the wrestlers to help demonstrate moves.
"It was so cute," Huynh recalls. "I saw my daughter's confidence grow at the excitement of being included with these amazing women. Her inner strength reminded me of my sister, of the confidence wrestling gave her."
That growing inner strength stands as a testament to the power of sport, the power of women's wrestling, the power of inclusion.
Four tips for sports parents from Olympic gold medalist Carol Huynh:
1. Emphasize your children's friendships with their teammates as the primary objective of their time in sport.
"Why are people in sport? Because it's fun. It's a social thing. You have a group of people you're with all the time. You have common interests, goals, and values. My high school teammates and I traveled the province. Traveled out of Hazelton! That was exciting and awesome. My university teammates and I traveled the world."
"Wrestling at university was great because I had a built-in friend network. I found it difficult to go to social events and try to meet people. Because of wrestling, I was surrounded by amazing, strong women. Those instant friends definitely helped me as the meek little kid new to Vancouver."
2. Make sure your children know their performance results don't define them or influence your feelings toward them.
A week before the 2008 Olympic trials, Huynh lost in a practice match against her most serious rival for that Team Canada spot. Being new to Calgary, she understood most people on the Calgary team would support her rival. How did she respond? She found the people who supported her, drawing on her old Vancouver teammates and her now-husband Dan Biggs.
"After that loss at practice, I had a panic attack. I faced down my fears, in a super important moment. I told myself: it's okay to be scared, but you prepared yourself. The people who really love you don't care if you win or lose. They love and care about you no matter what. To go into something as big as trying to qualify for the Olympics, I needed to know: you're not defined by this performance. You're defined by the values you live by."
By being okay with losing—and by knowing those closest to her would be okay with her losing—Huynh freed herself to win.
3. Remind your children that rivals should not be enemies; in fact, rivals can be friends, and ultimately competitors make each other better athletes.
In 2004 and 2008, Huynh's main rivals in qualifying for the Olympic Games were friends and teammates. They remain friends today.
"Opponents make each other better. If I figure out something about my competitor and I make an adjustment, and then that competitor responds and makes an adjustment to overcome my change, each time, we just get better and better. We're fighting each other, yes, but we're also helping each other. We're always improving by pushing against one another."
Respecting that shared effort and mutual growth will help competitors stay friends.
4. Seek out role models that enhance your children's sense of belonging.
"Inclusion is about role modeling. Being a woman in this sport, having my kids there, having them see all the amazing strong women, and then see their mom as a coach … it's so important. My children know that they can do whatever they want. We need more female role models. We need to show women's sports on TV. We need to let everyone see these strong girls. That representation will say to young athletes: This is normal; you can do this. There should be no question—anyone can try whatever sport they want and be their best at it."
Huynh never once questioned whether she had a right to be included in the wrestling room—because of the strong women role models who led the way.
---
Further reading:
How failure builds resilience: Insights from Olympian Neville Wright
The power of self-discovery: Tips for parents from Olympian Martha McCabe