For Olympic breaststroker Martha McCabe, keeping a journal hasn't just been an enjoyable pastime: it's been key to her success in life. Yet she didn't fully realize the powerful impact of self-reflection on athletic performance until after her first heartbreaking failure.
From the time she was a young child, McCabe loved to swim. But it wasn't until she was in university that she got truly serious about the sport. Intent on qualifying for the 2008 Olympics, McCabe changed her life completely, committing to 10 swim workouts per week as well as five dry-land practices. She also began focusing on nutrition and attending regular physiotherapy sessions.
Meet Martha McCabe
Martha McCabe is a two-time Canadian Olympian, competing in the 200 breaststroke in 2012 (London) and 2016 (Rio).
"I taped the Olympic rings above my bed so they were the first thing I saw every morning when I woke up and every evening before I fell asleep," says McCabe.
"I focused completely on that Olympic outcome. The rings made each small decision easy: working hard every practice, missing out on social events, ensuring good nutrition, going to bed early."
When McCabe didn't make the 2008 Olympic team, it shook her to the core.
"I was devastated. I found myself in a dark time, ready to give up. At 19 years old, I thought if I didn't do it here, I'm obviously not good enough. I might as well quit. Not making that Olympic team was the first and biggest failure of my life."
Yet McCabe now sees that 2008 disappointment as a crucial stage in her development. She picked herself up, dusted herself off, and got back in the pool with a new commitment to self-discovery.
"Journaling became crucial after 2008," she says. "What are my small goals every day? Write that down. How did I feel today? How's my mood? Journaling allowed me to make time to think about myself."
Through writing, McCabe switched from obsessing about the far-off lofty goal to committing to—and enjoying—the daily steps along the way. She no longer went to the pool every day thinking about the Olympic Games.
"Instead I set more focused goals: today I'll work on my kick."
Through her journal, McCabe also realized the need for balance.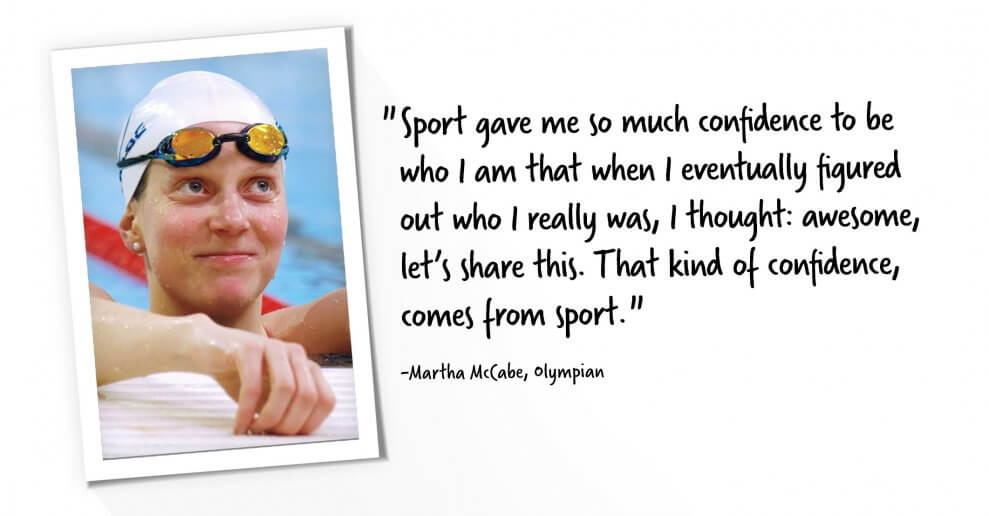 She remembered that as a child, she didn't hurry to commit to one sport. Swimming is notorious for its demanding schedule, with many children doing 10 workouts in the pool per week, yet McCabe stuck to five weekly swim sessions until she began training for the 2008 Olympics.
"My parents made sure I had balance," she says. "Looking back, I appreciate that they limited how much time I committed to a single organized sport. I ran. I played basketball. I played hockey. My mom and dad encouraged me to have fun and take time to play outside."
To rediscover a life outside of swimming, McCabe decided to find roommates who were non-swimmers. Living with people who were uninterested in talking about swimming offered McCabe the perfect escape.
By ensuring not everything in her life pointed to the one goal, McCabe found more enjoyment in her practice. "I was going to the pool because I love swimming, every day, not because I must make the Olympic team."
The new emphasis on self-reflection and balance worked wonders.
McCabe ended up competing for Canada in two Olympics. She made the finals in 2012 and swam a best time in the 200-metre breaststroke to place fifth. In 2016, she had the honour of serving as team captain.
Today, McCabe applies the lessons of sport to her own business, an organization called Head to Head, which runs mentorship programs where Olympians and national team athletes share their strategies for resilience and mental well-being.
"Failure is inevitable," McCabe insists. "Head to Head provides tools to bounce back."
Olympians are in a good position to teach these lessons of overcoming obstacles—not because of their successes but because of the inevitable setbacks they have had to overcome along the way.
"Just because someone is fast doesn't mean they can be a great mentor," McCabe says. "The ones who are good at mentoring the next generation or working with the corporate world are the athletes who know why they're good—the ones who have taken time for self-reflection."
McCabe has also become an inspiring role model for the LGBQ2 community. After her athletic career, she came out as a lesbian, emphasizing the importance of young swimmers having LGBQ2 representation in their own sport.
"Sport gave me so much confidence to be who I am that when I eventually figured out who I really was, I thought: awesome, let's share this. That kind of confidence," she says with a winning smile, "comes from sport."
Four tips for sports parents from Olympian Martha McCabe
1. Celebrate little successes along the way.
"When a kid achieves that big goal—awesome, celebrate." But McCabe emphasizes that parents should also keep track of steps between the major competitions and make sure to ask questions every day. "How is practice going? It went well? Awesome! Congratulations! Let's celebrate that." The big successes might not happen, so don't forget to celebrate all the little wins every day.
2. Rather than telling young athletes what to do, ask them questions.
"The more parents and coaches can ask questions, the better." Are you still having fun in this sport? How did you feel last week when you stayed up late versus this week when you went to bed earlier? "That way a child athlete might stumble across the result on their own. Self-discovery is so much more powerful than being told what to do."
3. Encourage self-reflection.
"Have you thought about how school is this week? How did you feel? Did you want to write any of that down?" By keeping a written record, children can begin to recognize patterns in their behaviour, mood, and performance. They will see that maybe last week was bad, but this week was better, and then ask themselves: "What changed, and how can I use that?"
4. Ensure children participate in a variety of sports.
McCabe loves sports, and she attributes this joy to her parents' insistence that she not commit solely to swimming too young. "I am a big believer in multi-sport beginnings," she says.
"I would encourage parents to help their children learn an array of sports. You want children to keep a love of swimming, and you want that love to go for a long time. Swimmers stare at a black line on the bottom of the pool. It can get old. Let kids do different activities, even if they just try some sports for a season." The more sports children try, the more lessons and skills they will accumulate to apply in whatever ultimate goals they eventually choose to pursue.
---
Further reading:
Insights on failure and resilience from Olympian Neville Wright
Wrestling the sisterhood: Olympic gold medalist Carol Huynh on inclusion and camaraderie