A printable recipe for an active day (at home)
During COVID-19 isolation and confinement, it can be challenging for families to get enough hours of physical activity each day. However, it's just as essential as ever for everyone's physical, mental, and emotional well-being.
Active for Life has an easy solution that you can stick on your fridge or pin to your family bulletin board: the Recipe for an Active Day [PDF].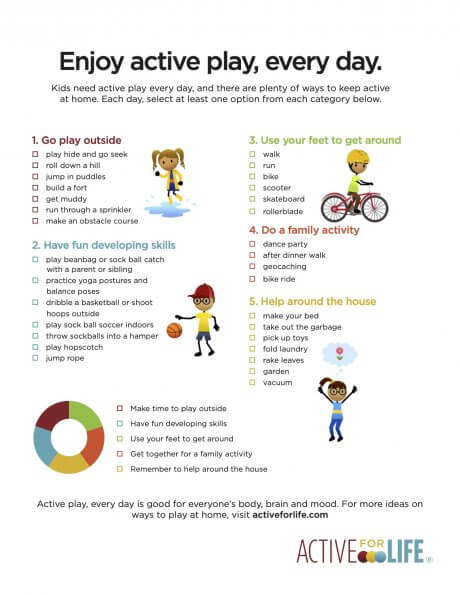 If you or your kids are trying to figure out ways to be active each day, simply turn to the recipe for some quick, simple ideas that require little or no equipment.
Just like eating every colour in the rainbow is nutritious, mixing up the way we move our bodies is also healthy for us. The recipe has plenty of suggestions. Playing hopscotch, weeding the garden, going on bike rides, and climbing trees are all healthy ways to move. And these are just a few of the ideas.
Start by printing out the Recipe for an Active Day, then share it with your kids. Get them thinking about moving their bodies each day to ensure that they stay happy and healthy through this challenging time.