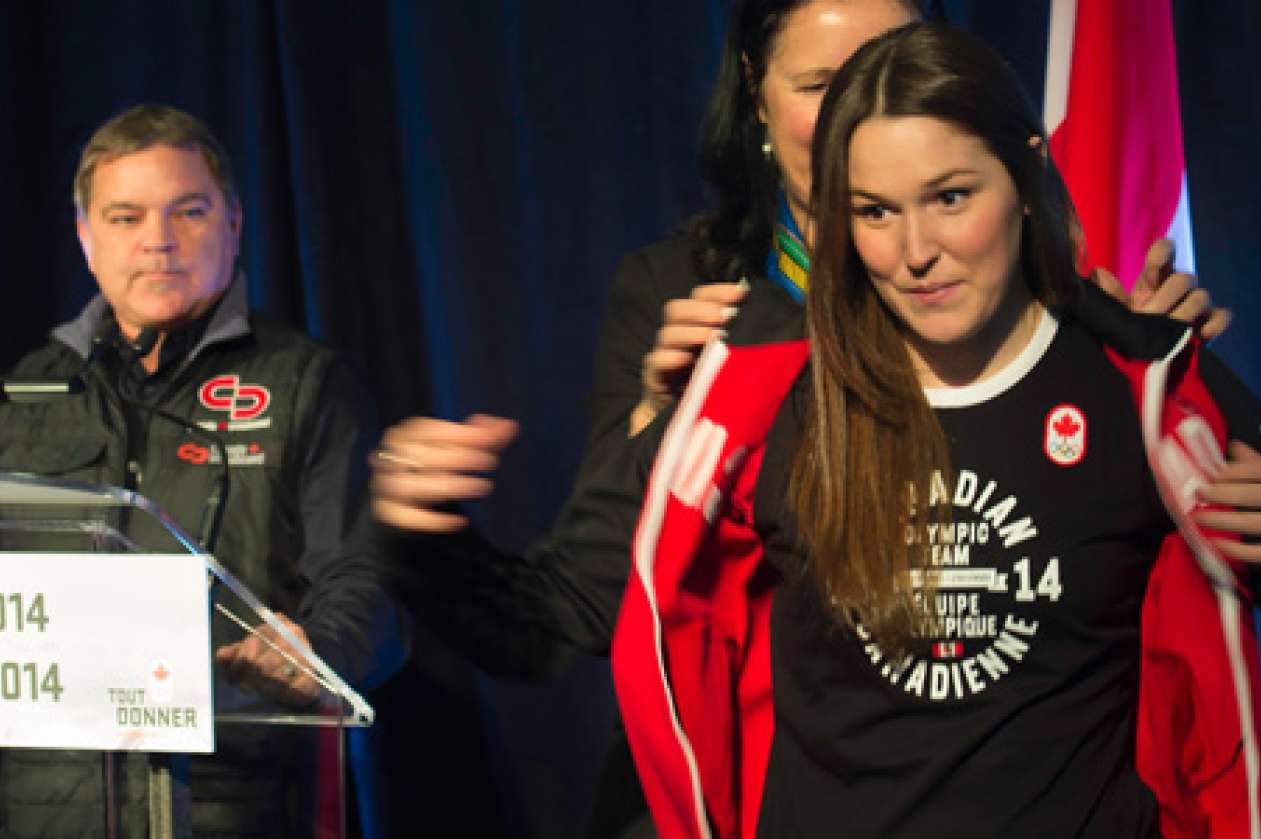 Dance training helped Canadian snowboarder Spencer O'Brien learn 'body awareness'
Canadian snowboarder Spencer O'Brien says she has her dad to thank for her career. A commercial salmon fisherman on Canada's West Coast, he signed her up for lessons when she was 11-years-old, and then he took it up, too.
"None of my friends snowboarded when I was growing up, so I spent a lot of time with my dad. We would learn tricks together, and teach each other how to hit jumps and stuff," she says.
"He loves it. He's 60, but he still hits all the jumps."
And, well, so does O'Brien. One of the snowboarders on Team Canada, she's heading to Sochi, Russia, to take part in the 2014 Winter Olympics, Feb. 6 to 23.
She will compete as a snowboarder in slopestyle, a new Olympic event where the goal is to perform the most tricks, and the most difficult tricks, all the while getting the most height off jumps. (Both skiers and snowboarders will compete in different slopestyle categories.)
The 2014 games will be O'Brien's first Olympics, but the 25-year-old is no stranger to medals. Considered by many critics to be one of the world's greatest snowboarders, she was the 2012 World Snowboard Slopestyle champion, 2013 Burton US Open Slopestyle winner, and the recent winner of the FIS World Snowboard championships, too.
Born in Alert Bay, B.C., a village on Cormorant Island, O'Brien says she has wonderful memories of being allowed to run around wherever she wanted.
"My sisters and I had free reign of the island. We played in the forest and on the beach," she says. "It's really beautiful. I still have a ton of family there, so we go back to visit all the time."
She and her family moved to Courtenay, B.C. when she was 4-years-old. There, she started to participate in organized sports. "I got into T-ball, gymnastics, figure skating," she says. "As I got older, I loved softball, volleyball, snowboarding — obviously — and dance. I tried everything I could."
She studied ballet, tap, jazz, and hip-hop dancing, and she says that she is still influenced by what she learned during those years of dance.
"Dance is so much about body control and muscle control," she says. "It gives you a great body awareness that I still use today."
Indeed, she's picked up plenty from sports, she says, not just body awareness.
"Sport has taught me so much about myself, so many life lessons, everything from how to be on a team and work with other people, to leadership skills," she says.
"Now, being in an individual sport, I'm learning how to hold all this pressure onto my self, too. I've learned discipline. That's a big one, for sure. Perseverance, focus, determination."
Years of it, in fact. O'Brien took up snowboarding after her two sisters began to learn. "My dad gave my older sisters the choice of getting race skis and joining a race team, or learning to snowboard," she recalls. "They chose snowboard, so when I got old enough, I did, too. I wanted to be just like my sisters."
By the time she was 14, she had landed her first sponsor, but she says she didn't realize snowboarding was becoming a career until a year or two later.
A decade from now, O'Brien says she hopes she has a family and, perhaps, a job that involves women and sport.
But for now, she says, she's still having a very, very good time.
"I love what I do. I feel really lucky that I get to have fun for a living."
Image © THE CANADIAN PRESS IMAGES / Paul Wright