Editor's note: This post was updated on June 20, 2022
Welcome to the first week of DIY Summer Day Camp! For 8 weeks, we'll provide you with activities, crafts, and book recommendations for you and your kids. Here you'll find a variety of games and activity ideas, using little to no equipment and materials, that will keep your children active, engaged, and having fun!

Welcome to Week 1: Animal Planet
This week we'll be sharing lots of wild animal games and activities for your child to play on their own and with a caregiver. With these arts and crafts projects, book suggestions, and a few bonus activities too, your child will be as busy as a bee!
You decide how you want to use these activities: pick one thing to do each day of the week, plan a full day of fun, or just scan through for inspiration and do what sounds fun to you.
Here's what we've got for this week:
Independent play
When children play on their own, they're learning how to be creative, use their imagination, and become more self-reliant.
Activity: Animal Safari
What you'll need:
Small animal figurines, stuffed animals, or animal cut-outs
Basket, bag, or container
How to play:
While your child is sleeping, hide all the animal figurines/animal cut-outs around a room, your house, or in your yard
Give your child a basket/container big enough to hold all the animals
Have them find and collect all the hidden animals and collect them in the basket
Modifications:
Add more ways to move:
When your child finds an animal, have them make the actions/sounds of that animal before putting the animal in their basket or container
After finding an animal, have your child move like that animal as they move/search for the next animal
How to make it easier:
Limit the number of animals you hide in the room, your house, outside, etc.
Make it a sensory activity by burying animals in a sand table, container of dirt, or in a bucket
How to increase the challenge:
Set a time limit to find them all
Hide animals in more challenging spaces like inside a shoe, under furniture, etc. (Just remember to choose locations that are safely accessible)
Take a walk and hide animals at your local playground, park, or natural space
Have your child collect all the animals that go together (i.e. all the animals that live in the jungle) (…or maybe a mix of lots of different ones!) and get them to create a fun scene using cardboard or paper as a backdrop or have them develop a wild animal story
Keep the fun going:
When your child has found all the animals, see if they want to hide them again for you or a sibling to find!
Arts & crafts
Giving children an opportunity to be creative, whether through art, music, or movement, helps them grow physically, socially, cognitively, and emotionally.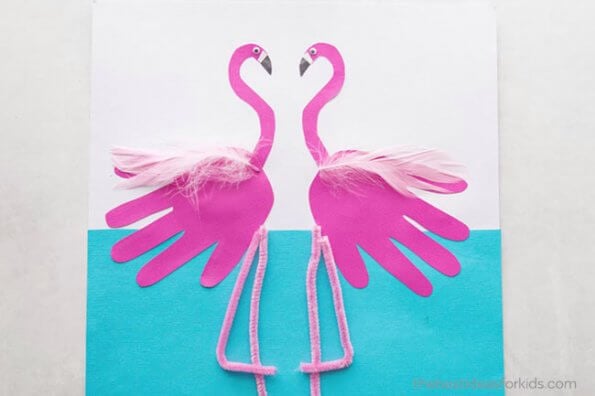 Materials:
Construction paper/coloured paper
Markers
Scissors
Glue/tape
Googly eyes (optional)
Feathers (optional)
Instructions:
Have your child choose an animal to create (i.e. flamingo, fox, bird, etc.)
Support your child or have them trace their hand on a piece of coloured paper
Glue/tape the handprint on to a larger white piece of paper
Add any additional details like eyes, mouth, feathers, a background, etc.
There are lots of great animal handprint ideas—or make up your own!
Modifications:
How to make it easier:
Use paint to stamp your child's handprint or trace your child's hand on a piece of paper
Do animal handprints outside with sidewalk chalk
Choose fun materials that are easier to handle, like extra-large googly eyes or bigger pieces of paper
How to increase the challenge:
Get a larger piece of paper and have your child make an animal handprint scene with a background and loads of different animals (i.e. an African savanna with handprint giraffes and elephants—like the ones found here)
Let your child create their very own animal using their handprints
Craft: Animal Jumble
Materials:
Paper
Pencil/pen
Tape/glue
Markers (optional)
Instructions:
Have each person pick an animal they want to draw (but they must their animal a secret!)
On paper, have each person draw a part of the animal they have chosen (i.e. one person draws the head, another person draws the feet, etc.)
When everyone is done, have your child put together all the animal drawings together with tape/glue
Have fun coming up with a name for the animal (monk-dog-lion-potamus) and colour it
Modifications:
How to make it easier:
Pre-draw animal parts and have your child put the animal parts together in lots of fun ways
Use cardstock or foam sheets to draw out animal parts for a more sturdy craft that children can use over and over again
How to increase the challenge:
Turn Animal Jumble into a craft you can do anywhere!
On a blank piece of paper, have one person begin by drawing the legs of any animal they want before folding the paper to cover their drawing/the legs (make sure to keep the legs a secret)
The next person then draws the bottom of the torso of any animal they want right above the fold/where the legs end before passing it to the next person who then draws the upper torso/arms
The passing of the paper continues until the drawing is complete with all the parts of the animal (legs, lower torso, upper torso/arms, and head)
Once the animal jumble is complete, unfold the paper and see the amazing creature that you've created
Make sure to give it a fun name!
Active family fun
This is a great way to jump in on the action and connect with your child through play! Being active with your child has lots of benefits, from reducing stress to feeling more connected.
Game/Activity: Lizard Tail Tag
Equipment:
How to play:
Choose a space where all players can easily move/run around (i.e. backyard, green space, open living room)
Have each player take a long sock/scarf (lizard's tail) and tuck it into the back of their pants, back pocket, wheelchair back, etc.
Have players move around the space trying to grab each other's lizard tails while also trying to protect their own
Once a player's lizard tail is taken, they must freeze and then choose to do a dance, five jumping jacks, walk like a crab, etc., before tucking their tail back in and rejoining the game.
How to make it easier:
Use longer socks/scarves
Have multiple tails (i.e. three socks/scarves) to increase the number of times their tail can be pulled before freezing
Play in pairs only (such as one child and one parent)
How to increase the challenge:
Use shorter socks/scarves
Choose a different movement (i.e. skipping, hopping, bear crawls) to move around the play space instead of running
Make the movement after the tail has been grabbed more challenging (i.e. five push-ups, crabwalks along the length of the play space)
How to adapt the game for smaller spaces:
Have players walk heel to toe, tiptoe, or slow motion instead of running to reduce the amount of high-energy movement
Equipment:
Speaker and music player (phone, CD player, etc.)
Place markers (i.e. cones, pieces of paper)
Put place markers around the room, your house, or in your yard
Play some of your own music or check out these fun animal-themed tunes
Have your child move around the room/house/yard using different movements (i.e. skipping, hopping, jumping)
When the music stops, they must find a place marker and balance like an animal
How to make it easier:
Choose 2-3 balance poses only
Shorten the space between place markers
How to increase the challenge:
Increase the amount of time the balance is held
Add in additional balance poses (tree pose, bridge pose, etc.)
Quiet time
Here are some recommended reads on our animal theme (the links are to read-aloud videos on YouTube!)
0-3 years: The Very Hungry Caterpillar by Eric Carle
3-5 years: The Very Cranky Bear by Nick Bland
6-8 years: Actual Size by Steve Jenkins
9-12 years: Because of Winn-Dixie by Kate DiCamillo (all read aloud chapters can be found on YouTube)
Bonus activities
We hope you've had a whale of a time participating in our animal-themed games and activities!
Animal Planet is just the beginning of eight weeks of summer fun. Join us next week for some foot-stomping fun in our Music Makers activity plan.
We'd love to hear from you and your child. What was your favourite activity? What did you learn this week? Let us know in the comments below.