You know when you visit the art gallery or museum with your kiddos and have to constantly remind them to not touch anything? Well, at these children's museums in Canada, kids are not only allowed to touch and explore their surroundings—they're encouraged to. Check out these amazing hands-on learning experiences for kids across Canada.
Canadian Children's Museum, Gatineau, Quebec
Located in the Canadian Museum of History, a colourful world of interactive fun awaits. The Canadian Children's Museum has an "around the world" theme, with plenty of international adventures in store. Kids can buy a baguette in France, visit a Mexican casita, and climb aboard a Pakistani bus.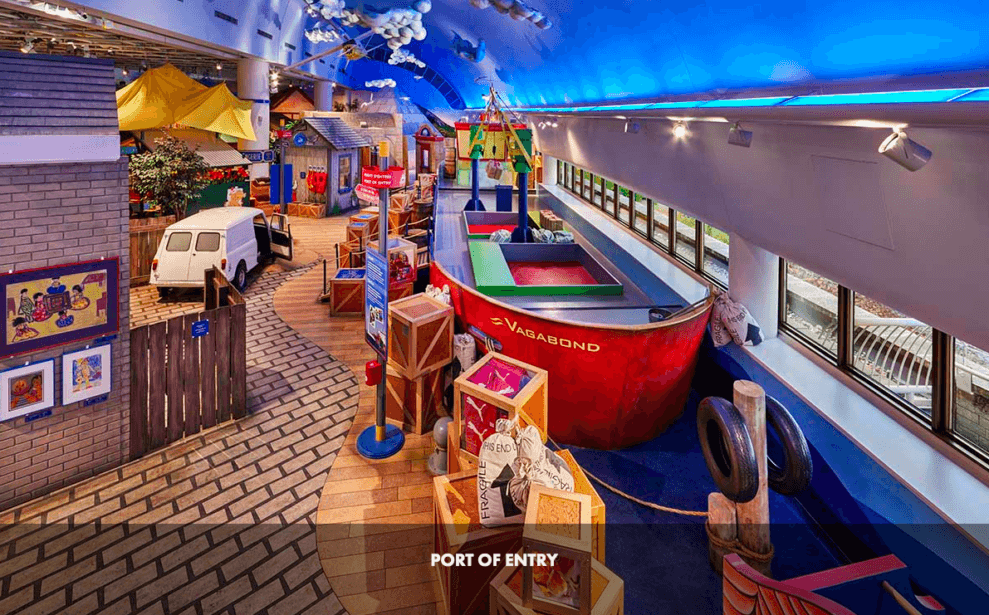 The Discovery Centre, Halifax, Nova Scotia
The mission of this incredible place is to bring STEAM to life through fun, interactive learning experiences—and they've definitely accomplished this. If a play submarine, flight simulator, teddy hospital, farm, and plenty of hands-on activities sound like things your children would enjoy, head on over to the Discovery Centre.
Ontario Science Centre, Toronto, Ontario
Come prepared with a change of clothes (or a rain suit) for your kiddos, because one of the best parts of the Ontario Science Centre for kids is the water play area. The large interactive water area is for dumping, pouring, and exploring and it is amazing. If you're not into everyone getting wet, you can stick to the other fun and interactive kids' play areas, which include a pretend grocery store complete with carts and a cash register, an area with build-your-own ball runs, and plenty of play structures to climb.
Manitoba Museum, Winnipeg, Manitoba
If your children like exploring science, building Lego, and designing race cars (and let's face it, who doesn't??), the Manitoba Museum might be a fit for them. Between the exhibitions, the incredibly cool museum galleries and the Planetarium, there's something for every child's interest that will keep you busy all day long. Take in a view of the night sky, get up close to polar bears, and check out fossils. You can even get hands-on and discover the wonder of water at the interactive stream table.
Vancouver Maritime Museum, Vancouver, B.C.
This small-but-sweet A-frame museum packs a lot of fun into a smaller space (and for a smaller price). Inside, you'll find a restored RCMP vessel, the St. Roch, which you can tour and explore (it's fascinating for adults as well as kids). In the dedicated kids' area, you'll find dress up costumes, puzzles, books, and a play pirate ship that will keep your kids engaged in a game of make-believe for hours. The location also can't be beat. On nice days, you can enjoy strolling the unique waterfront of Heritage Harbour after exploring the museum. If you have any little (or big) boating enthusiasts in your life, this is the spot for your family.
Creative Kids Museum, Calgary, Alberta
The giant wooden climbing structure is a major perk for active kids at this museum—but it's not the only one. This space, designed for kids ages zero to eight, is a colourful world of magic and joy. The loose parts play area is every creative builder's dream, offering large wooden blocks and tires to use however they please. The arts and crafts area is a gorgeous, light-filled creative space. The dedicated baby play area is a perfect gross-motor section for the zero to two set. The reading nook provides a cozy space for literary fun. A bubble piano (in which a child can play the piano and see how different keys control several bubble tubes that are attached to it) is thrilling for all ages. Pneumatic tubes are a fun way to explore suction. Not to mention the water area (bring a change of clothes!). You could easily spend a day here and the kids would still have more to do if they came back the next day.
---
You might also like: