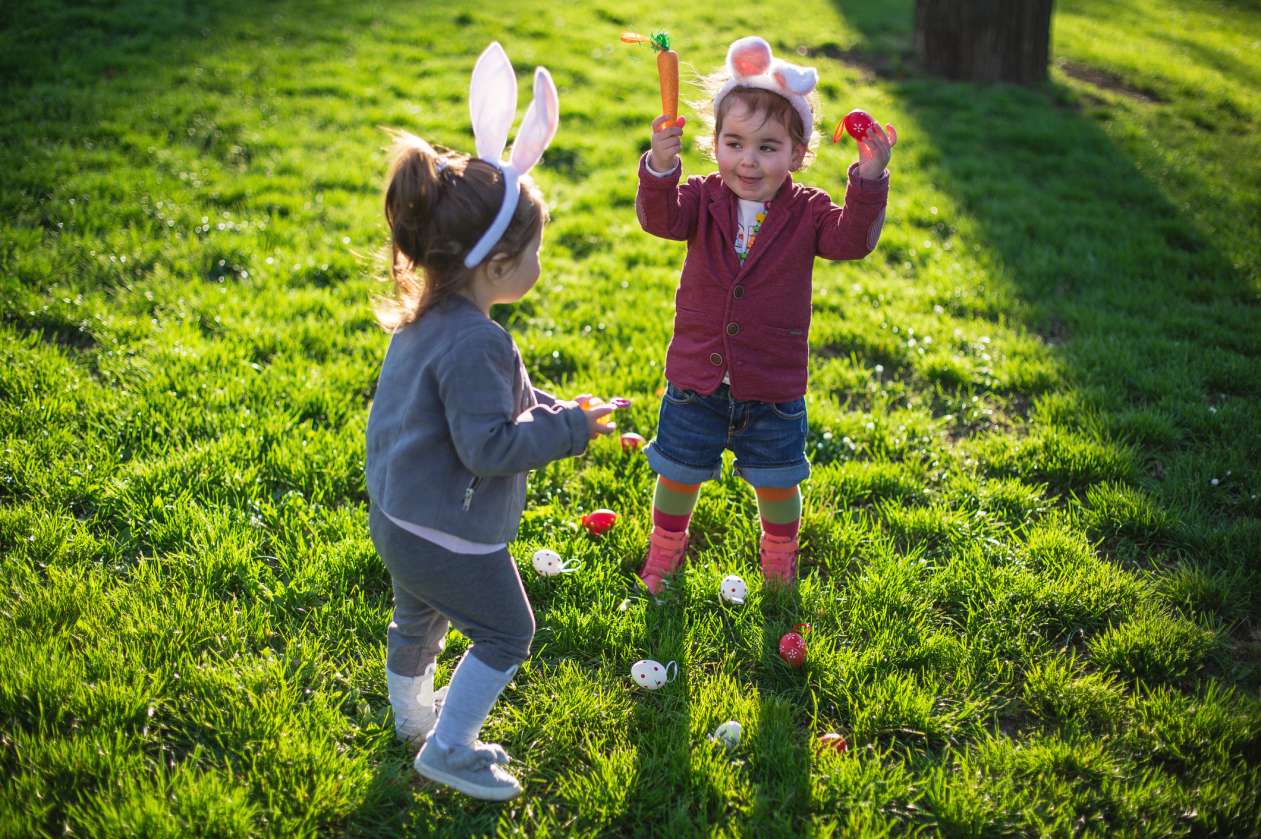 11 active ways to celebrate Easter this year
Editor's note: This post was updated on March 31, 2022.
With Easter almost here, why not plan ahead for some active fun for your family? For the littlest Easter bunnies in your household, this is a great time to play with family members, chase down Easter eggs and, naturally, a good excuse to indulge in (almost) as much chocolate as they want!
Follow the bunny… he has the chocolate!
This follow-the-leader game is a fun way to get your little ones moving, and you know they'll love it when it's their turn to take the lead. Pick someone to be the "bunny" to hop and dance around the house, and have the others in the family copy what they do.
You can follow the bunny through an obstacle course, around furniture, or take it outside and do a series of fun moves and exercises. Jumping, turning, and racing are all solid choices that the entire family can have fun with, big or small!
Easter egg hunt
This one is a classic. You've seen it, you've done it—we know you're a pro. But what if we switched it up a little bit? We've come up with a few ideas for your Easter egg hunt that the entire family can enjoy:
Turn your egg hunt into a treasure hunt! Put clues inside the eggs to find the next one, and lead kids to a big stash of chocolate. Customize this game to suit your family's interests: if your kids prefer numbers to words, write simple math problems to be solved to get the next clue or a chocolate reward. Or tie the clues to sports trivia, geography questions related to places you've traveled to, animal facts, word games, or goofy jokes, puns, or riddles! 
What's new at the zoo? Draw or print pictures of baby animals and put one in each egg. Each time your child finds an egg, have them "hatch" into the animal and stay in character, moving like an animal, from egg to egg. Preschoolers will especially enjoy slithering like a snake, flying like a bird, stomping like a baby elephant, galloping like a colt, and, of course, hopping like a bunny!
Work together with neighbours to organize a community-wide Easter egg hunt: Ask your children to draw Easter eggs or other Easter crafts and hang them in a window or on your door, where other egg-hunters can easily spot them. When the day of the Easter egg hunt comes along, this is a great opportunity to get some fresh air, and walk around the neighbourhood to spot as many Easter crafts as you can! You could even turn it into a friendly competition to see who can spot the most crafts. 
Egg-cellent activities: Turn your Easter egg hunt into an opportunity to rediscover forgotten games, books, toys, and activities for the family to do together in the coming weeks. Brainstorm ideas for things you'd like to do with your kids, and write these down on slips of paper (you can illustrate these for toddlers or preschoolers to "read"). Put one slip inside each egg, and add them to an activity jar or basket as your children find the eggs. Next time the kids are bored, or you're looking for a family activity, have the kids close their eyes and draw a surprise activity. It's a great way to dust off Monopoly, revisit a classic Easter story you've been saving to read, or challenge the kids to a jump-rope contest outside. Need inspiration? Try some of the ideas in this roundup of 200+ activities you can do with kids at home! 
Hatch a story. Two ways to play:

Write down words or short phrases on slips of paper and hide one inside each egg. When all the eggs have been found, work together to create a crazy short story using the words you collected! 

Print out a short, simple story and cut out the paragraphs. Assemble the story like a puzzle—see if you can figure out which parts happen first, second, third, and so on. If there are pieces missing, you'll know that some eggs have been left behind!
Don't drop the egg!
Why not try some Easter egg balloon juggling? All you'll need are some balloons and a few permanent markers or stickers and you're all set!
Start off by blowing up as many balloons as you need, and get everyone to customize their balloon by decorating it like an Easter egg using the permanent markers and other decorations. Move to a spot inside with room to move around, or take the gang outside to play. Here are a few ideas (don't be surprised if your kids come up with their own as well!): 
Don't drop the egg! See who can keep their "egg" in the air the longest without dropping it. For an extra challenge, see if your family can keep up two or three at once. 
Egg toss: Volley the balloon egg back and forth. For an added twist, play "bunny in the middle" and have one family member stand in the middle and try to intercept the balloon.
Chicken run: Wedge the "egg" between your knees and waddle across the room, deck, or backyard. Don't drop it, mama hen!
Bunny's best dance-off: Turn up the tunes and pass the balloon around while showing off your best bunny boogie moves.
Happy Easter!