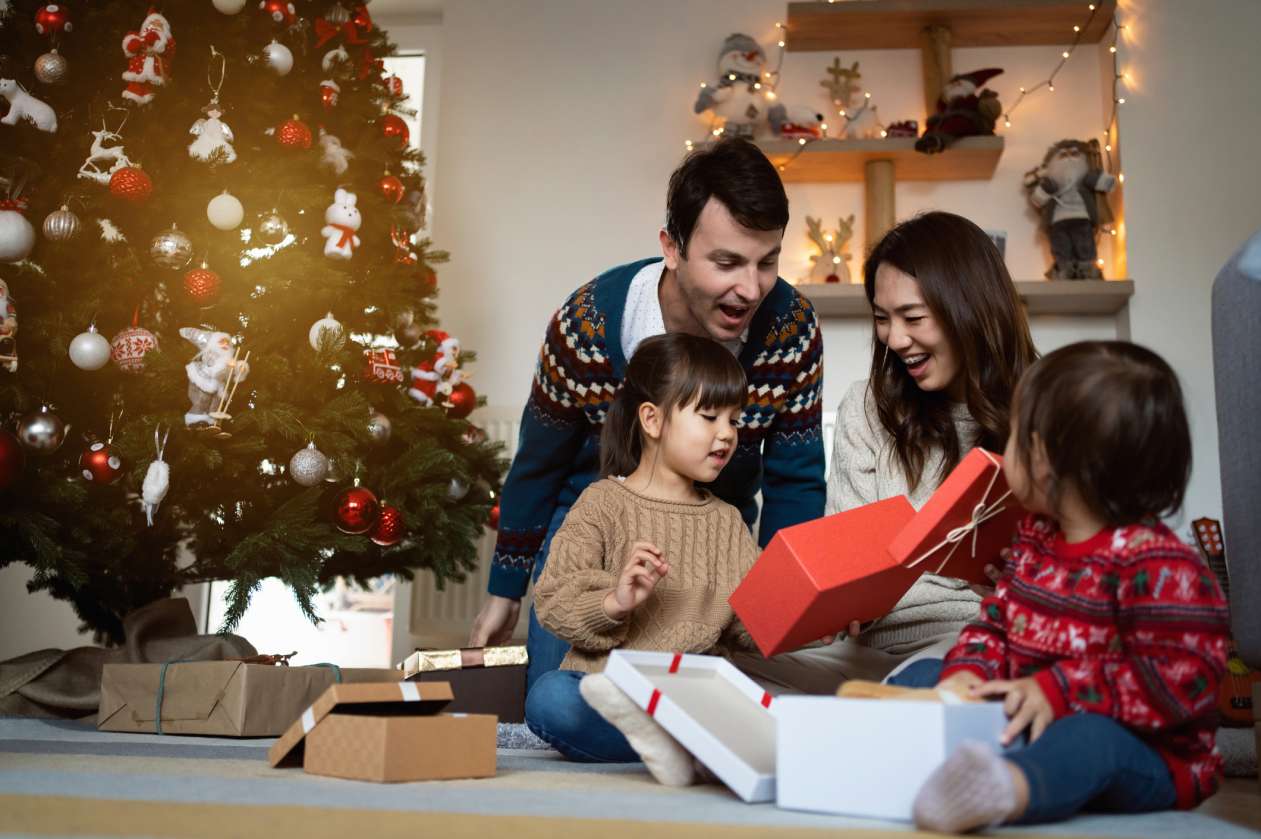 2023 Gift Guide: 25 active gifts for under $25
'Tis the season to be jolly! And getting a bit of help with your holiday list is an invaluable way to get that jolliness started.
Keep the kids on your list active through the holidays and all year long with toys that will have them moving and having fun. And with every gift on this list coming in under $25, your wallet will be just as jolly as the kids!
Here are some of our favourite gifts for active kids this holiday season.
1. Parafoil Kite
$16 | Ages 6+| Buy here
There's nothing like the excitement a child feels holding and watching a kite soar high into the sky. This kite is brightly coloured with a 14-foot tail and comes with a handy storage bag. And three of our favourite words? No assembly required.
2. Franklin Air Tech Glove and Ball Set
$19.99 | Ages 4+ | Buy here
This lightweight baseball glove is perfect for beginners and kids already familiar with the game! It can be easily adjusted for different wrist sizes and comes with a soft foam ball.
3. Waboba Wingman Disc
$11 | Ages 6+ | Buy here
Indoors or out, this disc flies straight as an arrow and folds down small enough to fit in your pocket. It's so squishable that it's easy to catch but can fly over 130 feet!
4. Baby Einstein Opus's Stack & Stream Sensory Stacking Cups
$14.98 | 3 months+ | Buy here
In or out of the bath, babies will love playing with these stackable cups. Easy to grasp, babies can stack and pour. And Opus the Octopus changes colour in warm water!
5. Fun at the Fair! Armadillo Roll & Bowl
$14.99 | Ages 3+| Buy here
Step right up! In this super-fun fair-inspired game, kids use an armadillo bowling ball to knock down wooden prairie dogs. (Note: no animals are harmed in the playing of this game!)
6. Melissa & Doug Rollables Farm Friends
$14.99 | Ages 6 months+ | Buy here
This set of adorable farm friends is easy for babies and toddlers to grasp, roll, and squeeze. And they're so portable, they can be played inside, outdoors, or at a friend's house!
7. Playwell Junior Badminton Set
$17 | Ages 3+ | Buy here
This set includes two racquets and two brightly coloured shuttlecocks and is perfect for the beginner badminton player.
8. Hi There! Strike a Pose
$11.99 | Ages 8+ | Buy here
Roll the yoga dice and strike the pose as directed. Stretching and breathing are… ahhhh…
9. Ice Bubble Blower
$19.99 | Ages 5+ | Buy here
The only thing better than playing with bubbles is playing with bubbles in the winter! The bubble solution is a special formula that begins to freeze at -7C for tons of outdoor wintery fun. It's a great way to encourage your kids to get outside and be active whether you've got snow or not.
10. Hoberman Switch Pitch Ball
$14.99 | Ages 4+ | Buy here
This is such a magical ball! Toss it in the air and watch the colours change.
11. Spy Ops Walkie Talkies
$19.99 | Ages 6+ | Buy here
Kids love to play games with walkie talkies. Whether they're being secret agents or air traffic controllers helping a plane land, or making plans to meet up for a snack in the kitchen, kids always have a blast communicating with these fun devices!
12. The Original Stomp Rocket Ultra Rocket Launcher
$24.99 | Ages 5+ | Buy here
A super fun and popular toy, the stomp rocket has kids running, jumping, and stomping. Their stomping launches rockets up to 200 feet in the air!
13. Shark Rang Boomerang
$19.95 | Ages 6+ | Buy here
This soft foam boomerang is easy to catch and throw. It's perfect for the backyard, schoolyard, or beach!
14. Whoobli Punching Bag
$19.99 | Ages 3+ | Buy here
At just under four feet, this punching bag is the perfect height for kids to punch or kick. They can aim for the targets on the bag or freestyle!
15. Coop Hydro Red Lacrosse Set
$19.99 | Ages 5+ | Buy here
When kids aren't quite ready for a full-size lacrosse set, this is perfect. The soft foam handles make it easy for kids to catch, scoop, cradle, and throw the ball.
16. Deep Sea Fishin' Bath Toy
$17.99 | Ages 2+ | Buy here
Kids will love floating the boat and using the removable fishing rod to catch magnetic fish. Getting clean and having fun—the perfect combination!
17. DVÄRGMÅS Play Tunnel
$19.99 | Ages 18 months+ | Buy here
A play tunnel is the perfect place for kids to crawl, hide, and use as a cave or as part of an obstacle course. And it folds up so tightly for storage—win-win!
18. Wilson Junior NBA DRV Basketball
$22.99 | Ages 8+ | Buy Here
Kids can channel their inner Steph Curry with this durable and easy-to-grip outdoor basketball. From working on dribbling to passing and shooting, it's a toy kids can use when playing by themselves or with others.
19. Gaiam Kids Yoga Mat
$19.99 | Ages 1+ | Buy here
This cute and colourful yoga mat can be used by kids of all ages. As they learn how to do downward dog and standing forward bends or tree poses, kids will discover the joy of flexibility.
20. Learning Resources Jumbo Magnifier
$8.99 | Ages 3+ | Buy here
Kids love looking at things VERY close up. This jumbo magnifier with a fold-out stand is perfect for inspecting bugs, leaves, or the top of their hands!
21. Bop It!
$23.98 | Ages 8+ | Buy here
The always-popular game of Bop It! has kids bopping, twisting, and pulling the toy. It keeps kids moving and laughing. A family favourite!
22. Melissa & Doug Sunny Patch Giddy Buggy Flashlight
$21.67 | Ages 3+ | Buy here
From hide and seek in the dark (inside or out!) to freeze tag and so many games in between, kids love using a flashlight! This cute and buggy one is easy to grip and sits steadily on flat surfaces.
23. Torpedo Kids' 2-Person Lightweight Toboggan
$22.99 | Ages 6+ | Buy here
Hit the slopes with this lightweight sled! Bundle up and zip down snowy hills solo or with two passengers.
24. Picture Charades Game
$19.99 | Ages 4+ | Buy here
If players can't yet read, this is the perfect charades game for them. Kids can look at the pictures and act out what they see. A game sure to bring on lots of laughter!
25. Skip It Ankle Toy With LED Flashing Jumping Ring
$18.98 | Ages 3+ | Buy here
This ever-popular skipping toy has thick padding on the ankle loop and an LED skipping ball for extra dazzle. It's a jumping, swinging, and whole-lot-of fun toy!
---
Read more about Christmas: