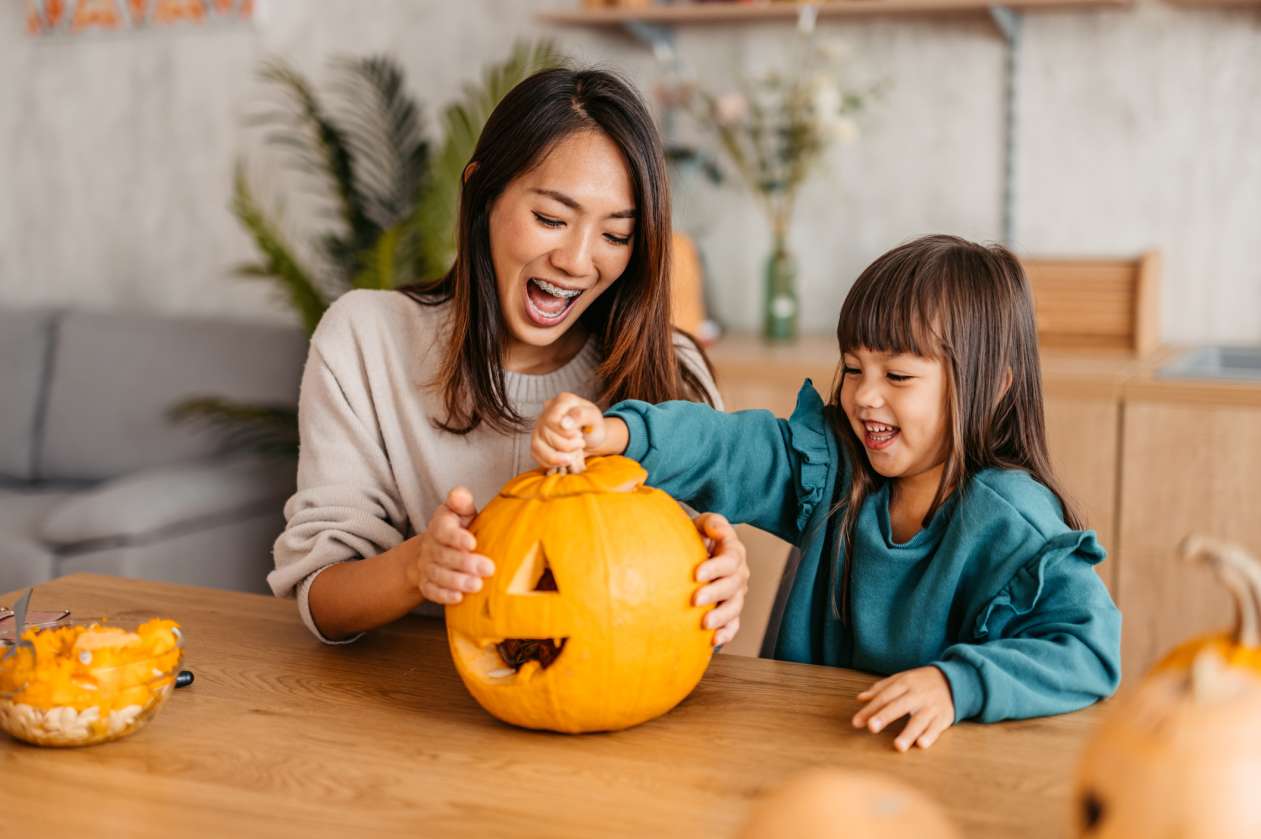 Top 5 spooktacular Halloween activities for kids
Halloween isn't just about candy and costumes. There are many incredible Halloween activities for kids and families that capture the spooky vibes of this fun season. Enjoy the lead-up to Halloween with these active, kid-friendly, and fun family outings!
1. Embark on a spooky community bike ride
One of my family's favourite traditions is doing a post-dinner bike ride around the neighbourhood on an October evening. The cool breeze and smell of fall greet us as we ride to our go-to spots: the most Halloweeny streets in our town. There are some spooky houses that go above and beyond (think 12-foot skeletons and talking zombies). It's a great (free!) way to get excited about Halloween and we get some exercise and major Halloween vibes while we clock those kilometres. Just make sure to wear your helmets and that your bikes are well-lit!
2. Navigate a fun corn maze
This fall activity is one kids will want to do again and again. It's so fun to run around the maze and figure out the best way to get to the end. While there are many haunted corn mazes around, we stick to the non-haunted ones and keep the scares minimal (like jumping out and yelling "Boo!"). My kids love to be the ones to run ahead, hide, and "scare" the adults when we approach. It's a pretty low-effort and fun way to bond as a family and get some fresh autumn air.
3. Experience the fun of an apple orchard and a pumpkin patch
Finding a farm where you love to go apple-picking is a family tradition you'll be so grateful to have. The farm our family frequents has tractor rides, pumpkin-picking, apple-picking, huge bales of hay, and a playground to climb on. This annual tradition is usually a three-hour outing that involves plenty of fresh air and exercise. When we arrive home, the kids get busy washing pumpkins in the backyard, then they come in to peel apples and help make apple crisp. It's all very wholesome and autumnal and we look forward to it every year.
4. Go for a glow-in-the-dark walk
Wait for a chilly autumn evening and surprise your kids with glow sticks and glow-in-the-dark tape to put on their coats. Then take a walk around the neighbourhood in the dark to notice what feels spooky and different when you're out at night. Finish up with a Halloween-themed snack and spooky storytime at home.
5. Join the festivities at a local Halloween event
Check your town or city's events calendar to see what it has planned for Halloween. Often, there's a family-friendly street festival or Halloween activity for kids—or perhaps a parade of Halloween costumes, pumpkin decorating, Halloween crafts for kids, and more. Community events really help with getting in the spirit of the season and they're conveniently located near home. And, if you plan to put on your own little event, check out these ideas for fun Halloween party games.
---
Read more about Halloween: