For most children, becoming physically literate is a process that happens naturally, so long as they spend enough time being physically active through play. For some children, however, gaining the fundamental movement skills that are the building blocks of physical literacy takes extra effort.
Physical or cognitive disabilities, developmental delays due to premature birth, or even being sidelined for long periods while recovering from surgeries, severe illness, or injuries can make it more difficult for children to gain muscle strength and motor control, maintain their balance, or learn to run, throw, hop, or skip.
For these children, equine-assisted therapy can help improve motor skills and build their confidence to move. Many children also truly enjoy spending time with horses, which helps make therapy sessions feel like a treat rather than a chore.
Benefits of equine-assisted therapy
There seems to be a natural bond between children and animals. For most children, the sight of a furry friend causes their eyes to light up, and they seem drawn to make a connection. But that special bond is more than just cute.
Research into the benefits of animal-assisted therapy has found a host of ways interacting with animals improves both mental and physical wellness, from reducing anxiety and loneliness to lowering blood pressure, improving motivation during exercise, and even reducing physical pain.
Being around horses is a special way for children to socialize and gain confidence and increase mobility. While dogs and smaller animals are well-known for providing therapeutic care and non-judgmental support, horses have a hard-to-describe "magic."
Including these large, powerful, and naturally empathetic animals into therapies and activities can have profound benefits for kids of all abilities.
There are many ways equine therapy can be used to address physical or mental challenges, as well as to incorporate physical fitness into the lives of children who have physical, cognitive, or emotional challenges. Some programs don't even require children to mount up! 
Three types of equine-assisted therapy
The term equine therapy is a kind of catch-all, including several different forms of equine-assisted activities, including adaptive riding, hippotherapy, and equine-facilitated wellness.
Note: as with other types of therapy, there are some circumstances in which equine therapy may be contraindicated. Make sure to discuss and get authorization from your child's physician before starting any new activity.
"The horse offers a peak experience, perhaps unmatched by any other, with a totally unique physical experience while in a joyous social environment." – Lynette A. Hart, Animal Assisted Therapy [PDF]

1. Adaptive riding: lessons for kids with disabilities
This recreational activity offers children with physical, cognitive/intellectual, and/or social-emotional challenges the opportunity to ride, with lessons tailored specifically to their needs.
According to Robyn Allen, physiotherapist and program manager at Hope Haven Therapeutic Riding Centre in Markdale, Ont., in adaptive riding, there's no "one size fits all" program.
Before their first session at a facility like Hope Haven, participants with physical impairments typically have a needs assessment done by a physiotherapist. Each session is created around the child's needs, abilities, and goals.
Introductory sessions start with the basics, such as feeling the horse's movements, learning the correct riding posture, how to communicate with the horse, basic walk/halt transitions, and possibly holding the reins.
"Generally, they are introduced to their horse, instructor, and volunteers," Allen explains. "We determine their goals, and then either work on some groundwork/ horsemanship skills or proceed to mount and start the basics of equestrian."
Riders who stick with private or group lessons often show increased mobility, Allen says, as well as improvements in coordination, balance, and muscle strength, better self-regulation, and increased attention levels as they learn proper riding position and horsemanship.
---
Related read: 5 ways to help children with special needs develop physical literacy
---
2. Hippotherapy: physical, occupational, or speech therapy
Derived from the Greek word hippos for horse, hippotherapy may be a good fit for a child in need of physical, occupational, and/or speech therapy. In one-on-one lessons, a therapist, in conjunction with one or two assistants, focuses on achieving a child's specific therapeutic goals.
The rhythm of the horse at various speeds, directions, and patterns, rhythmically and repetitively moves the rider's body in a way that's similar to a person's gait.
It's that motion that may help functional abilities such as communication (through verbal commands to the horse), build specific muscle groups, or improve sensory processing. The movement continuously engages the child's balance, while various activities guided by the therapist can improve coordination, fine motor, and language skills.
When Lynda Kachaami-Martin signed up her 12-year-old son, Gabby, for hippotherapy at Enfants en Équi-Libre near Montreal, she hoped that riding's physical stimulation would complement his love of movement, and learning to work with a horse as a team might nourish Gabby's communication and social skills.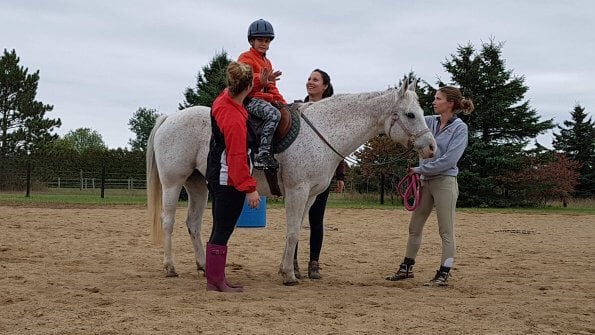 Gabby was diagnosed with autism at age three. While his mother knew that he could handle the physical part of riding, she was unsure if he'd be motivated by the horse.
"I knew he would either love it or hate it—no in between. However, at the first lesson, the sheer joy radiating from his face and body was overwhelming. I stood there and watched him and cried. He was so happy."
The horse can also act as an important buffer and empathetic partner. At that first lesson, Gabby used verbal directions in commanding the horse, to the amazement of his mother.
"Gabby is verbal but will find any possible excuse not to speak unless absolutely necessary, so that was a very big deal," says Kachaami-Martin.

Although Gabby has only been involved in the therapy for a short time, his mother is already a strong advocate for its benefits. She encourages parents to consider exploring the potential of equine therapy.
Hippotherapy can be used in conjunction with other therapy tools and strategies as part of a child's total care. It may be covered by private medical insurance.
---
Related read: Benefits of physical literacy for kids of all abilities
---
3. Equine-facilitated wellness: emotional support and companionship
In equine-facilitated wellness, specially trained therapy horses provide unconditional and judgment-free companionship and emotional support. They're a partner in the therapy process.
A credentialed mental health professional sets goals and guides the interaction between the therapy horse and patient in a quiet, safe, and healing setting.
Sessions with a trusted therapy horse can support depression, anxiety, post-traumatic stress disorder, trauma, grief, and more.
For more information or to find an accredited centre near you, visit the Canadian Therapeutic Riding Association online. CanTRA is a registered charity and member of Horses in Education and Therapy International. It's recognized as the governing body for therapeutic riding in Canada.
Photos courtesy of Lynda Kachaami-Martin.