When you watch Gurdeep Pandher perform bhangra dance in the Yukon, it's virtually guaranteed that you'll feel happy and inspired. That's exactly what he wants.
In fact, he's hoping you'll join in.
"Bhangra is my natural energy and joy booster dance," Pandher says. "For many years, I have been dancing bhangra to stay active."
Through his dance videos and social media, Pandher has helped introduce Canadians to bhangra. The dance form, which originated in Punjab, is clearly close to his heart. At the start of one of the videos, Pandher kindly but firmly requests: "When you dance bhangra, please smile. If you do not smile, that is not considered bhangra."
A dance for all
Pandher's sincerity and enthusiasm are compelling, and so is the dance. The music's drum line is like a heartbeat, providing a familiar rhythm and an energizing effect. Pandher performs the sweeping, repetitive movements without a trace of shyness or self-consciousness. His genuine energy and wide smile are an open invitation to give it a try. It doesn't matter who you are, your geographic location, your age, or what you know about dance. It's simply about moving with joy, and it looks like great fun.
Dancing through a pandemic
For years, Pandher taught in-person group bhangra lessons, but had to quickly adjust when the pandemic hit.
"I tried to make my classes accessible by offering a 'pay what you can' model and teaching my programs virtually," he explains. "In addition, I started posting one bhangra video per day, in an effort to lift people's spirits."
Over the past year, his one-minute videos have expressed themes of celebration (such as the day he received his COVID-19 vaccine), gratitude (for nurses and other front-line workers) and support (for seniors and others feeling isolated). He often adds the caption: "I am dispatching joy, hope and positivity across Canada and beyond."
The response has been overwhelming.
"I have received many messages from individuals feeling stressed and lonely due to COVID, and I want to do what I can to bring positivity," Pandher says. "The feedback I have received tells me that my work has brought hope to my community."
He regularly participates in media interviews, podcasts, and virtual meetings to help inspire others.
Connecting with schools
Pandher also shares his positive approach and dance expertise with kids. During the pandemic, his videos became popular for both in-class and at-home learning. Recently, he guest-starred at a Winnipeg elementary school's virtual assembly to teach basic bhangra moves.
"Dancing bhangra is a cross-curricular lesson that combines art, social studies and physical education," Pandher explains. "It is a great fitness activity that builds motor skills, coordination, and balance."
Another appealing factor is the natural backdrop of his videos. "I live in the Yukon Territory, and I love to dance bhangra in nature," he says. He frequently visits tranquil mountain lakes and secluded forests to record his solo dances.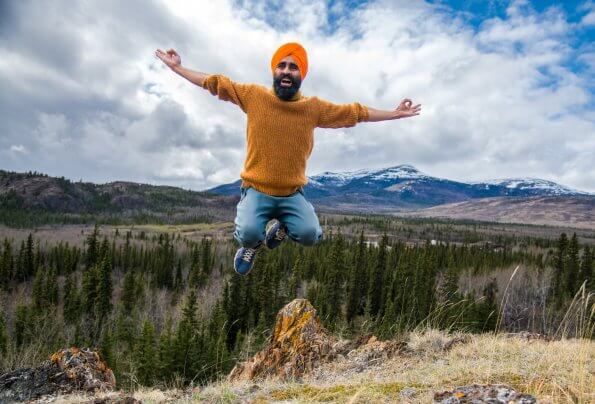 Behind the scenes
Although Pandher's videos have reached a large audience, he remains a one-man production crew. Here is a quick glimpse into his process:
He lives in a remote cabin in the Yukon wilderness, and some of the videos are filmed in the forest surrounding his home.
He does not have an assistant or anyone helping him with filming. "Most of the time, it is just me, my camera, and my tripod," he says.
He uses different pieces of music for his videos, but all of them feature the traditional Dhol drum.
Rain or shine, he dances on a variety of surfaces, including dirt, gravel, leaves, snow, and ice.
The turban he wears is usually orange, because he sees it as a "vibrant, happy colour."
Every Friday, he records a weekly summary video to recap the dances he has performed in the past seven days.
He has received electronic messages and snail-mail letters from appreciative viewers across Canada and other countries. Fans have even sent artwork and handmade dolls that look like him.
While producing a video every day must be a challenging task, Pandher is happy to do it. "My goal in sharing bhangra dance with others is to build cross-cultural bridges and bring a smile to people's faces," he says.
Based on the positive response, it seems he's doing exactly that.
Header photo by Mark Kelly Photography.
---
Read more about inclusive activities:
Five Indigenous games to play with your children
This national grant program provides inclusive play for kids of all abilities