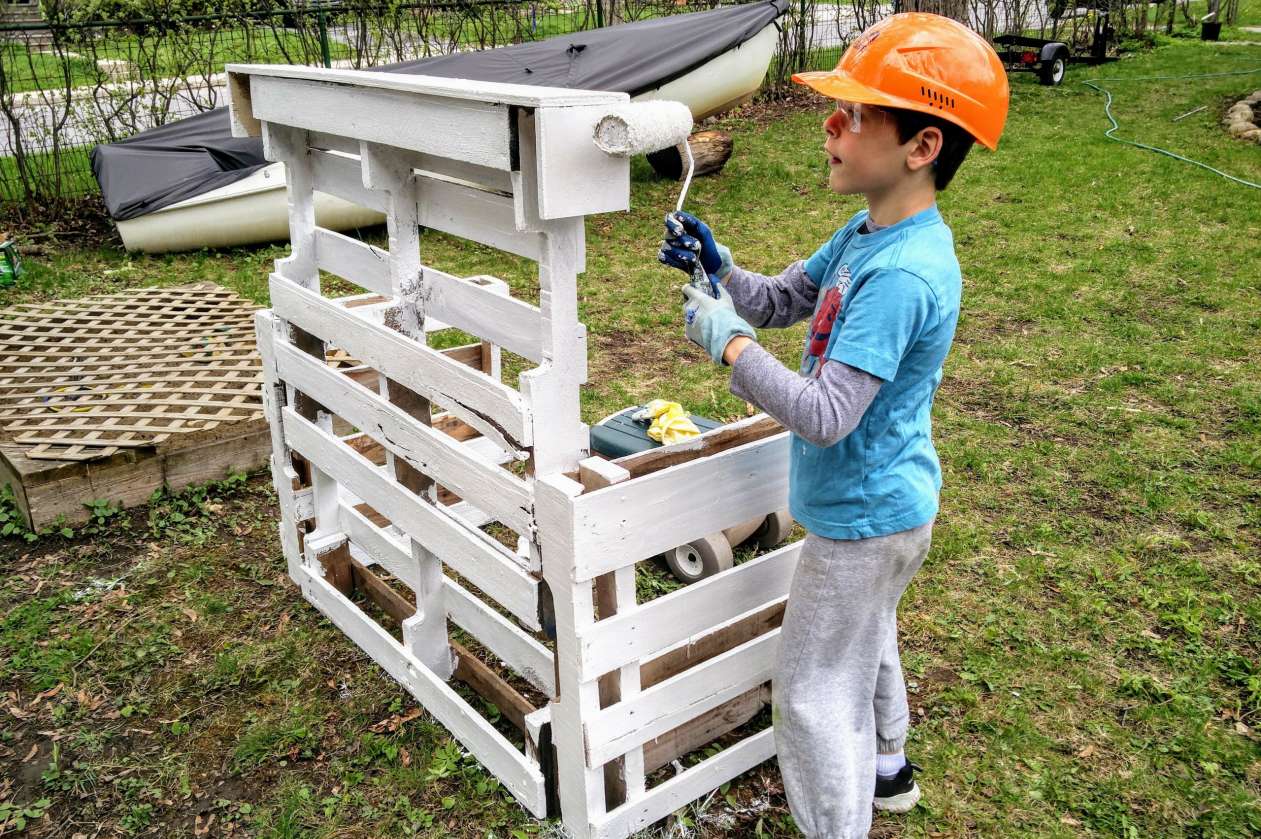 How to make a DIY mud kitchen
Of all the refreshing treats I enjoy each summer, nothing beats freshly made dandelion soup with a delicate topping of maple leaves, followed by baked-in-the-sun soil and clay muffins.
"You're absolutely right, this is delicious!" I said to my seven-year-old as he handed me another intricately prepared dish and a small stick to use as a spoon.
Last summer, when the pandemic put the brakes on our usual soccer, swimming, and playing with friends, I knew we'd need to get creative while sticking close to home. We made our own obstacle courses, dragged out the well-loved barrel, and decided to get down and dirty building our own mud kitchen.
A mud what? Basically, an outdoor play kitchen and sand table complete with tools and a whole lot of dirt, twigs, flowers, and well… mud. It's messy, wet, and gloriously fun.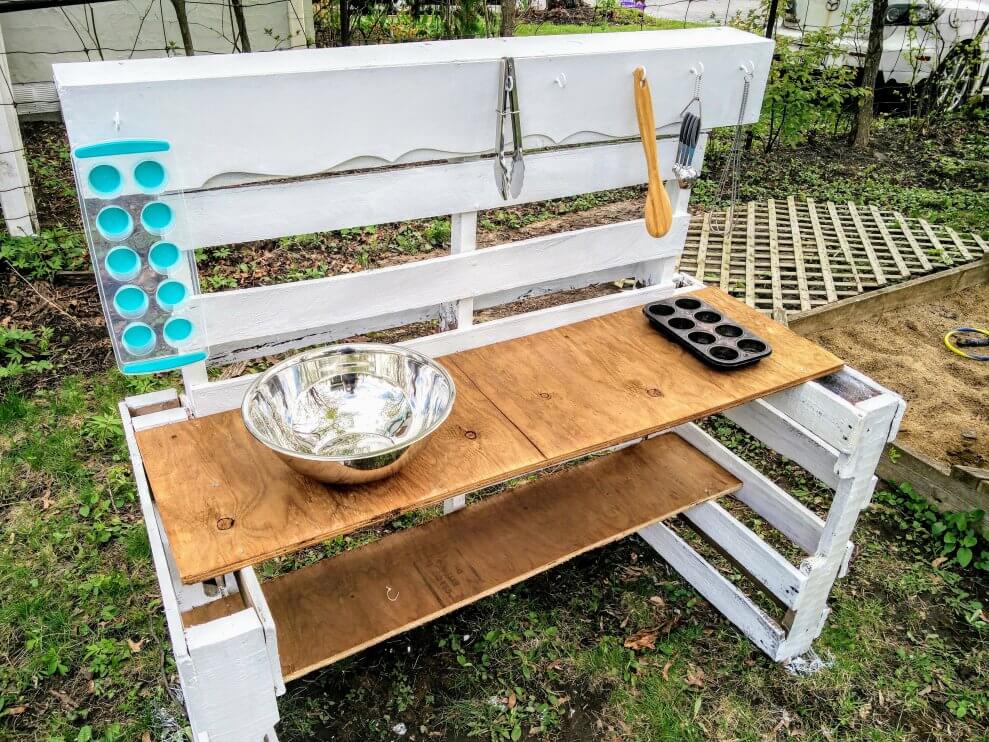 Google searches and Pinterest links showed us all sorts of gorgeous builds. There were cedar countertops, working outdoor sinks, and an array of painted and stained shelves and doors. But simple was what we needed for our kid-friendly build, and wood pallets were what I had in mind.
So, we scavenged for clean discarded pallets at nearby businesses, sawed and hammered, found leftover paint from a prior project, and rifled through junk drawers for unused bakeware. The results: a five-star restaurant-worthy kitchen— right in our own backyard!
Hours of outdoor fun
A favourite pastime of kids for generations, cooking up mud pies and flower potions is more than just a chance to get messy. Mud kitchens provide kids with a variety of different play and learning opportunities that are good for their all-around health and development.
Benefits of getting messy in the mud kitchen:
Provides a range of sensory stimulation
Encourages imaginative and cooperative play (great for schoolyards!)
Inspires a connection to the natural world and the environment
Develops fine motor skills through the use of tools
Boosts the immune system
Says "yes" to immersive, messy play
Sparks an interest in scientific and mathematical exploration through measuring and mixing
Is inclusive and allows kids to play at their own developmental level
Encourages curiosity with open-ended play
Is a great nudge to get excited about spending time outside, which in turn encourages active outdoor play
Can calm anxious minds
Creates lasting memories
"Letting children play outdoors, away from the hustle and bustle of everyday life, provides respite. It allows them to rewind and recharge. Even simply looking at nature is calming for children."

Angela Hanscom, Balanced and Barefoot
Create your own mud kitchen
While a mud kitchen can be as simple as a backyard corner where kids can dig with trowels and spoons, or a couple of bins on a balcony filled with dirt, water, and natural objects, building your own together is a great learning opportunity, physically challenging, and fun.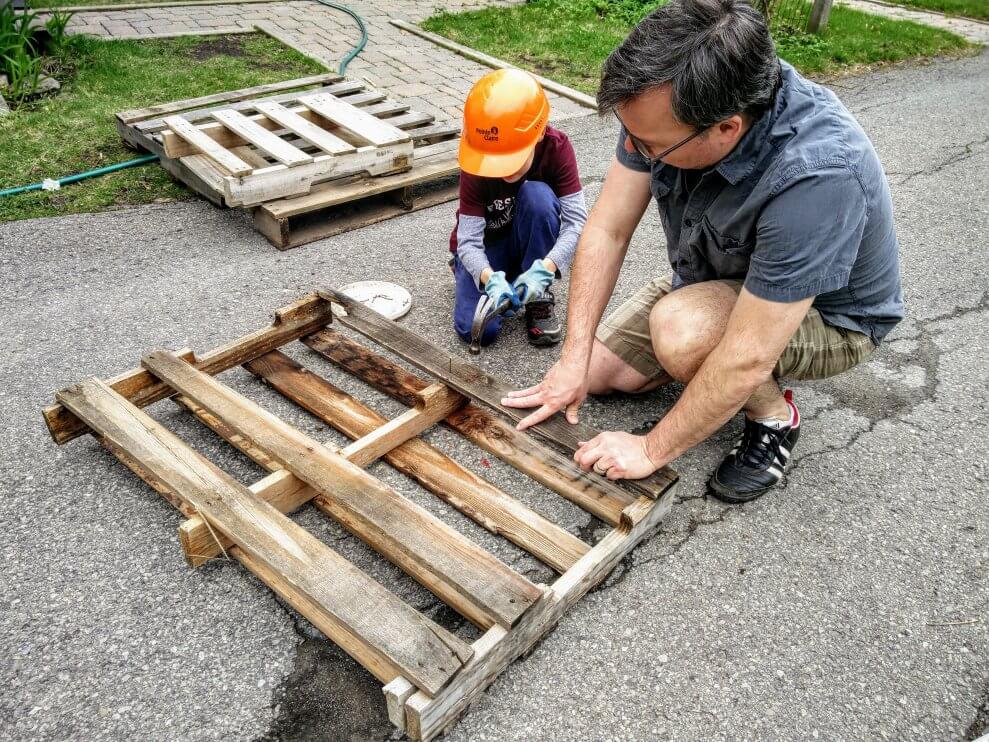 A frugal mud kitchen can be built at little to no cost through repurposing, reusing, and recycling. The pallets we picked up were free and didn't need any repairs, we already had tools and paint, and labour was kid-powered.
The top piece of our mud kitchen came from a window valance that a neighbour was getting rid of, and the majority of the dishes and pans were picked up from a church's leftover garage sale bin. Expenses totaled about $10 for a couple of new spoons, measuring cups, and some shiny stainless steel mixing bowls.
While nature will provide most of what's needed, other tools you can add to your mud kitchen to encourage hours-long child-led play include:
Whisks and colanders
Muffin tins and chocolate molds
Jars (to store ingredients like acorns, shells, and dried flowers)
Syringes for precise measuring
Scissors or a lettuce knife
Mortar and pestle
Watering cans and funnels
Potato masher
Clear glass jars for mixing perfumes
Jugs with lids to store water
A dry-erase board for "specials of the day"
Plastic coins or other currency for restaurant play (my kids usually charge me an exorbitant amount!)
If you don't want to go the DIY route, you can purchase ready-made mud kitchens online, hire a local carpenter, or repurpose a potting bench from a hardware store. And that plastic play kitchen that's been collecting dust in the basement? It also makes a great backyard or patio toy. Give it a makeunder and prolong its use as an outdoor mud centre. After you've set up your kitchen, give the kids a bucket of water and let them loose to mix, pour, and decorate.
Once they've closed up shop but are too messy to come back into the house, just turn on the sprinkler and they'll dance all that mud right off.
Photos courtesy of Christine Latreille
---
Discover other awesome outdoor games and activities: