The kids are back to school and it's just as important as ever to keep up activity levels each day before and after classes, and to plan active outdoor time on weekends.
Check out these suggestions for some fun family bike rides this fall before you bring the skis and sleds out.
1. Invite the friends!
Most children will have at least one pedagogical day or early-dismissal day in September, so round up a crew from the neighbourhood and go out for a bike ride on your local pathway or visit a playground or two (you could even add a stop for slurpees or ice-cream).
2. Pick a fun destination with a reward
Adults will go biking for the sake of it but for kids, it's often about the destination or the reward. I wanted to go for a ride last weekend, but the suggestion wasn't met with much enthusiasm from my kids until I said I was going to a nearby ice-cream shop. I said anybody who wanted ice-cream had to bike to the shop with me. As expected, suddenly I wasn't biking alone!
I also try to plan bike rides where we'll connect several playgrounds, pass by a skate park, stop for a fun treat, and maybe even incorporate some water play if it's a warm day. These are always the most popular family outings at our house.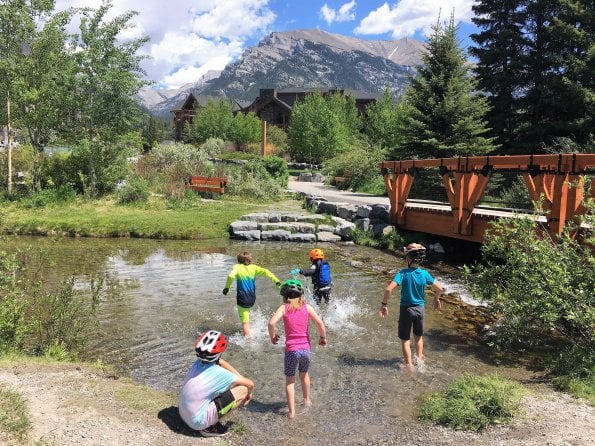 3. Plan around your child's personality and interests
My son likes mountain biking so even if we're biking in the city, I often try to plan our rides around visiting a bike skills park, or I make sure there's at least a section of dirt trail riding on our loop. If you have children who love connecting with nature, plan to visit a park, wooded area, stream, or pond where you can stop for a rest break to play.
4. Crunchy leaves are fun
We love fall biking. Once the leaves start to fall from the trees, we enjoy the sound of our tires moving through crunchy leaf piles. We'll seek out parks in our city with big trees so that we're guaranteed to have lots of leaves to ride through. Mountain biking is also fun in the fall when everything around you turns a magical golden colour (great for photos!).
---
Related read: Fat biking: How to get your kids to ride cycling's biggest trend
---
5. Choose a fall family biking goal
Come up with a number of kilometres you want to bike as a family this fall and reward the effort with a trip to the movie theatre, a favourite restaurant, or somewhere else that the kids have been begging to visit. Alternatively, come up with a few rides that you had on your summer list to finish this season or choose a skill that each person would like to improve on.
6. Make the bike ride home from school an adventure
My son and I often ride down to our local Tim Hortons on our way home from school for doughnuts. Along the way we'll look for a geocache or stop at a new playground we find on our loop. The best ride home doesn't have to be the shortest one.
7. Choose a new destination or trail
We're always trying out new mountain bike trails on the weekend and we like riding new pathways around our city. It gets boring riding the same trail every week, so mix it up and choose a new place to explore this fall.
8. Plan a fall camping trip and bring the bikes
It's often too hot to go for a long bike ride in the summer, but fall is perfect for getting back out there again. Many of our favourite campgrounds have great bike trails as well so we combine camping and biking and head out for the weekend. Monday feels much more manageable too if you've recharged the batteries and connected with nature over the weekend.
---
Related read: How to teach kids to pedal their bikes properly
---
9. Try a new kind of biking
Visit a skate park that allows bikes, check out a pump track or bike skills park, try mountain biking for the day, or visit a ski resort for some lift-accessed downhill biking before the hill switches to winter mode.
10. Bike around a campground after it closes for the season
Many public campgrounds close for the season early to mid-September, creating a safe place for novice bikers to ride without traffic to worry about. Often the campground will have a playground as well, or a creek or river to play by, and there will be no shortage of picnic tables for your lunch.
Photos courtesy of Tanya Koob.