Across Canada, parks are adding BMX tracks and pump tracks to appeal to older and more adventurous kids. But these features aren't only fun for big kids. Even children as young as three years old can develop the fundamental movement skills they need to master a balance bike on the track, with a little help from Mom or Dad.
As I learned when I took my boys, pump tracks and BMX tracks can be intimidating at first for younger kids, but they are tons of fun to ride once you get the hang of it. They are a great opportunity for kids of all ages and levels to develop cycling skills in a safe and family-friendly atmosphere.
Unlike BMX's dirt courses with jumps, pump tracks are designed as a continuous loop of banked turns and small bumps that are meant to be rolled over, and are ridden without pedaling. Riders use a pumping motion with their upper and lower body, creating momentum to propel themselves around the track.
Not all bike parks are the same. Dirt pump tracks are for bicycle use only, while paved tracks suit all types of wheels, including BMX and mountain bikes, skateboards, balance bikes, in-line skates, scooters, and wheelchairs.
Both pump tracks and BMX tracks offer a safe place for riders of all skill levels to practice balance, timing, and other essential cycling skills. Tanya Koob, an Active for Life Role Model and author of the website Family Adventures in the Canadian Rockies has visited numerous tracks across Alberta and British Columbia with her now 10-year-old son.
According to Tanya, her son began riding different tracks on his balance bike at around three years old, and then transitioned fairly easily to a regular pedal bike as he grew older.
Here are four tips to ensure your little cyclist has a great first experience at the pump track or BMX track:
Visit early in the morning
The first time I took my five-year-old and 10-year-old to our local pump track, the track was filled with teens and lined with spectators, which was just too intimidating for my first-timers. We opted to watch for a while, and came back a few days later at 7 a.m. so the kids could get familiar with the empty course and ride at their own speed without feeling pressured to keep up with others.
Get tips from the pros
Check if your municipality or bike park offers lessons or training. For example, Notre-Dame-de-l'Île-Perrot, Que., near Montreal, hosts free initiation sessions at its pump track on Saturday afternoons, and lends out balance bikes for kids as young as three, as well as BMX bikes for older children and adults.
Make sure you have the right equipment
Well-fitted helmets are a must. Elbow and knee pads, long pants and sleeves, and bike gloves are recommended. BMX tracks may require riders to wear a full-face helmet.
It's best to make sure your kids have time on flat terrain to get comfortable with their bikes before you brave a pump track or BMX track. We came with a brand-new but unfamiliar (and heavy) mountain bike for my 10-year-old, and the five-year-old's bike with training wheels.
The kids would have fared better with a smaller and lighter BMX bike and a balance bike. So while my older son slowly rounded the track on his very shiny new bicycle, my youngest abandoned his and instead made piles of acorns under the nearby oak trees. Next time we'll come better equipped!
Take it easy
Kids should ride at their own pace and stop before they're tired. Think about having fun, trying out new skills, and gaining confidence.
Despite having a bit of a rocky start, my oldest gained confidence on the track and is excited to try out a BMX course, while my now six-year-old looks forward to another shot at a pump track… without the training wheels.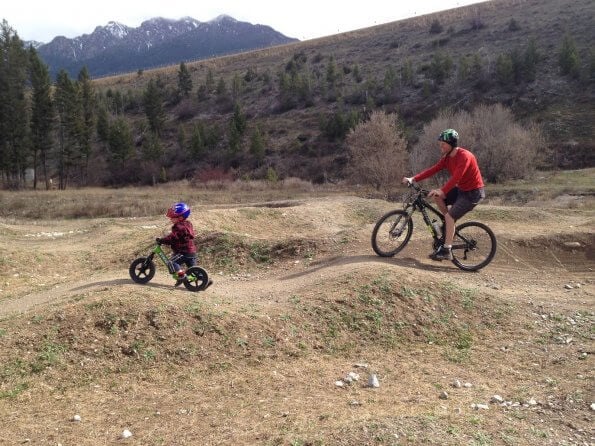 Find a pump track or BMX track
Here are six stellar Canadian pump tracks and BMX tracks that cater to children of all ages and abilities:
Stevie Smith Bike Park, Beban Park, 2300 Bowen Road, Nanaimo, B.C.
Built in honour of Canadian downhill mountain biker Stevie Smith, this bike park includes a dirt jump and skills area, as well as two pump tracks. The park aims to help children develop their skills—kids as young as two can ride their balance bikes on the dedicated beginner pump track, while advanced riders test their skills on the ramp jump lines.
Hinton Bike Park, 281 Robb Road, Hinton, Alta.
This 37-acre bike park promotes rider development through its beginner pump track, skills area, jump park, and multiple trails for novice to advanced riders.
Blackfalds Bike Skills Park, 4511 Womacks Road, Blackfalds, Alta.
Built on 12 acres, this park has components for every level, including wooden bridges and logs, an all-levels track with different sized jumps, and a pump track for novice to expert. There's also a gravel path where kids can warm up and plenty of seating.
Brantford Rotary Bike Park, Rotary Centennial Waterworks Park, 400 Grand River Avenue, Brantford, Ont.
This large bike park features a skills zone designed to help riders' progression, as well as beginner to expert jump lines and pump tracks.
Esposito Park Pump Track, 120 Central Park Avenue, Sault Ste. Marie, Ont.
An all-ages, all-skill levels park, the three pump tracks allow children to use any manner of wheel types (including wheelchairs).
13th Ave. BMX Club, 5310 13th Avenue, Regina, Sask.
With tons of hills and jumps, this newly renovated BMX track is a hit with local kids.
You can also search for a pump track near you on this convenient map of kid-friendly bike parks from Kids Bikes Canada.
Photos courtesy of Tanya Koob.