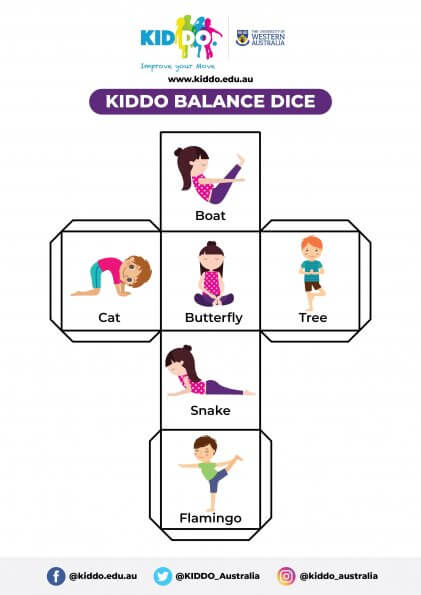 Looking for quick and easy activities for kids? Try these printable activity dice! Simply print, cut, fold, and glue or tape into a cube—then roll for an active challenge.
We've got two versions to share with you.
The first, produced by our Australian colleagues at KIDDO, focuses on balance poses. It's a great way to add some fun while you take a break to stretch before or after other activities or screen time (and it works just as well for adults as for kids!).
The second is our take [PDF] on the same concept, but focuses on practicing movement skills that help develop physical literacy like throwing and jumping.
Here are some ways you can use these dice:
Use it as a boredom buster: older kids can cut, fold, and glue the dice on their own, and can use the template as a guide to create their own versions
Use it as part of a short five- or 10-minute movement break when you or your kids have spent extended time on computers, game machines, or schoolwork (or when the kids have been cooped up indoors and need to let some energy out!)
Include the dice as activity stations in a homemade indoor obstacle course
Challenge your kids to use them to invent their own games!