Having kids home for the summer is amazing, thanks to sunny weather and time to enjoy water play, park time, and zoo and beach days. Since all that adventuring makes everyone extra hungry, we've gathered these picnic recipes in one spot to reference. Having these quick picnic recipes prepped and ready to go will keep you and your kids fueled for all your active summer outings (and they'll help stop hanger from intruding on your adventures).
When it's peach season, my kids are very happy about it—they love them as is, but I love looking for creative ways to use them. These halloumi skewers fit the bill, combining peaches with halloumi, sourdough bread, pistachios, and honey for a taste combo that is satisfyingly summery. This is also just a fancy way of eating bread and cheese, so naturally that makes everyone happy.
This is so easy to throw together and personalize, with a simple dressing made of go-to pantry and fridge staples like oil, mustard, and vinegar. It's great to make a big batch of it on Sunday and then grab it for your lunches throughout the week.
Is there anything better than grabbing fresh corn from a roadside stand on a hot August day? The answer is yes: Eating it! While we love a classic corn butter bath, this BBQ corn salad is so satisfying that you'll want it at every picnic this summer. With taco seasoning, BBQ'd corn, cilantro, and feta, it's also simple to prep.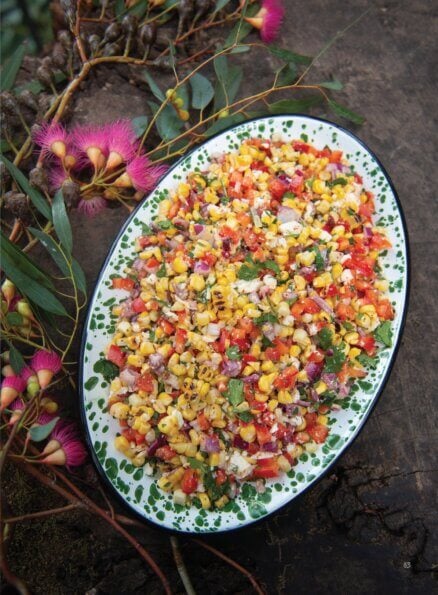 If there's a combo that screams summer the same way that cherry tomatoes, basil, and fresh mozzarella do, then I would like to know about it. This pasta salad combines all the goodness of fresh ingredients with the creamiest Caesar dressing to make for a filling, satisfying, and delightfully fresh lunch or dinner.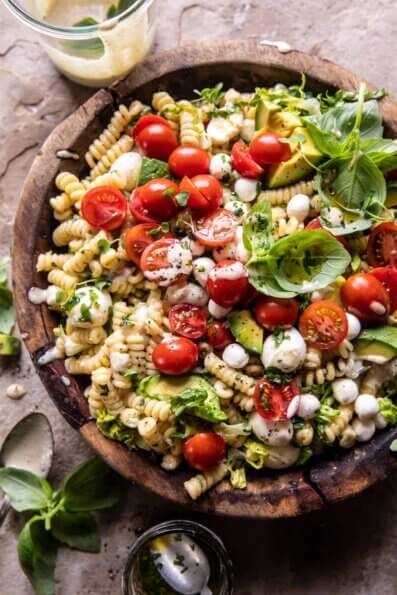 5. Southern vegan potato salad, via Simple Veganista
Whoever invented potato salad deserves a hug (and a medal). There's nothing quite as satisfying and energy-dense as carb-i-licious potatoes, and when you add the fresh crunch of celery and a creamy dressing, it's a winning combo for summer picnics.
6. Peanut butter cup energy bites via Minimalist Baker
When kids say they need a snack, something filling, tasty, and, most importantly, easy to grab is essential. These five-ingredient energy bites can be prepped ahead of time and refrigerated so you'll be ready for the multiple snack requests coming your way. Bonus: The ingredients (​​dates, peanut butter, chia seeds, oats, and dark chocolate) are probably already in your pantry.
7. The best-ever Caprese sandwich via The Kitchn
Is this the most summery sandwich ever? Probably. With the freshest summer combo (tomatoes and basil) and creamy avocado and mozzarella on a handheld toasty baguette, this sandwich is sure to become your go-to beach and park day lunch. The drizzle of olive oil and balsamic takes it up a notch and makes it a 10.
8. Lentil chocolate chip granola bars via Sarah Remmer
The classic parent-child summer battle is that we want our kids to fuel their bodies with lots of different foods, and our kids want a handful of chocolate chips and a bag of cheetos (both valid snack options, by the way). I love to balance their desire for tasty snacks with something with a little more staying power. These homemade granola bars are amazing. The lentils and nut/seed butter make them super filling, while the maple syrup and chocolate chips make them a sweet treat that satisfies kids.
These simple little bites are the easiest example of getting kids involved in summer "cooking." All that's required is a strawberry, a basil leaf, and a mozzarella ball for each toothpick, and you'll have some proud kiddos and a great picnic appetizer.
10. A fancy one-ingredient PB&J upgrade via The Kitchn
If my kids didn't have PB&J—our singular, go-to, makes-everyone-happy meal—I would be lost. We really do serve it on repeat, and I love the idea of fancying it up once in a while, and making it extra special. The summer is the perfect opportunity to surprise your kiddos with a bonus PB&J ingredient (like chocolate sprinkles, ridged potato chips, or slices of brie). I can't wait to try this one on our next picnic!
What are your favourite go-to picnic recipes for your active family?
---
Check out these other snacks and recipes: