6 of the best winter outdoor physical activities for kids
Winter isn't everybody's favourite season, and it can certainly be challenging to get outside in cold weather. But regardless of how you feel about the frostier weather, and whether or not you can spend the day without ever leaving the house, research shows that the benefits of spending time outside begin at only 120 minutes a week— a little more than 15 minutes a day.
I try to get outside for at least 15 minutes every day, which is easily accomplished in a lunch-hour walk. Sometimes my family aims for fun after-school ideas like these. And on weekends, we like to get out for "bigger" adventures, driving out to the mountains or a nearby provincial park, and even trying brand new-to-us sports.
You never know when you'll try a sport and discover an exciting new hobby that you can adopt through the rest of your life. Here are a few of the best outdoor winter sports to get into this season (if you haven't already!).
1. Learn to ice skate
There's nothing like skating on an outdoor rink or playing a game of pond hockey to make you feel like a true Canadian. Most communities in my city have a neighbourhood rink and many of them have hockey nets set up for casual games of recreational hockey so you can get to know your neighbours or send the kids to connect with friends and classmates after school.

Skating is a classic "active for life" sport that's relatively easy to learn with a few lessons, inexpensive to get started at if you visit a secondhand store for skates, and a great way to have fun outside as an entire family.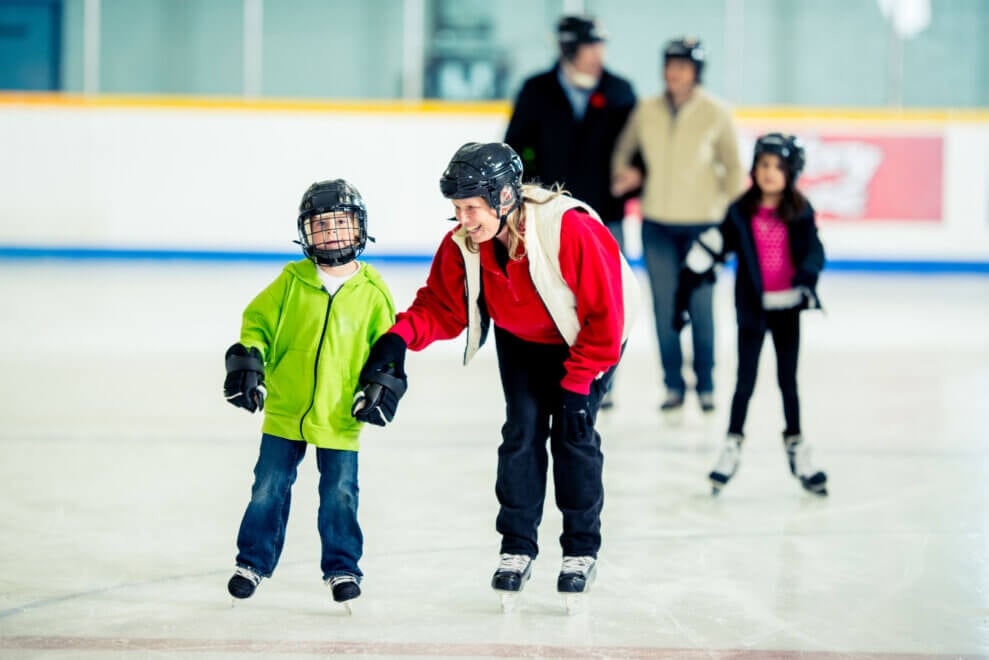 2. Try cross-country skiing
You'll want to start out with an introductory lesson, but you can rent gear for your first couple of seasons and it's usually free to use the trails set in parks and even sometimes city golf courses. Most provincial parks also have groomed trackset trails for skiing and there are generally no trail fees unless you visit an official Nordic centre.

This is another sport that you'll be able to enjoy all the way through your senior years and that many children and youth can discover as a fun way to get outside in the winter from a young age. If you're just getting started, check out these cross-country ski tips for newbies.
3. Try snowshoeing and winter hiking
If you can walk, you can strap on a pair of snowshoes and go for a winter hike. Snowshoes can be rented for the day and you don't need fancy clothing or gear beyond your normal winter outerwear. Personally, I find that kids often enjoy winter hiking more than summer hiking because you can shake snowy trees on one another, you can bring sleds, and every hill turns into an ice slide. Add more excitement with a hike to a frozen waterfall or join a guided tour where you'll learn to identify animal tracks in the snow. For more resources, check out this first timer's guide to snowshoeing.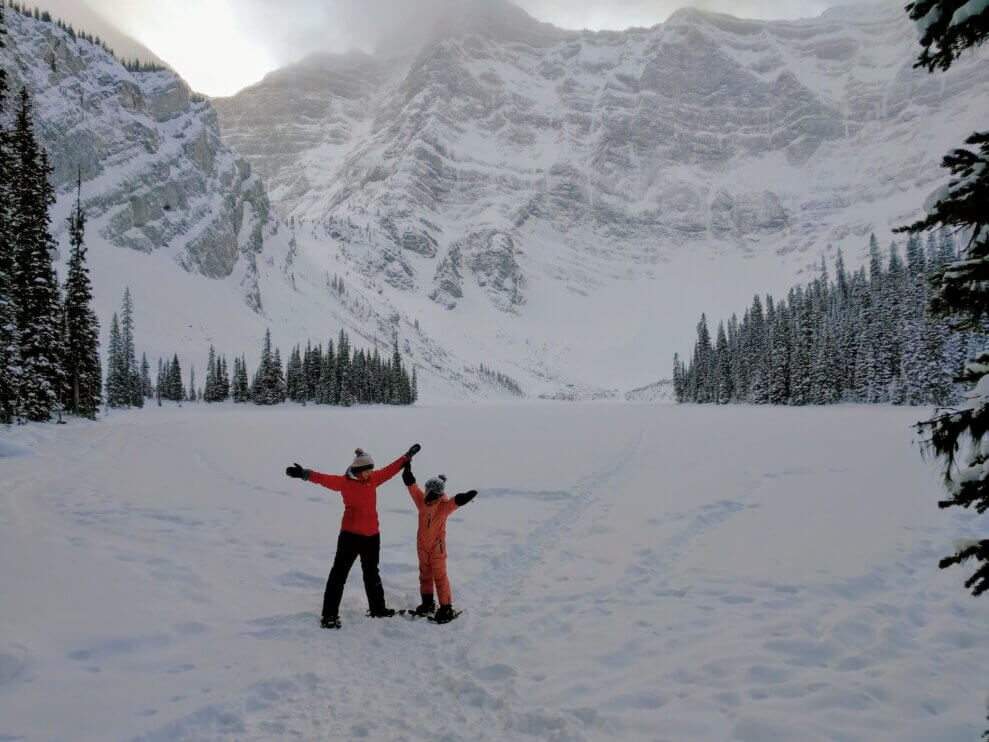 4. Learn to ski or snowboard as a family
Many ski resorts offer family lessons where you can all learn together in the same private class. Otherwise, if your children already ski or snowboard, decide that this is the winter you'll learn with them and step out of the day lodge. It's never too late to learn! Skis can always be rented at the resort that you visit before committing to becoming a ski family.

And while downhill skiing is an expensive winter hobby, an annual ski getaway is something to look forward to each winter, even if you don't ski on a regular basis.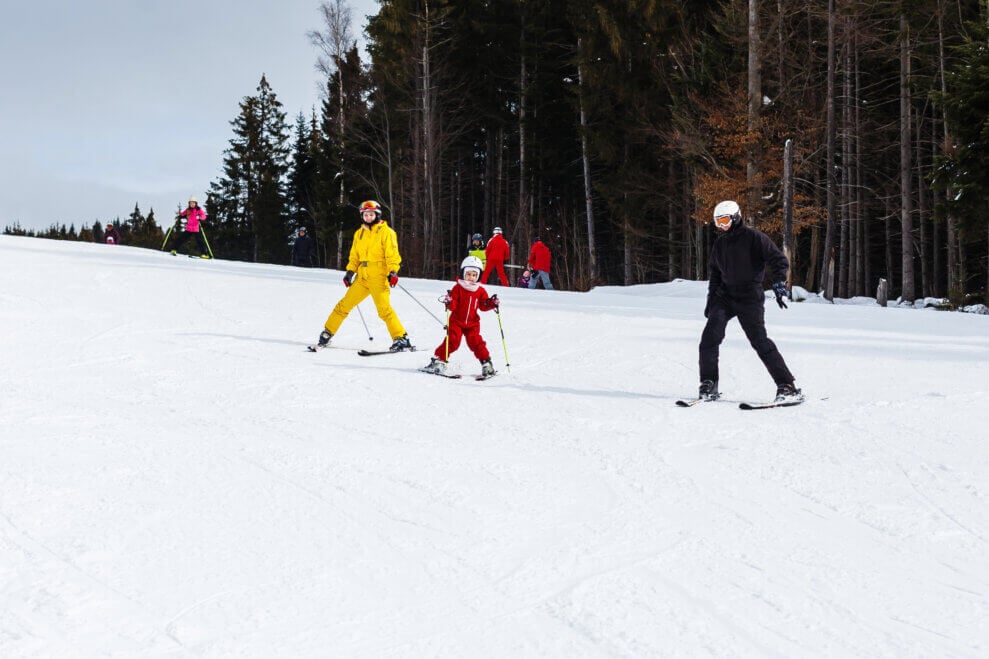 5. Rent a fat-tire bike for the day
If you like mountain biking, you have to try fat biking at least once on a large fat-tire bike specifically designed for winter riding. The sport is guaranteed to make you feel like a kid again, and as a bonus, falling rarely hurts as you gently fall over into a snowbank.

Fat bikes can be rented for the day while you decide if this is a sport you'd like to invest in on a regular basis, and many provincial parks have specially groomed trails for the sport where it's easy to ride on a nice packed trail. You can also try fat biking on easy pathways and trails around your town or city or sign up for a guided tour if you want a few pointers and performance tips.
6. Join a guided ice climbing intro lesson
Tired of watching your teenagers roll their eyes at you when you suggest a family outing? Ice climbing is guaranteed to bring some "wow" to your next family day trip and it's a safe activity to try if you join a professionally guided tour.
The guides will provide all of the equipment, set up ropes, and teach you how to use your tools, leaving you to just enjoy this once in a lifetime experience. And while this likely won't become a regular winter activity that you pursue on your own, it's still fun to try new activities and to get outside your comfort zone occasionally.
What else would you add to the list of the best outdoor activities for families in winter? We'd love to hear your ideas!
---
Check out these other winter play ideas: