I love to skate. My son wasn't so keen on it at first, however.
When he was a toddler, teaching him to skate was painful. Even after skating lessons, we couldn't quite get him to grasp the whole concept of gliding across the ice instead of taking short, awkward steps.
In an attempt to make skating "fun," I started a weekly family meet-up at a local community rink where we'd play games with the kids, like hitting Smarties across the ice with a hockey stick to try to encourage the children to retrieve them. In the end, my son did achieve basic competency to skate around the rink a few times, but he seemed no closer to becoming a fan of skating.
---
Related read: How to make skating fun for the whole family
---
One thing finally made all the difference in convincing my son that ice skating was fun, and it didn't even involve games or candy: skating outside!
At an outdoor rink or frozen pond, you'll get fresh air, mountain or forest views, and snowbanks to jump in too. I've even seen kids building snow slides and snow forts along the edge of a pond when they grew tired of skating. It's a lot nicer than the walls and bleachers of an arena.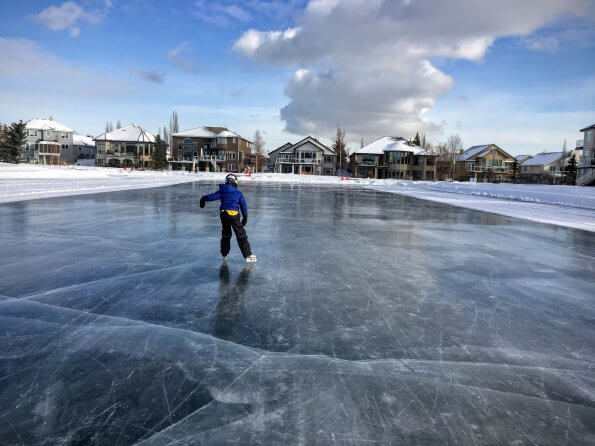 What you need to know before you try skating outside
Many outdoor rinks are not flooded or smoothed by a Zamboni, so you should expect the ice to have a more "natural" texture, complete with holes and cracks. The surface might not always be perfectly flat either, and it can be tricky to walk down slippery ramps onto a pond or lake.
To make outdoor skating easier:
First, always wear a helmet.
Teach children the basics of skating indoors first with a few lessons before moving outside.
Start with an outdoor rink that has a Zamboni, so the ice is smoother (and more similar to what you'd find inside a hockey rink).
Dress children in thick ski pants and consider using knee pads to soften falls.
Wear your boots onto the ice and change into skates there to avoid a treacherous walk down to the ice (bring a milk crate or a plastic stool with you and you can sit on it while you change into your skates).
Many community rinks have indoor facilities for changing. While it's always more dangerous to walk down to the ice in skates, it is advantageous for warming up on cold days. (And parents will appreciate being able to do kids' skates up inside!)
---
Related read: 10 tips to make sure kids dress warmly enough in winter
---
Ice skating at outdoor community rinks
We have a small rink at my community centre where you can put skates on inside and warm up on cold days. The ice is always meticulously groomed and maintained as well, making it the perfect transition from indoor hockey rink to outdoor pond.
With young children and beginner skaters, this is definitely the first step to moving your ice skating fun outside. Many community centres will also have skate aids or chairs for young kids to push around as well.
Ice skating on maintained ponds and lakes
This is the next transition in outdoor skating. Skating on "wild rinks" outdoors adds a whole new dimension to the experience—including the opportunity to see fish swimming under the ice. My son loves skating on clear mountain lakes where you can look down to see plants underneath. He also loves looking at the cracks in the ice and searching for methane gas bubbles.
Many children will also enjoy "long-distance skating" if they find it boring to skate in circles around a rink. We've skated across mountain lakes for several kilometres (our record was a 12-kilometre loop) and the experience surpasses anything we'd get inside a rink.
In some communities, ponds or lakes are cleared for ice skating. If you're lucky, you might even find a community lake with a Zamboni. I live in Calgary, and my city's parks department maintains a large outdoor pond near my house, and regularly clears it of snow for ice skating. The lagoon is also connected to a creek, which is fun to skate along.
This is one of our favourite places to visit after school for some exercise and fresh air. On weekends we like to drive out to the mountains to go skating on one of the outdoor rinks in Banff or we head to Lake Louise for the weekend to skate on the lake there (it's one of the world's most scenic outdoor rinks).
Ice skating on iceways, creeks, and rivers
My family loves skating on creeks or rivers when we can find ones that are safe and solidly frozen. In nearby Banff, we enjoy skating on the Bow River. The town shovels off a small oval for families to enjoy (and we feel safe knowing that they measure the thickness of the ice carefully).
If you have the opportunity to visit Edmonton, there are several iceways created during the winter where city park staff create meandering pathways to skate on between larger lagoons. In British Columbia, you'll want to visit Lake Windermere Whiteway for an opportunity to skate on the world's longest skating trail, at 31 km. Further east, families can skate along the famous Rideau Canal in Ottawa, the world's largest naturally frozen skating rink, for 7.8 km.
Wild mountain ice skating
"Wild mountain skating" is the unofficial name given to ice skating on lakes that are not groomed or maintained by any community or town. You have to time your visit perfectly, looking for a brief window where the ice is sufficiently frozen but not snow-covered yet. Some years we don't get a window, and other years my family manages to skate on several different lakes. We usually find safe ice in Banff or Kananaskis by mid-November.
I'll never forget the first time we skated on a wild mountain lake. The ice was Coke-bottle green and you could see clear to the bottom of the lake. Word had spread quickly that there was a frozen lake near town and there were hundreds of other happy skaters out on the ice. We pushed our son across the lake in a Chariot and then started returning every year after that, graduating to a sled, and finally holding our son's hand as he skated on his own.
Tourists travel far and wide to visit our lakes each November, hoping for the opportunity to glide across ice that's as smooth as glass and for the chance to see the methane bubbles frozen in the surface. By mid-December, our lakes are all snow-covered, and we move back to the outdoor rinks and community ponds.
A few words of caution for future "wild mountain skaters":
Ice should be at least 10 centimetres thick (four inches) before you walk or skate on it. If you aren't sure, it's best to drill a hole and measure the ice.
If you are at all nervous about skating on a wild lake, don't!
Always go out with a group. You don't want to be alone in the middle of a lake if you fall through.
I compare wild skating to stand-up paddle boarding on a glacial mountain lake. I never plan to fall in, but I want to make sure I'm prepared in case it happens. If the ice is newly frozen, I bring life jackets along, as well as a ski pole or a hockey stick in case I need to pull somebody out. I also always bring a full change of clothes for each person skating.
If you're planning on hiking to the lake, make sure you have everything with you that's needed to start a fire in case somebody falls through the ice. I also bring an emergency blanket and items to prevent hypothermia.
Personally, I'm not comfortable being the first person to test a lake for skating. I wait until I see other people skating. I patrol social media like a hawk looking for photos of wild skating between November and December. For more safety information, visit My Wild Alberta.
Photos courtesy of Tanya Koob.