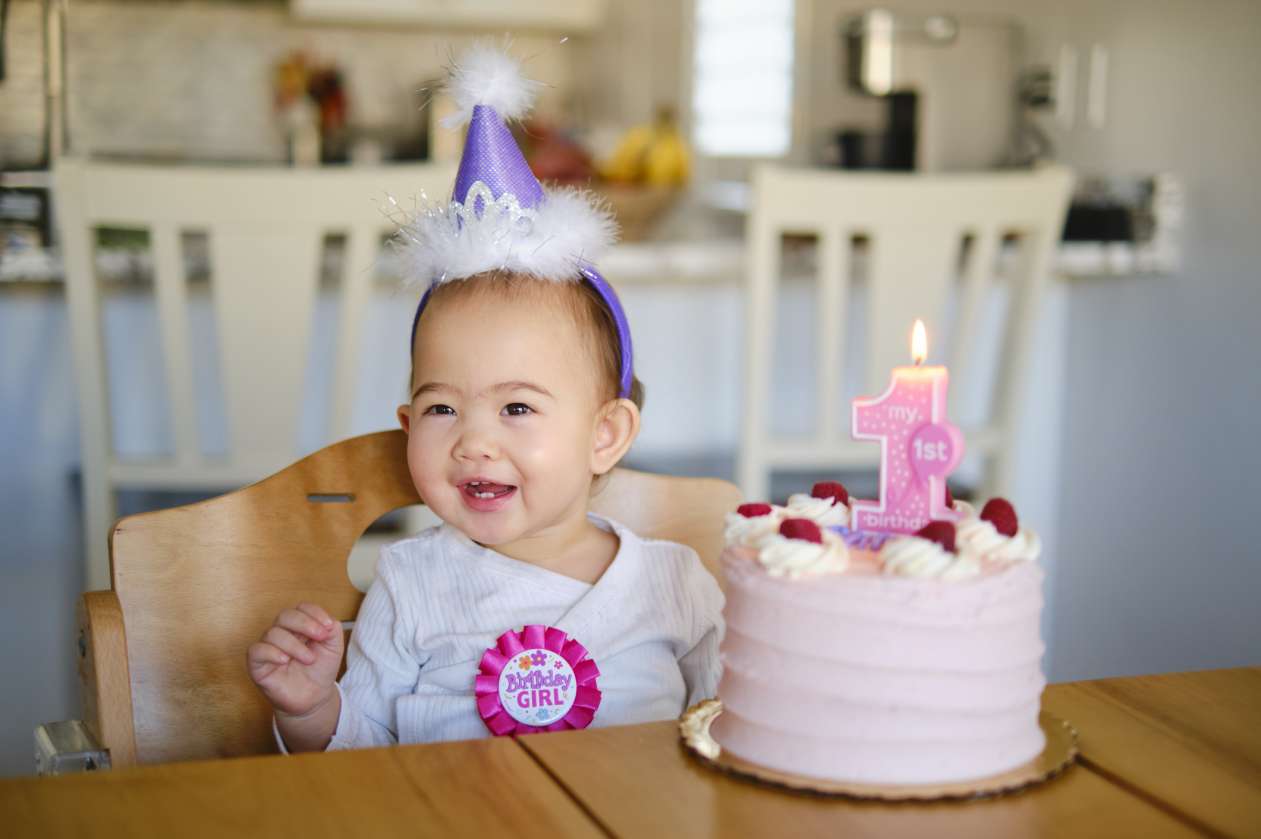 Baby's first birthday party: How to make it an event to remember
It's your baby's first birthday and what a year it has been!
From your first teeny bundle of joy to a sweet treasure about three times as heavy and about five inches longer.
From a babe in arms, your baby has moved from tummy time to rolling over, from crawling to sitting without support, and maybe even walking (but some walk beyond their first birthday—like my third child, who decided she was probably safest to stay low with her siblings flailing around and didn't walk until she was 16 months old).
They have melted your hearts with smiles, learned to wave, made babbling sounds, strung sounds together, reached, grabbed, put things in their mouth, clapped, and are maybe (hopefully!) sleeping through the night (again, it's different with each child).
And now it's time to celebrate your baby's first year with a party.
We've got you covered with some tips and ideas to make this the party of their dreams (odds are that they haven't had these actual dreams since they've never had a party to celebrate their birthday but go with me here!).
Make your party a success by limiting your own stress. Keep it simple and enjoy the fact that you've been a fantastic parent for a whole year!
Schedule
This isn't going to be a cocktail party for a group of socialites. Odds are high that there will be tears. From babies and possibly adults.
To minimize the tears, set up the party around your baby's schedule. If they're happiest in the morning, go for it. Are they happier after a nap and a snack in the afternoon? You know your baby best. A happy baby will equal a happier party.
It's also best to keep the party short and sweet. Two hours is probably more than enough to keep everyone cheery.
The guest list
Set a small guest list to minimize a chaotic environment that your child probably isn't used to. Perhaps you want to invite family members or friends you've met at playgroups or daycare.
Food
Let your guests know if you're providing a meal or simply cake and snacks.
If you are planning to serve a meal, sticking to a "keep it simple" buffet works perfectly in this scenario. (Think finger foods that people can go to anytime in the party—no need to sit to eat!).
To keep guests of all ages happy, provide a small range of items. And if you can purchase them rather than make them yourself, even better! Items could include:
A selection of soft and/or small items for the babies in the crowd
For your other guests, sandwiches or a deli tray
Fruit and vegetable trays
Hummus and mini pitas
Salads (pasta, bean, or green)
Samosas
Chicken nuggets
Pizza squares
Tiny quiches
Crab cakes
Smoked salmon
Cheese and crackers
Chicken satay
Shrimp rings
Deviled eggs
Cauliflower bites
Edamame
Chips and dip
Make sure to keep foods separated in case of allergies and to provide lots of napkins. In terms of drinks, ensure you have a variety of water, juice, soft drinks, and alcoholic beverages (if you feel they're appropriate for the occasion).
The cake!
Besides your baby, the cake is often the star of the party! Whether you choose to go store-bought or homemade, watching a baby (party hat on or not) dipping their fingers into a cake while the guests sing happy birthday is pure joy.
There's no rule that you need to choose a theme for the cake or the party, but if your child does have a particular love of a certain animal, trains, flowers, or other, they'll be thrilled to see them on their special dessert.
As with the rest of the party, make sure you get lots of photos and videos. Cake time is especially important. Odds are fairly high that your baby won't remember their party, but it's a memory you'll want to keep forever and one you'll want to share with them for years to come.
Activities
A one-year-old's party doesn't need to have many planned activities. Pin the tail on a donkey and three-legged races might have to wait a year or two! But if you want happy babies (again, this is the central goal of the party), make sure to provide multiple options for all the small guests.
Music is optional but if you are playing it, mix up a selection of toddler and "adult" music. I have yet to find an adult who would choose to listen to "Baby Shark" more than one time in an hour. Or a day. Here's a great playlist for inspiration.
Set up areas (or one spot) inside or out with items such as a ball pit, blocks, books, tunnels, tiny maracas or rattles, soft balls, toy cars, etc. Ensure that there are no small pieces in any toys (or lying around the whole party area). You may want to place a baby gate around a play area to ensure no guests wander off.
For older siblings, you can provide art supplies, hula hoops for an active twist on the party (read how to make them here), binoculars, foam toy airplanes, sidewalk chalk, Velcro throw, and catch sets, etc. Again, ensure that there are no small parts in their toys in case the older kids decide to play with the babies.
If you're having an outdoor party, thrill your babies with bubble-blowing. Have a number of bottles of "bubble juice" and wands on hand to keep small hands reaching out and many squeals of laughter.
The extras
While it's hard to remember all the details when planning a party, guests at a one-year-old's party would probably be grateful for items such as comfy chairs for breastfeeding moms, extra diapers and wipes for those who may have forgotten to bring them, change spaces, and small chairs for siblings.
And, above all else, remember…
Again, this might not be a memory that a baby will have. But it is a special day to remember how far you and your baby have come in the past year. You've hit so many milestones together and have so many more to come. Smile, take pictures, and acknowledge the superstar that you are as a parent.
Enjoying this article? Have a little one under the age of four?
---
Check out more birthday party ideas: