Editor's note: This post was updated on July 5, 2021.
Reach up as tall as a mountain, rise and fall like the sun, throw a rock into a river, and breathe in the sweet smell of the prairie grass.
These are just some of the actions kids will do with the book As Big as the Sky, as Tall as the Trees by Leah Yardley, available as a readaloud story on YouTube. It'll get readers up and moving as they learn the story of Alberta as told through Indigenous stories of the land.
Starting with the introduction of Mother Earth, the book explains how Alberta is a special part of the earth that is home to many people, animals, and living things. Each page tells a story about the different environments within the province, such as the prairies and the mountains, and instructs readers to do a movement skill to illustrate each point.
Making use of Indigenous oral practices, the book acknowledges the traditional territories of all First Nations, Métis, and Inuit people of Turtle Island.
As Big as the Sky, as Tall as the Trees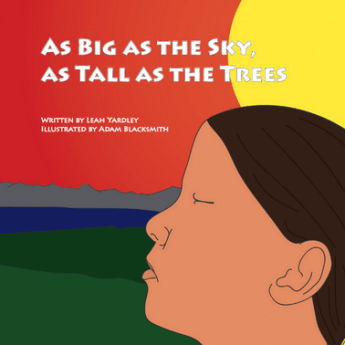 Author: Leah Yardley
Illustrator: Adam Blacksmith
Target Audience: 0-5 years
Publisher: Be Fit For Life Network
At the beginning, it also asks that the book be used by a diverse span of communities as a tool to "incorporate other teachings unique to your identity, ways of being, and oral practices and teachings."
The illustrations are by Adam Blacksmith, a graphic artist who is half Cree and half Dakota Sioux. His vibrant colours and dream-like drawings create vivid imagery that is compelling and dynamic. The drawings really help you feel a connection to the earth, and also make for a good first introduction to Indigenous culture for young kids who are not part of the community.
This book is third in a series in Be Fit for Life's "Moving Stories." The purpose of these books is to promote physical literacy in children aged 0-5 through physical actions in storytelling.
Author Leah Yardley, who wrote the other two movement books Reach, Twirl, Curl Up Small and Let's Go Play on a Winter Day, is a certified exercise physiologist and coordinator of the Be Fit for Life Centre at the University of Calgary. She says becoming a parent has made her passionate about helping young kids develop physical literacy. And it shows in her writing.
The story itself is a full-on sensory experience, making use of all five senses through either action or imagination. It also covers many fundamental movement skills, such as jumping, throwing, balancing, and moving your body into different shapes and positions. So as a resource for teaching physical literacy, this is a fun and imaginative way to get kids moving.
Read it with your little ones here: