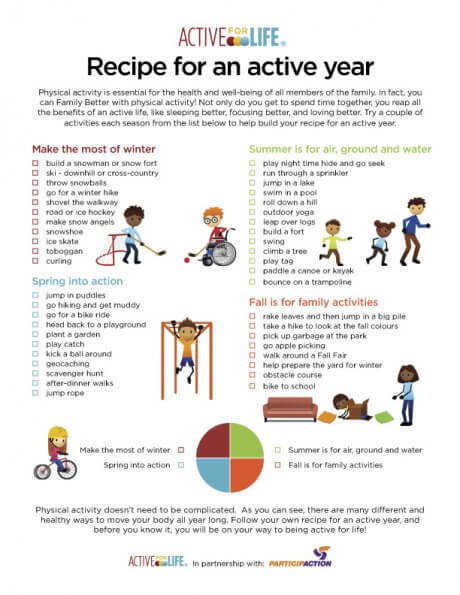 It's challenging for families to find time to be active together, so Active for Life and ParticipACTION are making it easier. Families will find Recipe for an Active Year an excellent source of ideas for family activities throughout the four seasons.
Most people think physical activity is just about losing weight and looking good at the beach. Active for Life and ParticipACTION know this isn't true. Now ParticipACTION is asking people to think deeper: it's about living better.
Through the new "Better" campaign, ParticipACTION is showing how the benefits of physical activity go far beyond looking trim and buff. As research has shown time and again, physical activity promotes countless benefits for our brains, our relationships, our communities, and—here's a big one—our families.
The "Better" initiative from ParticipACTION demonstrates how physical activity helps us to heal better, breathe better, work better, learn better, laugh better, and even love better. But it's especially important to realize how activity can help us to "Family Better."
Building family bonds
Today's young families lead incredibly busy lives. Between work, school, and extra-curricular activities, parents and kids are often left with precious little time just to be a family together. Much of that time is then absorbed by handheld devices, computers, and television. This doesn't promote bonds between brothers and sisters, or between children and parents.
Physical activity as a family can change that.
Physical activity is essential for the health of everyone in the clan. Adults need at least 150 minutes of moderate to vigorous physical activity each week, and kids (aged 5-17) need at least 60 minutes per day. But there's more to family activity than simply building heart health or trimming kilos.
When families do physical activities together, they spend time together. And when they make the activity fun for everyone, it builds shared laughter and family connection. In short, your family gets all the benefits of an active lifestyle (mental, emotional, social, physical) together with the benefits of greater family harmony.
Making time for activity
ParticipACTION offers these suggestions to help your family enjoy physical activity together:
Commit time each week for family physical activity.
Choose activities that are fun and enjoyable for the whole family like swimming, badminton, hiking, cycling, or walking the dog.
Instead of turning to screens, go skating, fly a kite, or play croquet.
Use local schools, community organizations, and parks and recreation services to find active events for the whole family.
Resources to help you Family Better
ParticipACTION also offers excellent online resources, including an e-newsletter, to help families make regular activity part of their lives.
The ParticipACTION website features articles with great tips, ideas, motivation, and information on how to make family activity a reality. These include articles to address your motivation (defining your "why"), goal setting, possible obstacles, and tracking how you are progressing with your activity and health goals.
You can also sign up for ParticipACTION's weekly e-communications to receive extra tips and resources for promoting family physical activity.
TIP: Get advice and support on the go with the ParticipACTION app!