When warm weather approaches, winter-weary Canadian parents are usually ready to flock to local parks for a healthy dose of fresh air and to let their kids run free. Nowhere is this experience more special than at these incredibly cool parks across the country. Pack a picnic, grab your kiddos and, if you're close by, head out to enjoy the warm weather at one of these special spots. Even if you're not close by, these playgrounds might just inspire a special road trip in your future!
A wooden castle at Jamie Bell Adventure Playground, High Park, Toronto, Ontario
This iconic park, which burned down in 2012, was since rebuilt to be even more incredible (with a little help from famous TV builder Mike Holmes). Bring your knights, dragons, and tiny royals to this castle where they can swing on a tire, peek out the window of a turret, and enjoy all the artwork by the neighbourhood children that's featured throughout the park.
A Canadian adventure at Mooney's Bay Park, Ottawa, Ontario
This giant Canada-themed playground is a true adventure for kids (and parents will love the Canadiana kitsch). Each of the playground structures represents a different region of our country—like the western-themed area (with a western town and ride-on horses), or the maritime area, complete with a giant lighthouse and slide. Kids will love the orca whale climbing structure and canoe teeter-totter.
A playground for nature-lovers at Terra Nova Park, Richmond, B.C.
This consciously sourced (with wood from British Columbia!) playground is a nature lover's dream. Highlights include ziplines, a long slide embedded into a grassy hill, a tall treehouse with twisty slide, a rope walkway, a sand and water play area, plenty of swings, and endless space to run. Pack a picnic, because you (and your kiddos) will want to stay all day.
A natural play space at Dingle Playground, Halifax, Nova Scotia
This natural playground features a tall log tower with multiple levels that kids can climb through before descending a twisty slide. There's also a picturesque slide nestled into a grassy hill, with log climbers on each side so kids can climb to the top again and again. Make sure to bring a change of clothes—the sand and water area will entice budding engineers to create and experiment for hours.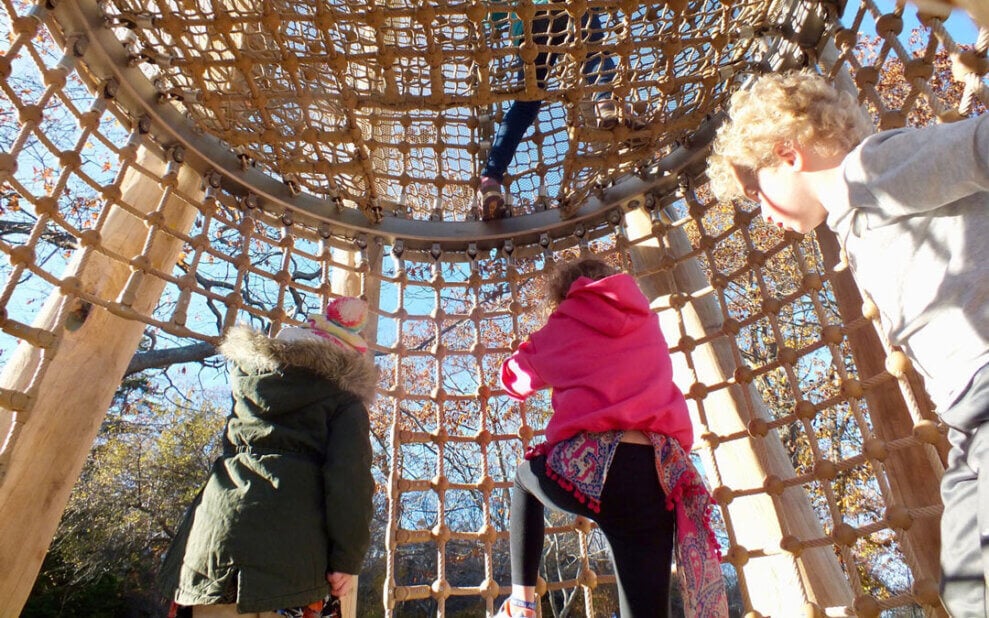 Exploring Indigenous culture at Carcross Commons Playground, Carcross, Yukon
This unique playground pays tribute to First Nations Creation stories by creating a space that honours both research on children's play and the vision of the Carcross/Tagish First Nation community. As a natural playground, it's chock-full of rich play opportunities. Rope bridges are perfect for balancing and swinging, wooden climbing structures provide opportunities to scale high heights, and balancing logs make for a perfect game of grounders or "the floor is lava." With a background of stunning natural views and colourful First Nations art, parents will be equally immersed in their surroundings.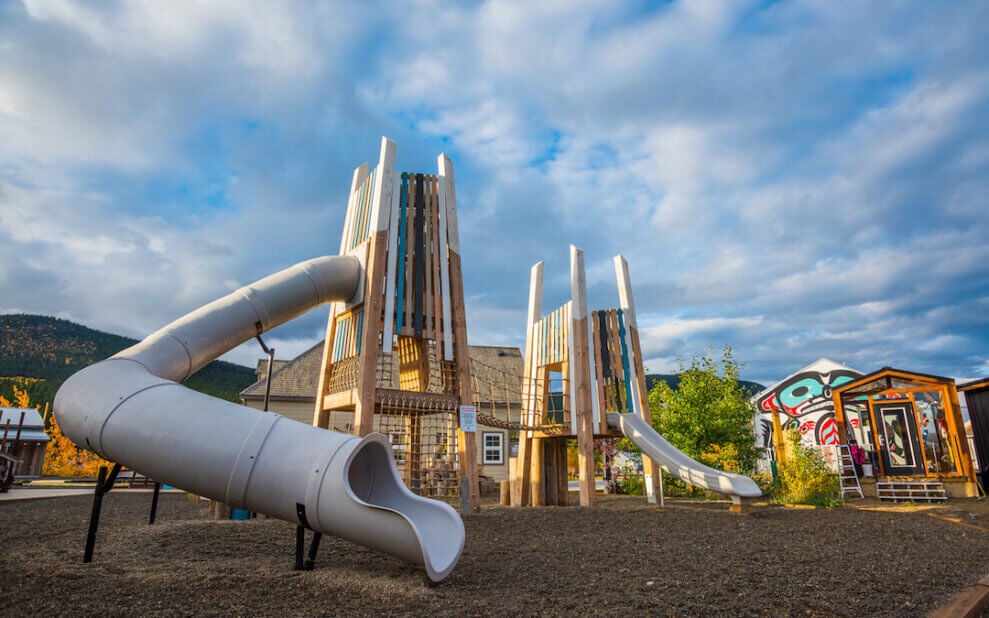 Climbing and ziplining at Nathan Shuster Park, Côte Saint-Luc, Quebec
Kids of all ages will be happy with the variety of things to do at this sprawling playground. Bridges, webs, and ladders lead to a magical treehouse, while a spider web climber connects to a zipline via rope bridge. Kids can also jump across tree stumps and scale rock formations. If little ones tire of the park (though they won't!), there's a beautiful nature walk nearby.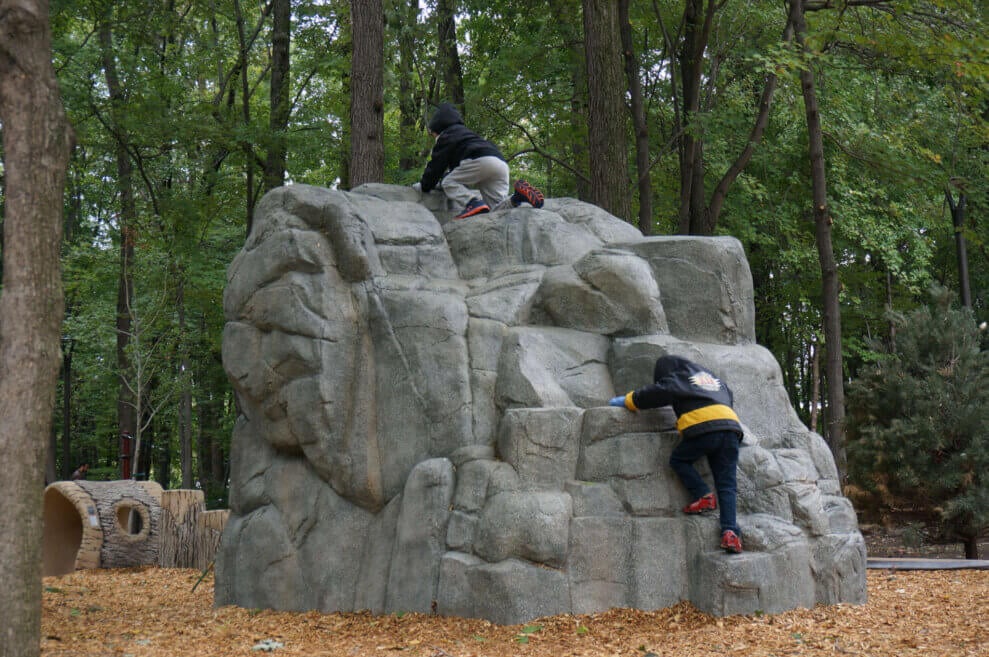 A snakes and ladders adventure at Assiniboine Park Nature Playground, Winnipeg, Manitoba
Snakes and Ladders fans will get a major kick out of the children's garden at this park, which is inspired by the popular board game (think checkerboard walkways, a snake made of branches, and musical frogs). The playground is equally exciting, with several snake-like slides nestled into a hill, climbing ropes, tunnels, swings, colourful rubber mounds, and a sand and water play area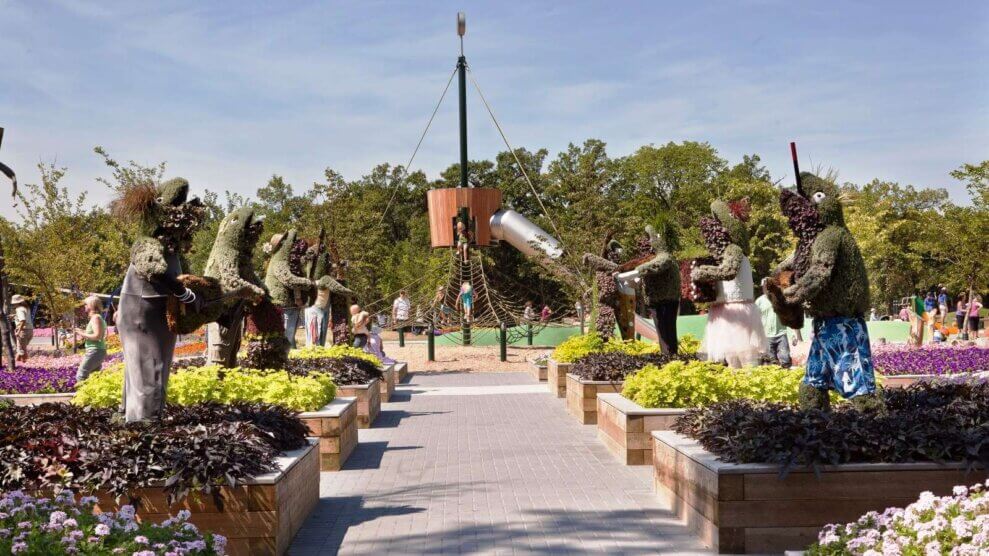 A dinosaur dig at Fairchild Park, Regina, Saskatchewan
Calling all dinosaur-lovers! This park reflects Saskatchewan's history of archeological digs by offering kids the chance to discover replicas of dinosaur bones, footprints, and fossils. When your little archaeologists need a break from digging, there are plenty of climbing ropes and rocks to climb (and thanks to the park's location by two schools, there are also a couple of other playgrounds a short distance away).
A brand-new inclusive playground at Somba K'e Park, Yellowknife, N.W.T.
The bustling Somba K'e Park is on the shores of the beautiful Frame Lake in front of Yellowknife's City Hall. The park plays host to multiple events, including concerts at the waterfront amphitheatre. The museum and visitor centre are also nearby. Naturally, this made Somba K'e the perfect location for a brand-new playground. The newly built (in 2021) playground is accessible to all, thanks to features like braille, double-wide ramps, a roller slide, quiet zones, a bucket seat with a harness swing, and a swing for children in wheelchairs. There is no shortage of play opportunities, and with plenty of cultural experiences on offer nearby, this park is the perfect place to spend the day.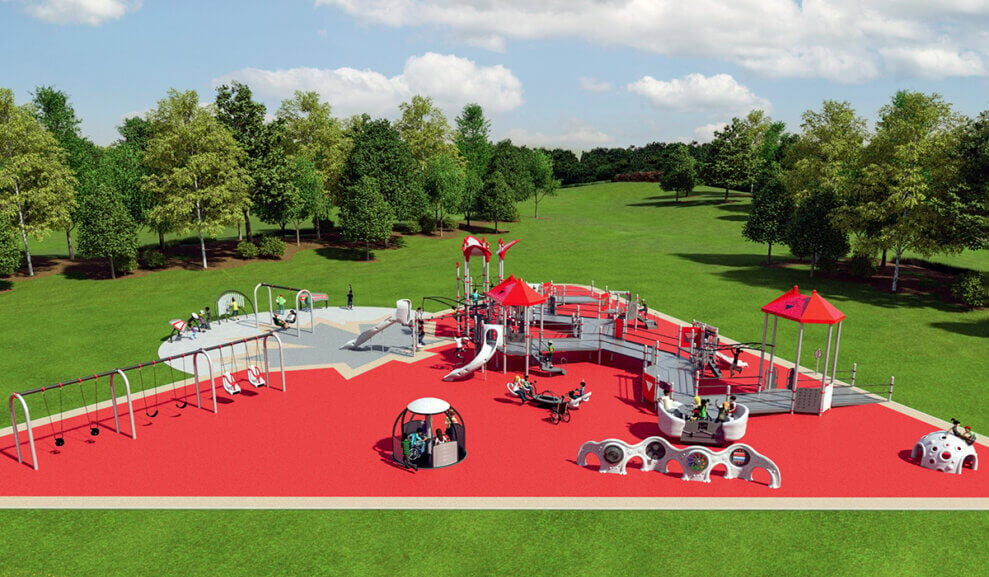 Header image of Carcross Commons Playground: Earthscape
---
Find more fun ideas for summer: