These free hero workout videos are just what kids need right now
Glenn Higgins, a personal trainer from London, England, has created dozens of high quality, kid-friendly workout videos featuring characters from blockbuster movies like Star Wars, Marvel, DC Comics, Harry Potter, and more.
They're all incredibly fun, and they're all available for free on his YouTube channel, Get Kids Moving.
Origin story
Five years ago, Higgins recorded a video of himself performing a few simple exercises while holding a Star Wars lightsaber, to share with his fitness clients and followers on social media.
"Since I'm a huge Star Wars fan, I added the lightsaber just for fun," Higgins explains. "Then I started getting messages from teachers across North America, saying 'We've been doing your lightsaber workout in phys ed class. Have you got any more?'"
Higgins was only too happy to oblige. A lifelong costume enthusiast, he dove into his personal collection of handcrafted superhero outfits (and matching props) and began creating workouts to suit the well-known characters. The positive response continued, as kids eagerly jumped into action to move along with the on-screen hero.
"When I realized that people were enjoying the videos, I thought, let's run with this and see what I can create," Higgins says.
Cast of characters
Today, Get Kids Moving has 54,000 subscribers and an archive of over 80 videos. To provide more diversity, Higgins assembled a talented team to depict male and female characters from prominent movie franchises, including:
Higgins is currently working on a new Star Wars workout featuring Boba Fett and the Mandalorian. He has also recruited the six-year-old son of one of his personal-training clients to star alongside him in an upcoming Spider-Man video.
Epic movements
What makes these videos so super? Here are a few things that make these activities extra fun:
Eye-catching visuals. The moment the video starts, it's like seeing an action figure come to life. Kids are instantly transported into the hero's world, thanks to the authentic costume, high-energy music, dramatic background, and special effects.
Less talk, more action. Higgins wisely skips any preamble or instructions and gets right to the workout. The absence of narration removes any language barriers, and the moves are simple and repetitive for kids to mimic.
A built-in timer. The workouts are structured in intervals—30 seconds of a specific exercise, followed by a 10-second rest. A handy graphic counts down the remaining time.
Minimal equipment needed. Most of the exercises are equipment-free, like jumping jacks, squats, lunges, and running in place. For the Star Wars workouts, Higgins says he's been delighted to receive video clips of phys ed classes using foam pool noodles as lightsabers.
Unified themes. Each exercise in the sequence has a clever name related to the hero, like "Vader V-sit" or "Loki Lunges." Each move is carefully choreographed by Higgins to match the personality and back story of the character.
Equal rights for villains. The bad guys get their own videos, too—the collection includes Kylo Ren, the Joker, and even Hogwarts' Professor Snape. When asked why these videos are popular, Higgins says with a laugh: "I guess kids want to go to the dark side now and then."
Positive impact. Higgins appreciates when teachers share success stories with him, and he references a message from a class of students with learning difficulties. "The kids were reluctant to do anything active, but the teacher said they suddenly joined in when they discovered the channel," he says. "To reach kids who maybe haven't found anything that inspires them, that's an especially incredible feeling."
Ideal for home-school. When kids were quarantined at home with no phys ed class or organized sports, the videos provided a practical solution. "During lockdowns, I made an extra effort to upload new content on a regular basis, because it seemed like people really needed it," Higgins says.
Behind the scenes
This is a passion project, with Higgins filling the roles of writer, performer, costume designer, prop master, fitness consultant, cinematographer, lighting director, editor, and visual effects wizard. Here are some of his behind-the-scenes secrets:
The costumes in his collection are a combination of store-bought and hand-made. Some accessories are 3D printed pieces that he customizes by sanding and painting.
When an outfit needs alterations, Higgins enlists the sewing super-powers of his mother, Sheila.
His father, Jim, suited up to play the role of Papa Elf in a teaser for the holiday-themed Elf workout (which has over 1 million views).
The early videos were filmed outdoors, but in recent years, Higgins has added a green screen to his fitness studio, so he can place his hero in any universe or galaxy.
Before Get Kids Moving took flight, Higgins had only a basic knowledge of video production and film techniques. His graphic design, editing, and special effects skills are self-taught.
To get a sneak preview of the exercises in a workout, users can click the "Show More" button below the video to view a full description.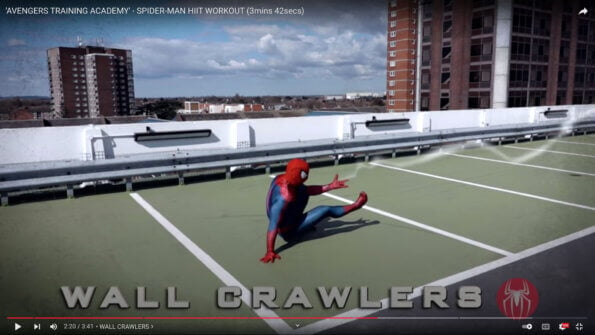 Fighting the good fight
Higgins' mission is to engage kids with a positive message about fitness and well-being. "It's a way of reaching kids with something they can relate to, from comics, TV or movies," he says. "Kids need to move, and hopefully this inspires them to be active alongside their favourite hero or character."
Although Higgins admits that creating the videos are a lot of work, his Spidey-sense confirms that it's all worth it. "Seeing kids at school or at home, working out with their families or on their own—I'm just so proud of it."
All images courtesy of Glenn Higgins.
---
Read more about great videos and apps for kids: