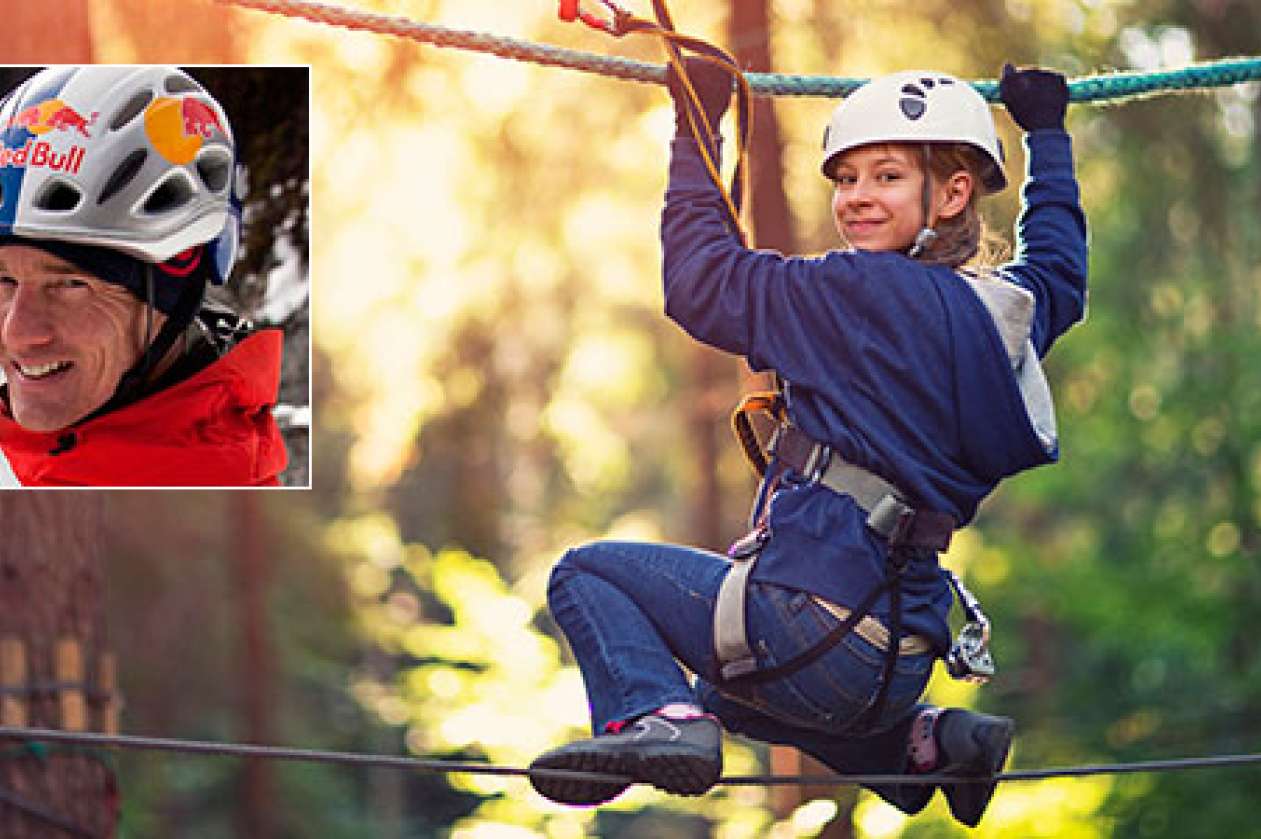 Helping kids recognize and navigate risk with Canadian outdoor adventurer Will Gadd
Covering my kids in bubble wrap has seriously crossed my mind.
But I've learned that cushioning falls or attempting to eliminate risky situations altogether, in fact, poses the biggest risk to helping our children develop confidence and physical literacy.
Instead, I am reminded that one of the best ways to protect your children – whether they are so-called "daredevils" or "cautious kids" – is to help them confront and understand risk.
How exactly?
More on Risk Factor
I asked Alberta's Will Gadd, an extreme athlete who ice climbs and is a competitive paraglider. (These are just a few of his top adventures.) This dad-of-two has made a career of high adventure, but it hasn't necessarily meant a life of non-stop risk-taking.
The National Geographic's Adventurer of the Year approaches the subject of risk with kids in the same way he does with adults.
"The first step is to recognize it," says Will.
How to rate risk
Starting at a very early age, he began to teach his daughters, now 6- and 10-years-old, "hazard recognition and mitigation".
"We have a three tier system we use to rate risk," he explains.
Whether they are playing at the playground, attempting a new skill, or taking on a new trail in the Canadian Rockies, the activity always begins with a pause and the simple question: "What's going on here?"
Will says that by breaking down the situation into smaller steps, kids will begin to differentiate between scary and dangerous, learning how to recognize and navigate risks along the way.
The first level of his three tier system is described as "bumps and bruises" – a terrain where there is a chance of slipping on a new slide at the playground or tumbling on some loose rocks while hiking a trail.
When they are out in the mountains, for example, and come upon a drop-off or a river, he'll ask them would happen if you were to fall off this trail and down the embankment?
The answer: "All right dad, we are in 'hospital terrain' now." This where kids recognize the are risks where one could fall and say break an arm.
The next level, he explains, is the typical, busy intersection where cars are flying by the sidewalk.
"And I will ask them if you run into the street without looking, what is going to happen? And the answer is death. And they get that," says Will.
"I don't say that to scare them, I say that so they are free to run around in all the places around the world where the vast majority is 'bumps and bruises' and a few 'hospital terrain,' but they recognize the real hazards and live life accordingly."
Will shares this advice with fellow international risk experts in a new documentary Risk Factor. In it, filmmaker Robert Lang explores how risk permeates our lives and how bad risk assessments lead to bad consequences. The documentary is part of The Risk Factor Initiative, a national, cross-platform campaign in collaboration with the Canada Safety Council, that promotes the ability to better understand, assess, and respond to risk in daily life.
The power of negative thinking
According to Will, the ability to name the potential risk and think about the consequences are the defining steps in accomplishing a new activity.
"It's all about the positive power of negative thinking … it's your ability to think negatively and think the consequences of your actions through that ultimately determines success."
In this excerpt from the documentary, Will shares more about this:
This approach helps provide young people with the skills to gradually assess risk so that they can engage in risky behaviours that are still reasonable. It is the answer to whether a beginner diver, for example, starts by jumping off the side of the pool first rather than heading straight to the highest platform and diving in.
"New things aren't automatically scary," says Gadd. "New things are something to be figured out."
"It's very empowering when they look at it and understand it and get it and then succeed."
Every weekend Gadd and his family make an effort to have one active adventure. Before they set off, he asks his kids to help plan and pack for the day. When they arrive in the new environment to start the activity, the whole family takes a moment to look around, access the surroundings and discuss it to come up with a plan.
"If you just give (kids) that little bit of confidence to recognize the risk, it's not so scary anymore. And you can see the switch go on and they are excited."
So bye bye bubble wrap. It's high time to see the value in adventure.