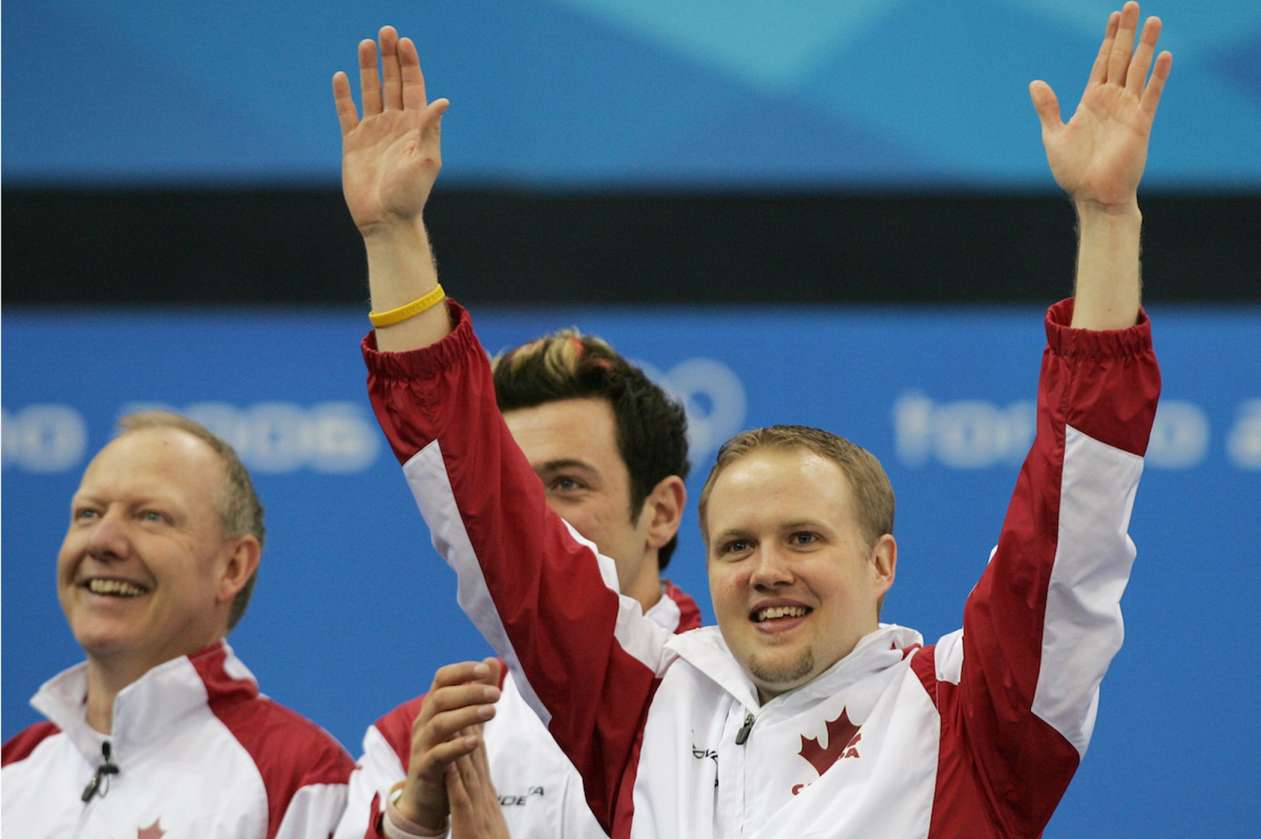 Tips from an Olympian: Low-pressure ways to encourage kids' love of activity
Growing up in a small town in Labrador, Mark Nichols was introduced to sports the old-fashioned way. He and his friends would run around the neighbourhood playing tag on warm summer nights, starting a game of street hockey, or playing baseball on a back field before the sky turned dark. In elementary school, there were foot races and other activities that got kids moving, and by the time Nichols was in grade two, he'd discovered the sport that would change his life.
"I remember just waiting to be old enough to sign up for junior curling," Nichols says, noting that both of his parents played the sport. "I have memories of being very young on the curling ice, not necessarily curling but wearing a hockey helmet and pushing rocks around."
Over 30 years later, Nichols is an Olympic gold medalist, headed to Beijing in February for another shot at the podium. He's also a father of two who met his wife, Colette, at a brier. Here's his story, plus tips for kids who want to try curling or pursue another sport.
From playing once or twice a week to the Olympics
As part of an active family that played softball together in the summer and went curling and downhill skiing together in the winter, Nichols had a built-in support system that encouraged him to follow his interests. "Growing up in Lab West, we had access to pretty much any sport we wanted to try—it was all in close proximity," he says. "My parents allowed myself and my sister to play whatever we wanted, and as we got older, we figured out what we liked and didn't like."
Curling quickly became something Nichols was interested in—and he was good at it. "I played once or twice a week every winter and got to go to my first junior championship at 12 years old," Nichols says. "I got to play lead for three guys who were teenagers and a lot older than me."
Playing with (and against!) older kids showed Nichols how important it was to practice, though he didn't think of it as training at the time. "I loved being on the ice. At that young age, you're not thinking of it as practice, you're just going curling."
While Nichols refers to his mom as his "first real coach," who guided him through several early provincial championships, he had a number of mentors along the way.
"Our club was a very tight-knit community with some very accomplished curlers who helped me with my early development," Nichols says. "Jeff Thomas coached us through to our first World Junior championship—he's still with us and now he's a part of this team that's going to the Olympics. He's always been involved in some fashion and now he gets to go [to Beijing] with us 20 years later."
Going for the gold—again!
Throughout his career, Nichols has earned titles at a number of briers, grand slams, provincial and national championships, and world championships. As part of Team Gushue, Nichols first went to the Olympics in 2006, where he won gold as the team's third. After a brief retirement and a stint playing in another province, Nichols returned to Newfoundland and is now headed to Beijing along with Brad Gushue, Brett Gallant, and Geoff Walker.
Want to try curling? Any age is a good age.
If your kids are interested in curling, Nichols suggests reaching out to your local curling club to find out if there's a junior or family program. "You can do family curling on the weekend with the kids, and junior programs typically start between seven and 10 years old," he explains. "They go out on the ice once or twice a week. I started out super young but Brad [Gushue] didn't start until he was 13 or 14. I know many great curlers who started in high school or university. That's not too late to give it a try!"
While curling happens on ice, you don't have to be a strong skater. The more important skill is balance. "You're wearing sneakers and graduate to thinner sliders over time," Nichols explains, comparing it to taking the training wheels off a bike.
Olympian Mark Nichols' tips for parents
As an Olympic gold medalist and a busy parent, Nichols has some great insights. Here are his pro tips for moms and dads.
Get moving. "Physical activity is important for everyone's physical and mental health. It's been shown that people who are physically active can release stress better and are more confident in themselves."

Get outside. "Kids just need to learn how to play. Most communities have great playgrounds. Get out and do that stuff, let kids go out with their friends and goof around. The competitive stuff can come when they're older—at a young age, just let kids get out and enjoy some fresh air and be amongst their friends. It's super important."

Let them try different things. "As a kid, it should be about having fun and not putting pressure on them to perform. Help them access as many sports as they can. Let kids find out what they love. Don't force them into a sport they don't like or don't want to do."

Encourage variety. "I am a big believer in young kids being able to do as many different activities as they can—not just sports but a wide variety of activities. It's super important for their development and confidence. They don't need to specialize too early or play one sport year-round."
Inspired? Try getting active with your family
If you're feeling inspired by Mark Nichols, now is a great time to try something new as a family! Whether it's curling or even just a new route for your family walks, here's a great way to keep track. Try out a variety of activities and movements, and mark them down each day when you do them. It's a great way to see your progress, build momentum and develop confidence and self-esteem while you're moving. Get your printable tracker right here: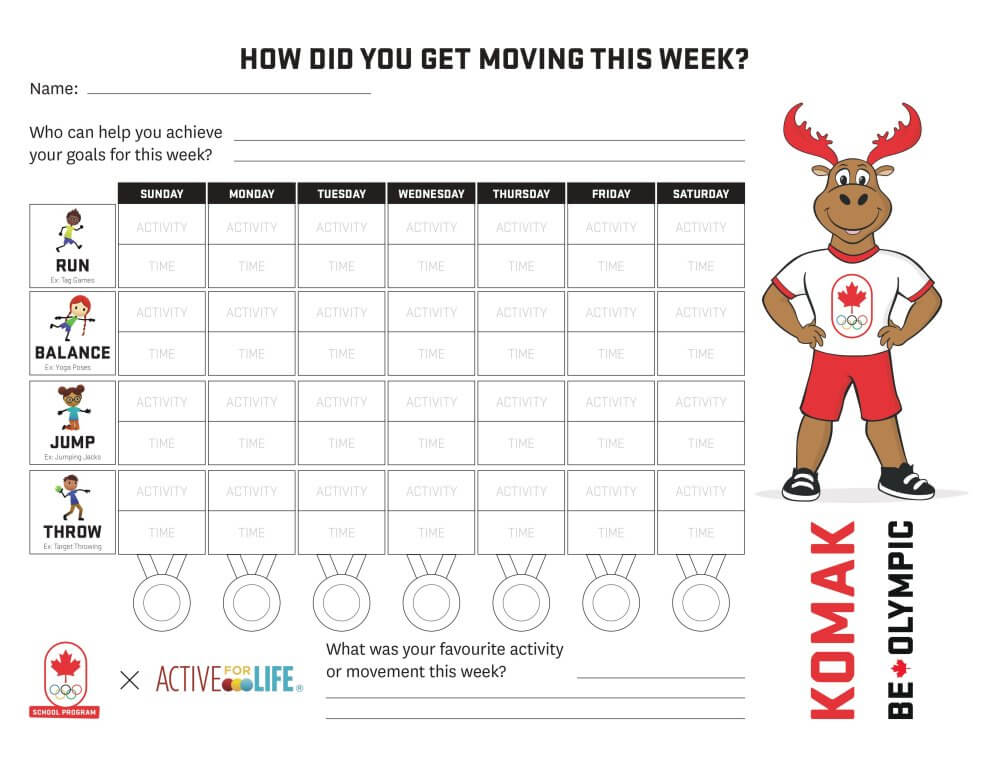 One more tip for making it fun
For school age kids, download and print this fortune teller [PDF], a fun way to get kids practicing some of the fundamental movements! They'll be having so much fun playing, they won't even realize they're building skills.
Photo: Mike Ridewood, Canadian Olympic Committee
---
Check out these other expert tips: