Playgrounds and unstructured free play have always been my go-to options for my two boys' exercise and entertainment. But as they've grown in height, they've also been growing apart in terms of their interests, as well as their physical and social skills.
Despite their five-year age difference, when they were younger both would happily play together in the same area or on the same play structure. Then the inevitable happened: they got older. Now, my 11-year-old has begun to grumble.
It's an awkward age. He finds the playgrounds we're visiting "too boring" or "for little kids," but he also finds the usual teen amenities, such as skate parks, too intimidating.
Thankfully, playground manufacturers and designers have realized that tweens and teens often have no safe places to play and connect with their peers, and are now producing more innovative and challenging products and activities for this age group. Obstacle courses, zip lines, pump tracks, exercise equipment, climbing walls, and parkour circuits (British Columbia has three parkour parks!) are some of the ways park designers are ensuring that kids of all ages have a place to play.
---
Related read: Check out these five amazing playgrounds
---
These all-ages parks are a welcome trend for parents of children spanning different age groups, but my boys are still often faced with playgrounds where one or the other has limited options. 

If you're faced with this kind of situation, sometimes you have to make your own fun.
One tip is to bring along a couple of age-appropriate outdoor toys. Dana Wheatley, owner of Calgary Playground Review and mother of three children ranging in age from four to 10, recommends bringing along your own equipment so older kids can do other activities like basketball, soccer, or skateboarding. When visiting a teen-oriented play area, younger children can play with bubbles, chalk, or use a toy shovel and bucket to create sand or wood-chip castles.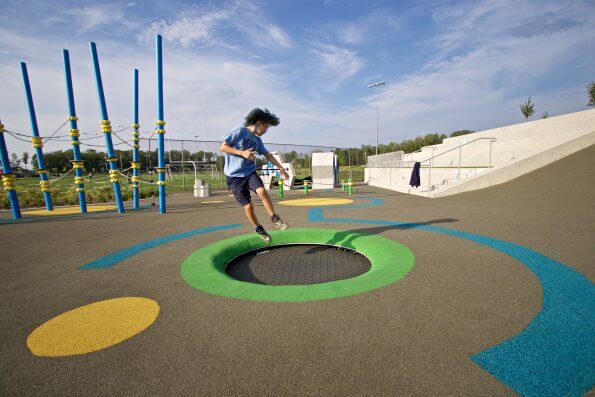 My older son always has a book with him and has happily lounged on a slide reading, while his brother climbed over, under, and around him. 

You can also suggest your own challenges to get them moving.
My six-year-old would love to navigate this ninja scavenger hunt while his older brother plays, for example. Even when my 11-year-old feels that he's "too big" for the playground, there's usually a section where he can use the play structures as a ninja warrior-type course. See who can get to the top of the rope structure the fastest (and safely of course!).
Here are some Canadian parks that will delight toddlers, challenge middle-school kids, and offer opportunities for the entire family to stay active:
Broadmoor Lake Park, Sherwood Park, Alta. (2025 Oak Street
)
Besides multiple sports fields, the playground here features outdoor instruments, a massive tube slide and climbing structure for older kids, an impressive splash pad, and parkour elements. Cooooool!
Legacy Park, Lethbridge, Alta. (400 Blackwolf Boulevard
)
Families are encouraged to play together at the 73-acre Legacy Park, with Canada's first Challenge Course. It includes a scoreboard and 40-yard dash to encourage healthy competition. There's also a skate park, fitness equipment, a splash pad, six kilometres of trails, and a discovery playground.
Penzer Action Park, Langley, B.C. (198 C Street, south of 48 Avenue
)
There are challenges galore at this park: the largest parkour course in Canada, a multi-use sports court, a pump track, and a rock climbing course that's great for younger siblings. I'm planning our road trip now!
Syéx̱w Chó:leqw Adventure Park, Agassiz, B.C.
 (58611 Lougheed Highway)
Spend the entire day at this park that caters to a broad range of users and abilities. The 33-acre park features a beginner-friendly pump track, over five kilometres of mixed-use trails, and an all-ages, 90,000-square-foot adventure playground that includes a zip line.
Rouge Crest Park, Richmond Hill, Ont. (147 Rothbury Road)
At over five acres, this ultra-modern and unique park includes a multi-sports court, a splash pad, a totally bizarre (you've got to see it!) immense climbing structure, hammocks, and ping-pong. Toddler equipment, walking paths, and nearby trails make this a cool whole-family park.
Napanee Rotary Park, Napanee, Ont. (
39 Pearl Street)
This accessible playground has the super-fun Gravity Rail ride, instruments to play, a splash pad, numerous play areas, and a multi-level tower with impressive tube slides.
Parc Multisports, Saint-Jérôme, Que. (750 rue Filion)
We visited this park in 2018, and the kids have been asking weekly when we can go back. With parkour equipment, trampolines, a climbing wall, and splash pad, this destination park has something for everyone to enjoy.
Photos courtesy of Christine Latreille.