Since California surfers first attempted "sidewalk surfing" in the 1950s, skateboarding has developed in a lot of different directions: a way of life, a (counter- and sub-) culture, an art form, and a recreational activity. This year, it branches out once more in its debut as an official sport at the 2021 Summer Olympics in Tokyo. Our family will definitely be watching, hopefully with a bit of expert commentary from our resident 13-year-old (who is currently the only one in our household who can tell a pop-shuvit from an ollie).
Despite skateboarding becoming more mainstream, up until a few years ago, it was a challenge for some skaters to find a safe place to practice. The good news is that municipalities are responding to the popularity of skateboarding by providing new skate park facilities where kids, teens, young and not-so-young adults can all practice their skills, stay active, and increase their physical activity and well-being.
These days, great skate parks can be found in cities, suburbs, and small towns across Canada—and skateboarding's Olympic debut is inspiring municipalities to renovate or expand these facilities, and to build even more!
Some of Canada's most epic skate parks
Your kids may not be able to try out the Olympic facilities themselves, but you can help them discover great skate parks a little closer to home. Here are some of Canada's best skate spots, where your young Tony Hawk or Pamela Rosa can watch, shred, and dream big.
Chuck Bailey Outdoor Youth Park, Surrey, B.C. (13458 107A Avenue): This beautiful skatepark is home to Canada's first purpose-built partially covered outdoor skate plaza and bowl complex so that it can be used even on rainy days!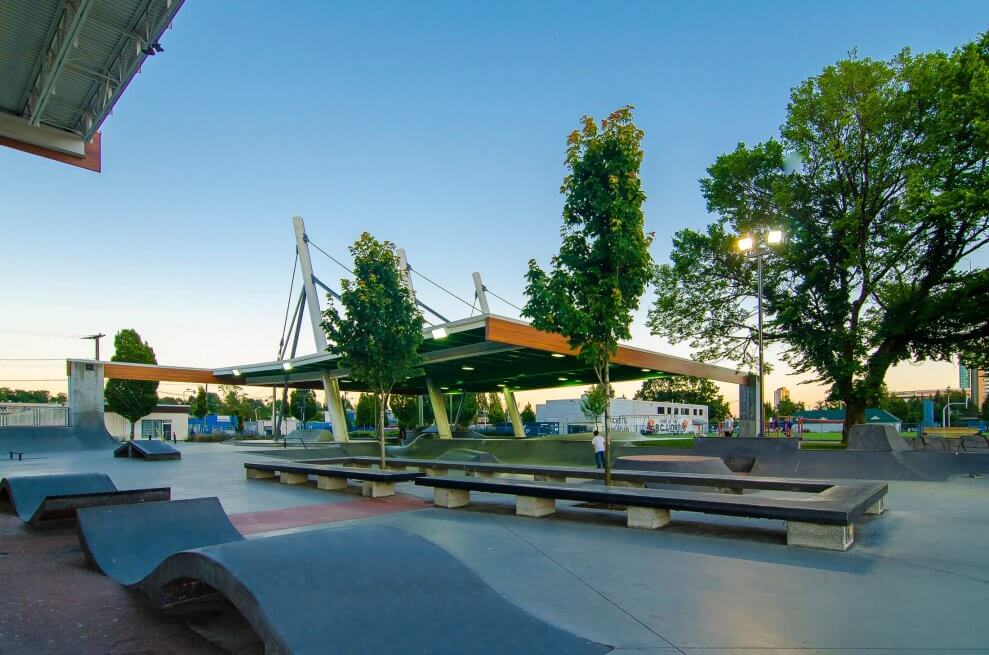 Banff National Park Skatepark, Banff, Alta. (101 Birch Avenue): The Banff skate park is the first public concrete skatepark built within a North American national park. What a view!
Melfort Skatepark, Melfort, Sask. (Shadd Drive in the Spruce Haven Park Recreation Area): Opened in 2018, this 15,000-square-foot park features street obstacles, rails, and ramps, and a six-foot deep flow bowl.
The Plaza at The Forks, Winnipeg (1 Forks Market Road): Located in downtown Winnipeg, this skate park has a 30,000-square-foot street plaza section and a 8,500-square-foot bowl section, and is a destination park for world-class skaters!
Silvercreek Park Skatepark, Guelph, Ont. (142 Edinburgh Road South): This long skate park has street skate elements and a curvy mini-ramp, pocket, and ditch section that reflects the adjacent Speed River.
Pointe-Claire Skatepark, Pointe-Claire, Que. (94 Douglas-Shand Avenue): The 12,000-square-foot skatepark includes stairs and rails, a bowl, a capsule, a mini-ramp, and a wave.
Indoor skate parks
When it's safe to do so, you might want to take your skateboarding inside. There are a growing number of spaces across Canada where you can get your skateboarding fix all year round—even when neighbourhood streets are buried under a few feet of snow!
The Edge, Winnipeg (333 King Street): While it's closed for the summer season, Western Canada's largest indoor skatepark will be opening in the fall and has events, competitions, and Saturday morning Grom Sessions for ages 11 and under where parents are encouraged to join their kids. The Edge is open to skateboarders and inline skaters. There are specific sessions for different age groups, as well as girls' skate sessions.
CJ's Skatepark, Mississauga, Ont. (560 Hensall Circle): Also temporarily closed due to COVID restrictions, this is the world's largest indoor, air-conditioned, not-for-profit skatepark. And when it reopens, you'll be riding all year long! Features include a full-sized vert ramp, street obstacles, mini ramps, and a foam pit. They offer a variety of lessons for all skill levels.
Le TAZ, Montreal (8931 Papineau Avenue): This huge indoor skate park offers lessons for all ages and levels, times reserved for ages 13 and under, sessions for camps and groups, and rental of sports equipment and protective gear.
Riverview Skatepark & Youth Centre, Riverview, N.B. (145 Lakeside Drive): This full skate park is great for all skill levels, has a multi-purpose youth centre, times for kids 11 and under, and many fun events.
You can find more Canadian skate parks near you on skateparktour.ca and sessionatlas.com.
Header image: Le TAZ Skatepark
---
Read more about the Olympics:
8 Summer Olympics-themed sports games for young kids
7 reasons to watch the Olympics with your kids