What is physical literacy? Here's what you need to know
This post was updated on September 13, 2023.
Physical literacy is key to being active for life, and we want to support you in helping your kids to become physically literate. Here's some more information on physical literacy and tips on what you can do at home to help your children live active, happy, healthy lives.
1. Physical literacy is simple
The term "physical literacy" may sound intimidating, but it is actually a simple concept. Physical literacy is merely about developing the fundamental movement skills that all children need, such as running, hopping, throwing, catching and jumping. These movement skills in turn give kids the confidence to participate in different physical activities, sports, and games.
In the same way a child learns to speak by interacting with her parents from an early age, the same is true of learning to move with confidence.
It doesn't require special equipment or training, just a bit of knowledge and the simple and natural desire to give your kid the right building blocks from the start.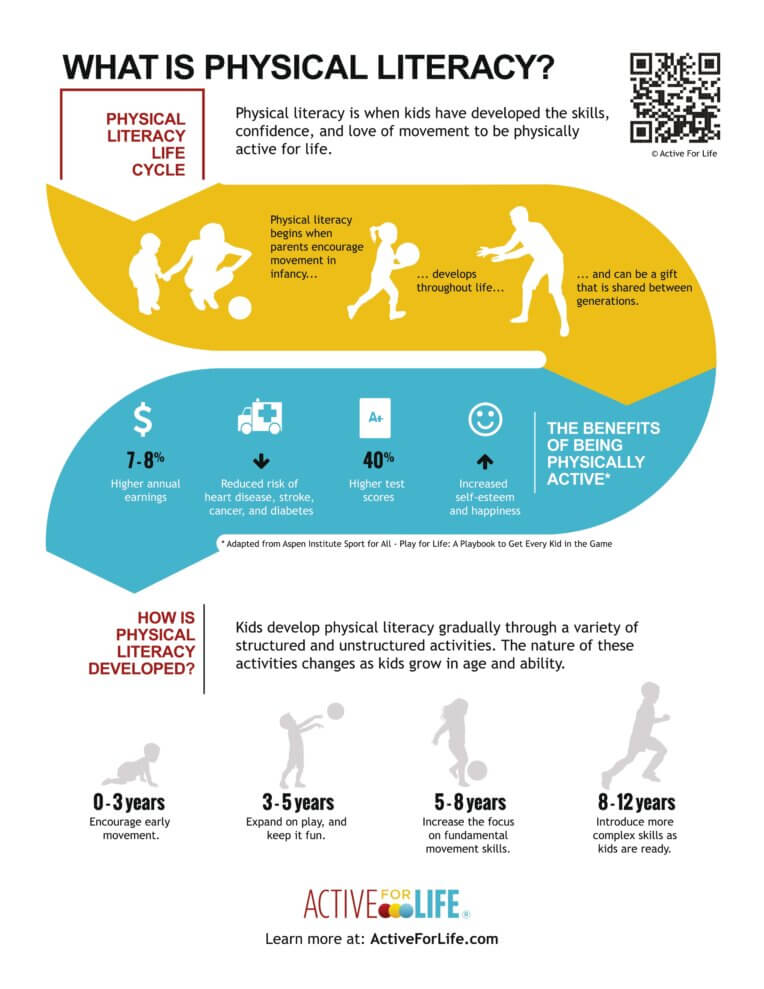 2. Physical literacy is fun (and not more work for parents)
My wife and I have always wanted to help our two children develop their physical literacy. And we did not have to do anything more than what most parents want to do anyway: spend a bit of time with our children doing activities they enjoy.
We especially enjoyed being there as our kids celebrated everyday milestones like zipping across the monkey bars, throwing a Frisbee clear across a field, or kicking a ball over a fence.
As they got older, our reward was witnessing our kids grow their movement skills, their confidence, and their love of being active. The bonus is that we didn't need to send them outside to play; they went on their own. And by the way, they were also pretty good at playing video games. But that wasn't the only thing they did.
3. Physical literacy is essential in today's world
In the past, kids developed physical literacy through school PE classes and regular active play. But we know that both of these things have declined in recent years. As a result, many kids aren't getting the chance to develop their physical literacy. This is why we need to help make it happen as parents.
The reality is that kids today are exactly like we were. They like to do the things they are good at. The difference is that some of us became experts at outdoor games like "kick the can", "cops and robbers", and "scrub baseball", while kids today tend to become masters of things like TikTok and video games such as Minecraft.
Physical literacy is essential today because the outdoor games and activities that filled our childhood and helped us develop movement skills have been replaced by more screen time and inactivity in general.
4. Physical literacy means your kids will be more active
Activities and games are to physical literacy what nursery rhymes are to language: a fun and simple way for your child to develop the skills they need.
Children who are physically literate will be more confident to play games, and they will have more fun playing because they know how to run, jump, throw, and all the rest.
Unstructured play is still critically important in the whole process of developing physical literacy, because it gives kids a chance to enjoy and practice all of the movement skills they've learned.
5. What you can do
For starters, try to carve out some time each day to play with your kids. It's just like reading with them: reading to your kids develops their love of books, and playing with your kids develops their love of movement and play. Physical literacy is no different.
If your kids learn to make movement and play a part of their day when they are young, it will become a natural part of their lives as they get older. And don't worry if you don't know exactly how to get started – that's where we come in.
Active for Life has activities, games, articles, and more to help you get started on developing physical literacy with your children.
The most important thing is that you have fun! This isn't meant to be another chore on a never-ending to-do list. There are many ways to work physical literacy into a busy or overwhelming schedule without it feeling like a burden.
We love to hear from parents. If you are struggling with any aspect of your child's physical activity or literacy, reach out to us in the comment section.