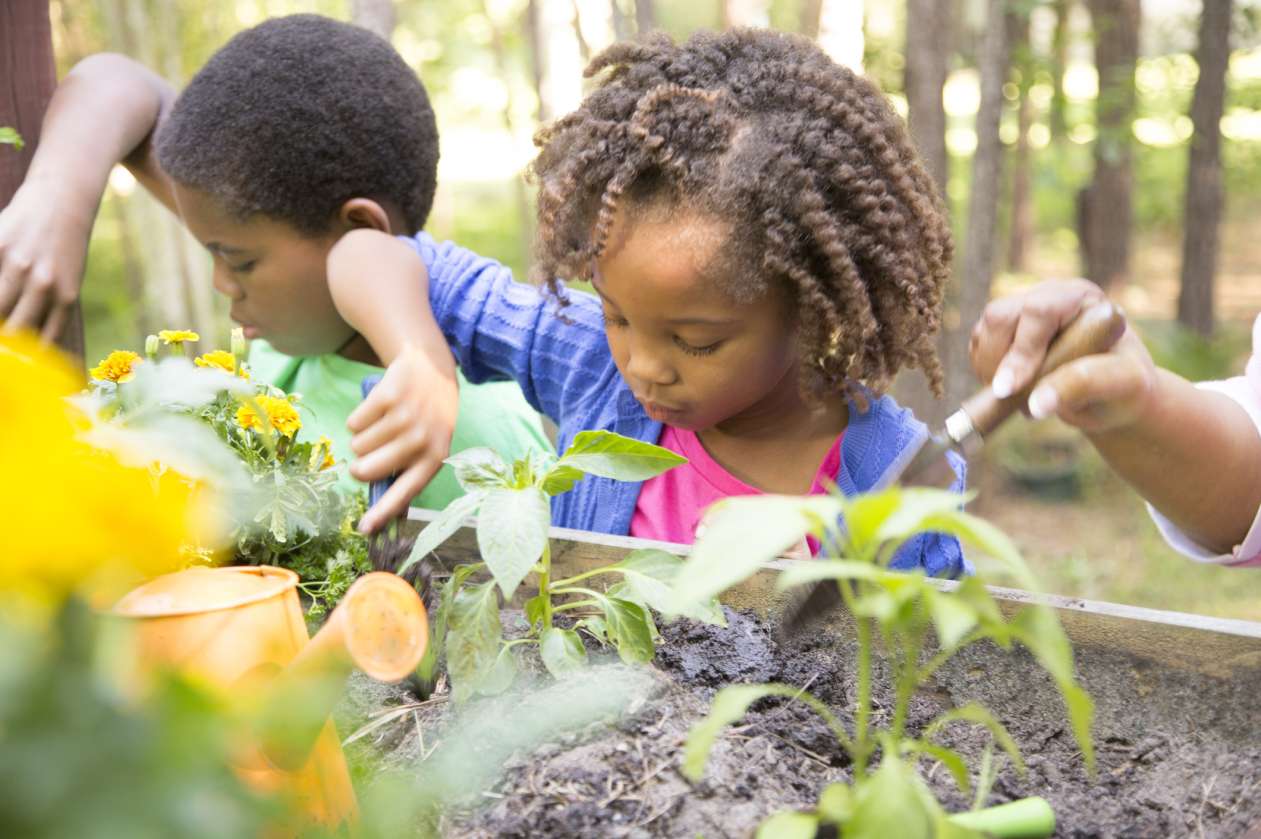 18 ways to get kids to go outside
Ask a group of parents or grandparents what they did for fun when they were growing up, and where they were when they were doing it.
Compare their answers with the activities of today's kids. You'll probably find that, unlike previous generations, childhood memories today are mostly made indoors, away from nature, and dominated by screen time.
Many kids are growing up in urban environments and many aren't moving enough. When we live without "Vitamin N" (the "N" is for nature) and experience nature-deficit disorder we don't live well. Plus, playing outside is an important way for kids to develop movement skills.
But more and more parents struggle with getting kids outdoors at all times of the year. Here are some proven tricks that will get them outside and playing:
Tell them it's okay to get wet, dirty, and messy.
Organize an outdoor play date. Take your kids and a few of their friends to a park, creek, or lake. Watch them cooperate and interact with each other and the natural environment.
Allow your kids to incorporate natural resources into play equipment. Examples might include tree stumps for jumping off, boulders to climb and sit on, logs to practice balancing or climbing … and plants, sand, gravel and wood for jumping over, walking through, and throwing. Nature encourages imaginative play and physical exploration. Nature play is often freely chosen, spontaneous, and unstructured.
Set a timer for a maximum amount of screen time. Have your kids spend less time watching TV or using the computer.
Tell your children to go outside in the backyard and play. Give them balls, sidewalk chalk, buckets, and let them get creative. If you're nervous about it, check on them in 10 minutes or, better yet, get out there with them.
Plant a garden or flowers with your child.
Explore nature with your children far from your home. Include outside time in nature on your next holiday (visit interesting geographical areas like the ocean, mountains, or desert).
Give your children rope and an old sheet and help them to build a fort in your yard, or with friends at a neighbours', or at a park or the beach. Suggest they use driftwood or sticks, too.
Park a few minutes from school and walk with your child. Point out the colours of the natural world around you and watch them play with sticks, rocks, and leaves along the way.
Go for regular walks, runs, or bike rides in natural settings as a family. Many urban communities have trails and bike paths through parks, riverways, or lakefronts. Keep a few kid-friendly trail games in your back pocket.
Have a picnic dinner at a playground or park.
Gradually increase the level of independence your child has outdoors. Start with going up and down the street, to around the block, and progress to the nearby playground.
Organize a play group that meets after school for snack and playtime. Meet other kids and parents at a field near your child's school and bring a soccer ball.
Create an outdoor scavenger hunt where your kids collect items from nature (or try this nature ninja scavenger hunt for a twist).
Give your children a jar and have them catch bugs.
Make mud pies at the beach or in a sandbox.
Go geocaching.
Each weekend explore new areas of your town or city as family. Make it your mission to visit as many different parks and playgrounds and find your favourites.
Resources for families:
Resource Guide Supplement to "Last Child in the Woods" book
Online supplement to the book by Richard Louv
Topics: The website lists nature activities for kids and families, good books for kids and families, and helpful links.
Child & Nature Alliance: Forest School Canada
Forest School Canada is an educational program of the Child & Nature Alliance of Canada that supports play-based learning in nature.
Topics: The website lists Forest & Nature Schools across Canada and policy and research information on connecting children and youth to nature.
Children & Nature Network: Natural Families
Natural Families is a network of parent and families engaged in active time in the natural world.
Topics: The website includes a Nature Clubs for Families Toolkit, a research library and other Child & Nature Network initiatives.
BCRPA: Healthy in nature
British Columbia Recreation and Parks Association (BCRPA) Healthy in nature initiative.
Topics: The Healthy in Nature website includes research, resources, articles and initiatives about the benefits of being in nature, public planning, and programming. It includes quick reference guides with a fact sheet offering ideas for parents and caregivers on getting children outside. The site includes marketing materials to promote being healthy in nature.

My hope is that our children's children live healthy lives and experience the joy of being physically active outdoors. If you're not already exposing your kids to nature, put these practical ideas to use right away. Experiencing nature helps us live well and every bit of exposure helps. It's time to get outside.