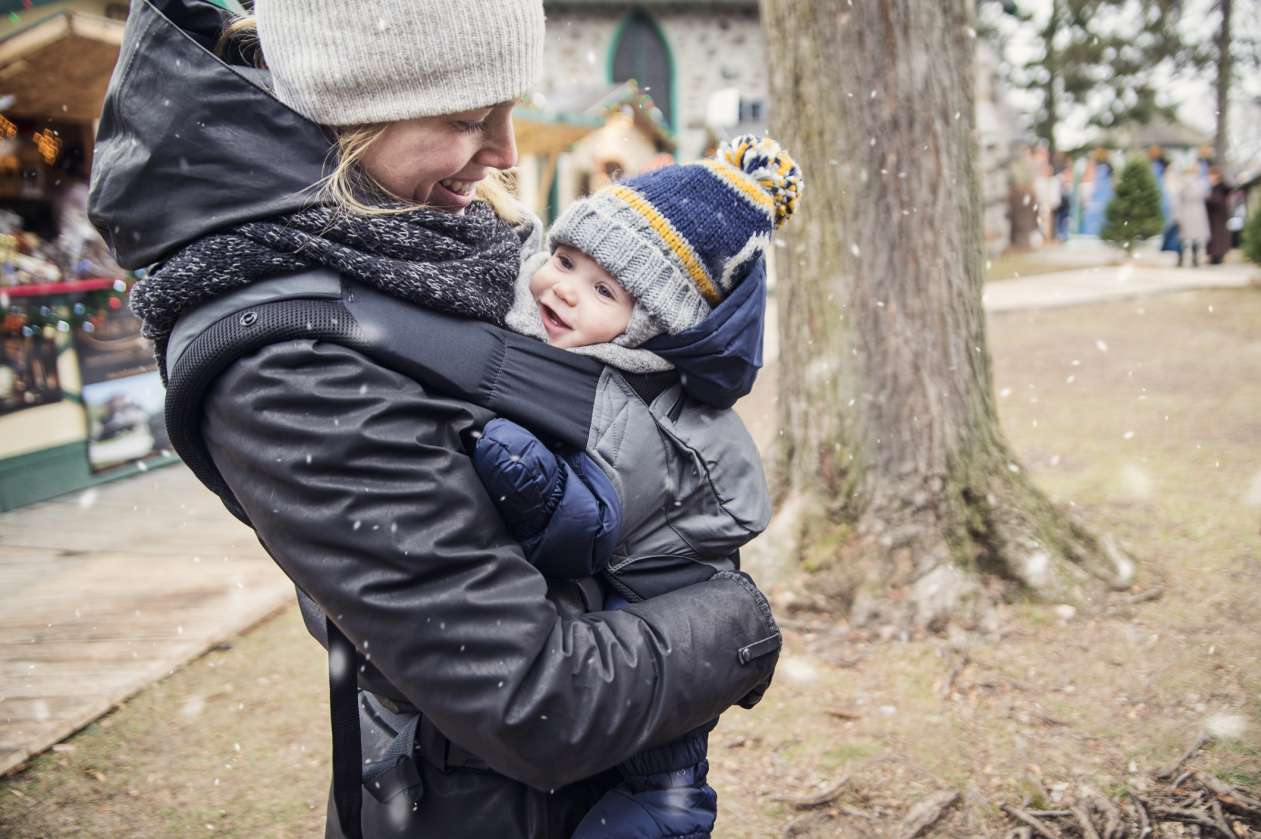 How to dress your baby for spending time outdoors in the winter
Winter can be very isolating for parents with newborns or young babies. Cold temperatures and icy weather make you feel like you need to hibernate, but nothing leads to a stir crazy parent and baby like spending months indoors. There's nothing stopping you from enjoying outdoor time with your baby even when it's cold, though it is a good idea to stay inside if temperatures dip too low.
In an article in Today's Parent, Catherine Pound, a paediatrician at the Children's Hospital of Eastern Ontario, advised parents that they should limit outdoor time (i.e., no long walks) if the temperature hits -20°C or below.
Anything above -20°C means that you can get out there for a walk or even to give your baby an outdoor nap. But the most important thing is to make sure that your baby is dressed appropriately for the weather. Over the years I've developed a list of rules that will help you make sure that your little one isn't too cold or too warm.
1. Dress in layers (watch the video below for more on this).
2. Dress your baby in thermal underwear, both a long sleeve onesie and long johns. We love merino wool, synthetic, or a blend of both. The beauty of merino wool is that it regulates body heat. I never, ever dress in cotton in the winter.
3. Dress your baby in fleece pants and a sweater on top of the thermal underwear on really cold days.
4. Make sure their hat covers their ears, and that they are wearing mittens and a neck warmer.
5. Purchase a one-piece snowsuit because a bulky snowsuit restricts movement for the baby.
6. A bunting bag is useful if you are going to spend a lot of time outdoors. It will keep your baby warm on very cold days and on mild days you don't have to dress your baby in so many layers.
7. Make sure your baby is wearing wool socks.
8. Check your baby often to make sure she is not too cold or too hot. A midwife taught me how to check my baby's temperature by touching her neck and hands. If she's too cold she will feel cold to the touch and if she's too hot she will be sweating.
9. As always, when you are heading outside, make sure you check the weather so that you're as prepared as much as possible for sudden changes.
Fostering outdoor connections when your child is a baby is equally important for both of you. Though the adventures will change as children get older, you will continue to enjoy the bonds you have built together in nature. The earlier you start getting your kids outside, the less resistance you'll encounter getting them out later in life.