My family loves cross-country skiing on groomed trails, but we discovered early on that it's a lot of fun to venture off the track. It's a magical experience to follow a scenic hiking trail to a frozen backcountry lake, blaze your own path along a creek (even skiing under bridges), or ski into a backcountry cabin for a night.
While it's certainly easier to ski when you have nice groomed corduroy and freshly set tracks, there's something magical about creating your own tracks. I especially love skier-tracked trails where the tracks are softer than the firm ones you'd find at a Nordic centre.
Building experience for un-tracked skiing
The best way to gain experience is to visit official cross-country ski trails after a fresh dump of snow when there's been no recent grooming or track-setting. We climbed up to a fire lookout a couple of weeks ago through 10 centimetres of fresh powder. It was an exciting ski down without fresh corduroy, but it was great practice for learning how to snowplow in deep snow.
We also like to mix classic skiing with a bit of off-trail rambling. One of our favourite outings starts out on official track-set trails but then we return to the parking lot on a snowshoe trail, where we'll often drop down into the creek bed (when frozen.) Experiences like this give children a short taste of un-tracked skiing without having to commit to a long day tour.
Finally, we build skills by skiing all of the advanced trails in our local parks, groomed trails rated as "black," so that we have the experience to tackle steep hills, to turn around sharp corners, and to navigate more challenging terrain. While this won't be necessary if you just want to follow a creek on your skis, it will be helpful if you're climbing up to a backcountry lake.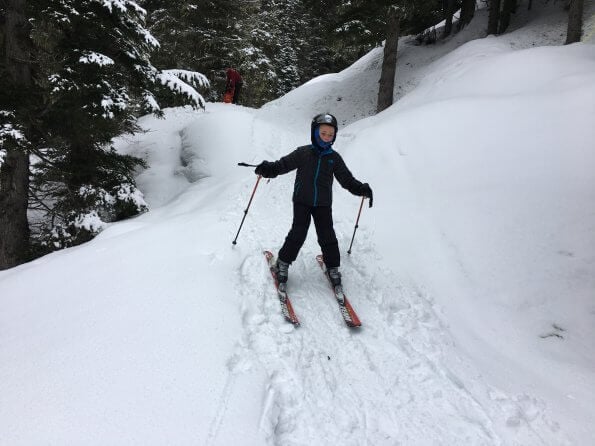 Skiing in city parks and natural areas
This is the first place you might try skiing if you want a more natural experience. Wait until your city is covered in a layer of soft fluffy snow and then get out to ski across any of your favourite parks. You can even do a playground tour on skis! And many cities have beautiful natural areas where you can ski beside a river or creek along narrow winding paths.
---
Related read: 5 ways to make cross-country skiing more fun for kids
---
Skiing on snowshoe trails and winter hiking paths
Most trails that are safe to snowshoe can also be enjoyed on cross-country skis as long as there isn't too much height gain. Start out with flat snowshoe trails and gradually add hillier options.
We've skied to backcountry lakes, followed scenic creeks, and even ventured out towards backcountry campgrounds (where you'll usually find a picnic table for lunch). On one special occasion we got to ski a frozen creek, where we passed under several bridges we'd be hiking across in summer.
Skiing across frozen lakes
Lakes often have beautiful scenery surrounding them, and you know that you won't find any hills or challenging terrain if you choose to ski across one. We usually wait well until January or later if we're going to ski across a lake so that we know it's fully frozen.
Another important safety consideration is to make sure there are no avalanche slopes that come down to reach the lake. Lake Louise in Banff National Park is one popular example where you can ski across the middle of it but are cautioned away from the far left shore due to avalanche paths off Mount Fairview. When in doubt, stop in at a visitor centre and consult the staff there.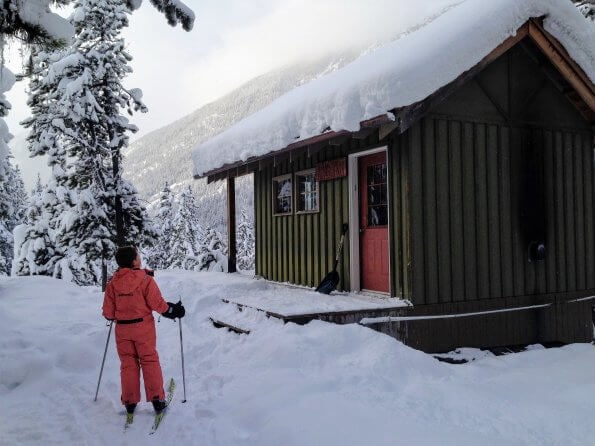 Skiing into backcountry cabins and huts
The Alpine Club of Canada operates and maintains many backcountry huts across the Canadian Rockies, including a few that are easy to access in winter. The A.O. Wheeler Hut in Glacier National Park can be reached in a short 30-minute ski (and once you climb the first hill, the trail is completely flat!). We ski into this cabin every November, pulling sleds behind us, and the children have an amazing time playing in the snow once we arrive.
Another hut that's popular with families is the Elizabeth Parker Hut in Yoho National Park. This one is accessed via a 12-kilometre road that's closed to traffic in winter. You'll climb gradually most of the distance into the hut, but it's a fun ski out. My son did this one completely under his own steam when he was only seven years old.
Finally, families with more ski touring experience can venture into the Elk Lakes Cabin in British Columbia, accessed via the Peter Lougheed Provincial Park ski trails in Kananaskis, Alta. It's approximately nine kilometres to the hut. You'll be skiing on a groomed ski trail for the first 5.6 km until you reach Elk Pass. From there it's a fast descent following a power line to reach the cabin (and I highly recommend metal edges on your skis for this one!).
More information can be found on the Alpine Club of Canada's website.
Mixing cross-country skiing and downhill skiing in the backcountry
Occasionally we find a trail that is just steep enough that we can justify carrying our son's downhill skis and boots up while he snowshoes to the top. The Chester Lake Trail in Kananaskis is a popular trail for that near Calgary, and with no avalanche hazard as far as the lake, it's a family-friendly option for an intro-to-backcountry-skiing day for kids.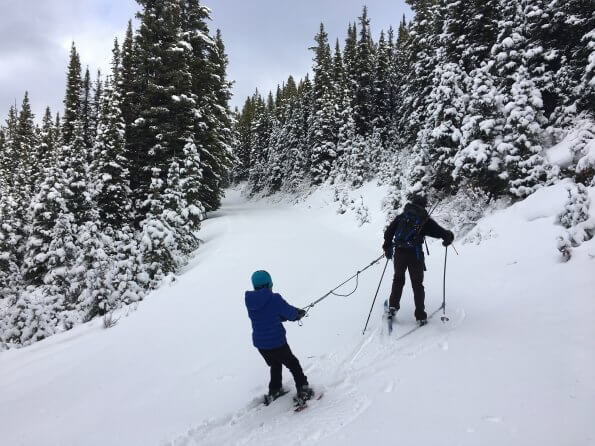 My husband uses actual backcountry skis for this one, and I make do with my light touring skis and climbing skins to facilitate the ski up to the lake.
We've tried family backcountry skiing in a few places and it's always been a lot of fun. You just need adults willing to carry the kids' skis and boots up! (And then to carry their snowshoes and winter boots back down.) As with other backcountry ski trails, do your homework to make sure you aren't entering avalanche terrain.
---
Related read: Cross-country ski tips for newbies
---
Safety first!
The most important thing here is that you want to stay out of avalanche terrain. Choose official snowshoe trails or winter hiking trails that have been recommended by a local visitor centre for the park you're visiting. Consider taking avalanche safety training as well if you plan to explore in the backcountry a lot. Even official trails can cross avalanche runout zones that could pose risk in some conditions.
We also take packing more seriously when we're venturing into the backcountry off groomed trails. I always ask myself what I would need in my backpack if somebody broke a leg and had to wait for hours to be rescued. It's a sobering thought and helps you take preparation for your outing seriously.
Other tips include carrying a map of the area you're exploring so you don't get lost, starting early enough in the day to complete your outing in daylight hours, and bringing headlamps in case you're out longer than expected. We like to ski in groups with other friends as well. In the event there's an emergency, we can work together to get somebody to safety (or ski for help.)
Finally, we don't ski off groomed trails in cold weather when it's "survival skiing"—when it's so cold you need to constantly keep moving to stay warm. When skiing with children you want to choose a warm day for exploring and rambling off track so you can have fun, take breaks, and even stop to make the occasional snow angel.
Gear recommendations for light touring as a family
Most people use a set of wider light touring skis when venturing away from official track set trails into more challenging terrain. Rossignol seems to be the leading company these days for "off-track skis" and you'll have no problems finding a pair if you visit a reputable ski store. If you want metal edges on your skis you'll have to search a bit harder though to find a dealer for Madshus skis, the best brand for true "light touring" cross-country skis.
Off-track skis are still narrow enough to fit in the ski tracks if you find yourself skiing in a park with groomed trails, but they are stiffer, easier to control on hills (especially if you find a pair with metal edges), and often have a burlier binding that will help you ski steeper terrain. I have a pair of Madshus skis with NNN BC bindings, and I wear a pair of sturdy boots with them. I have metal edges and my set up allows me to stop on a dime on any steep hill where I can control my speed as well.
Many off-track skis also come in a waxless design, which I find works best when skiing in variable conditions (especially if there's been a lot of fresh snow).
For families wanting a light touring ski for children, Rossignol sells a youth model called the X-Tour Venture that my son loves. They don't have metal edges, but they are wider than your average XC ski, super sturdy, and he can ski anywhere on them. If you can find a pair, they are sold in lengths from 90 cm up to 170 cm.
We leave the groomed trails to find spectacular scenery, follow scenic creeks, explore, and find fresh untouched snow to play in. It's always a rewarding experience and usually makes for incredibly memorable ski days.
Photos courtesy of Tanya Koob.