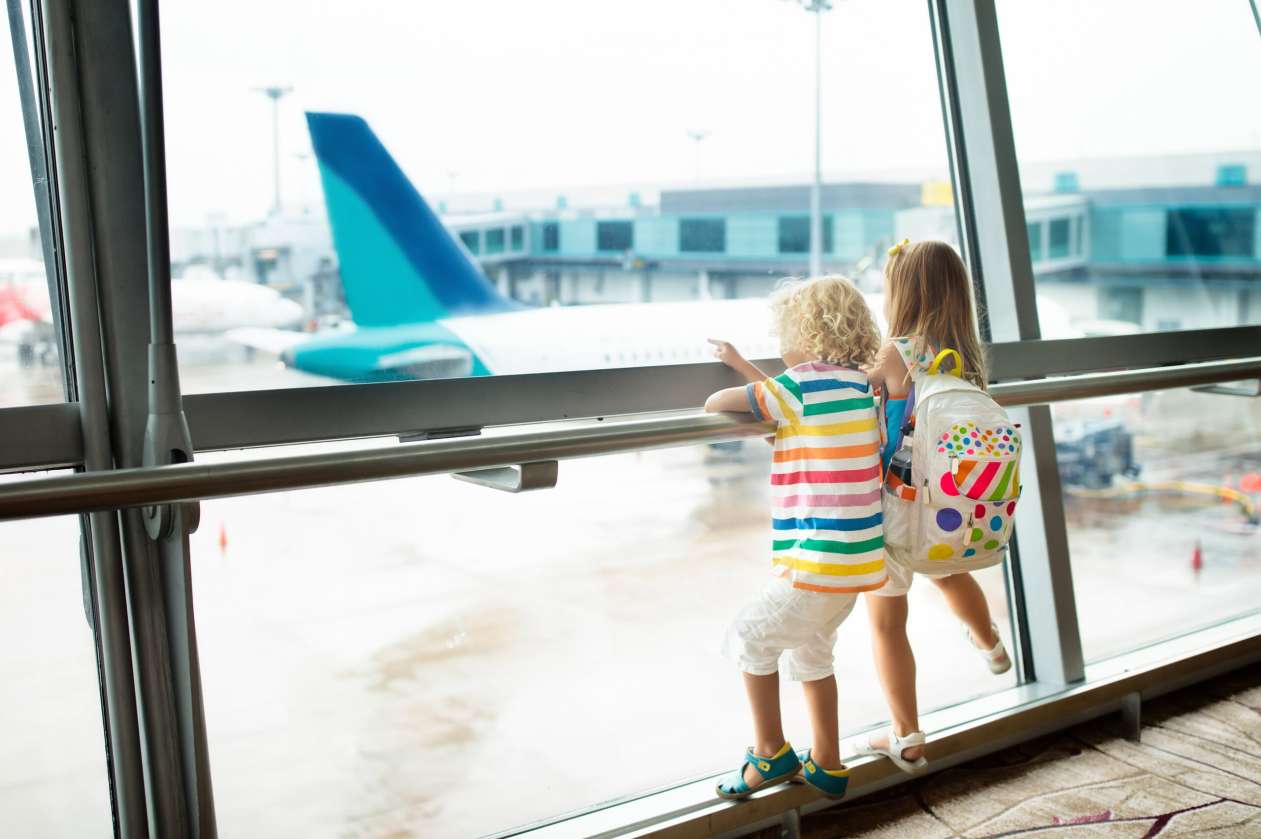 How to help active kids get their wiggles out before a flight
After boarding a flight, kids have a lot of sitting to get through—and parents of active kids know that not everyone loves sitting still. That's where some pre-flight prep comes in handy during family travel. Usually, waiting for an international flight requires hours of airport time, so keep these tips in mind to help your little ones channel their pre-flight energy.
Get outside before you leave for the airport (if possible!)
If it's possible to start your travel day with outdoor time, you will be grateful you did. Nature not only lends itself to active play, it's also an opportunity for your kids (and you!) to get grounded before air travel. Even just a quick walk around the block before getting in the car to drive to the airport makes a difference.
Two words: Scooter suitcase
A suitcase that is also a scooter? We're very on board with this unique way of getting around in airports. Kids will love the novelty of scooting their carry-on suitcase around indoors, and you'll love not listening to them complain about carrying their own luggage. This also gets some movement in before flights—in a fun way that everyone can be happy with.
Find the children's play area (yes, there probably is one!)
Did you know that many airports have children's play areas? In Canada, Toronto Pearson has several children's play areas, Calgary International Airport has "kid zones" and Vancouver International Airport has play areas both before security and after. Be sure to check whichever airport you're flying out of to see if they also offer a play space. If you have time to kill, let the kids enjoy these spaces and move their bodies while they can before a long flight.
Do some yoga together (and be your child's movement role model)
Yoga can offer plenty of feel-good poses that counteract the effects of sitting. Do a downward dog against a chair to stretch your back and hamstrings, make a figure-four pose with your legs to give your hips a deep stretch, and most importantly: feel totally confident in your desire to stretch it out before boarding (despite how strange it might look to others—they don't live in your body). You can also turn on a kids yoga video (like Cosmic Kids on YouTube) while you're waiting to board to keep young kids engaged in a way that doesn't involve more sitting.
Make a game of waiting
There's no way around it: airports involve lines. Little kids (and all humans, actually) hate waiting in lines, so the only solution is to make it fun. It's also an opportunity to make it active. Use your surroundings to create a game. For example, every time an announcement comes on, do 10 jumping jacks. Every time you spot a blue suitcase, balance on one foot for 30 seconds (and so on). This game is a pretty easy one to use again and again and can be modified easily based on surroundings.
Post-flight, prioritize movement to help them get regulated again
Try the hotel swimming pool, a walk on the beach (if you're lucky enough to be there!), or a playground, which all provide opportunities for kids to get comfortable in their bodies after all that sitting. A flight can be somewhat similar to a school day, and a big release of emotions after holding it together for hours on end is pretty typical. It doesn't make it easy to handle though. Instead of heading straight to the hotel room (or worse, sitting down to dinner and expecting them to sit still) make sure you find a way to incorporate movement and channel their energy.
Do you have any family travel tips that have worked for your active kids? Let us know in the comments.
---
Have more tips and ideas sent to you
Get more great games, activity ideas, and tips sent to you weekly! Sign up for the Active for Life newsletter here.