4 ways to help your child find a passion in sport: Tips from an Olympian
During the upcoming winter Olympics in Beijing, adults and children alike will witness great athletic achievements. But one of the most stunning things you'll find about these athletes are the stories underneath.
Take Mirela Rahneva, for example.
She spent her days as a little girl in Bulgaria and came to Canada when she was 10 years old, still learning to speak English. The foundation of her athletic career was unexpectedly laid one afternoon at recess when she saw kids running around the perimeter of the school. Rahneva didn't know what they were doing, but she wanted to join in—so she started running with them. "I ended up being told that it was cross country and I should join after school."
Rahneva's family lived in a townhouse right next to a bike path, and her father measured out exactly 100 metres on the pavement to help her practice. "He just said, here's 100 metres, here's a stopwatch—you can time yourself," she says, noting that it was her earliest experience with any sort of training program.
Her father had always been an athlete and an advocate for sport, and Rahneva's mother was a former high-level track-and-field competitor who ran hurdles.
With their encouragement, Rahneva soon found a passion that would change the course of her life.
Overcoming obstacles and finding her sport
Rahneva played rugby at the University of Guelph before initially deciding to branch into the world of bobsleigh in 2012. She had seen a lot of former rugby players perform well in bobsleigh and skeleton racing and, inspired by athletes like Heather Moyse and Jon Montgomery, was interested in giving these winter sports a shot.
When coaches determined that she was too small for bobsleigh, she set her sights on skeleton. "I went down to Lake Placid in New York. They put you on a sled and just push you off, and you know right away if it's for you," she explains.
Soon, Rahneva was hooked. "It's really addicting," she says. "You're chasing down hundredths of a second and looking for miniscule changes, like a centimetre that can make a difference or manipulating the pressure [on the sled]."
Staying mentally strong through challenges
Being an Olympic athlete is thrilling, but it comes with both physical and emotional challenges. Rahneva hopes to perform her best on the ice track in Beijing, but her goals include a lot more than athletic achievement. "For these Games, I want to make sure I do it in a mindful manner and take care of my mental health," she says.
After falling short of her goals in Pyeongchang, Rahneva fell into a depressive state. "You have all of these expectations for yourself and when you don't reach them, it's unpleasant," she shares, adding that her first Olympic experience was a bit of a blur. "I have a lot of work ahead of me, but I want to live in the moment and experience that Olympic journey instead of just going through the motions."
Honouring her mom (and taking advice from Dad)
A mother's love is a gift and an inspiration that can last a lifetime. Through her athletic achievements, Rahneva strives to honour her mom, who passed away several years ago. "I do this in memory of her," she says. "She sacrificed a lot to bring us over to Canada, and provided a brighter future for her three daughters." With every new goal she reaches, Rahneva knows that she's made her mother proud.
Of course, dads are just as important in our lives. Rahneva's father has always been supportive of her training but also reminds her not to let skeleton racing consume her life. "He reminds me that sport isn't everything," Rahneva says, noting that she recently got a master's degree and continues to pursue non-athletic interests. "My dad makes me think about my career, my education, and makes sure I'm a well-rounded person. He has a supportive role inside and outside of sport."
In addition to her family, Rahneva found a mentor in Ole Sorensen, who went to the 1976 Olympics for wrestling and had a son compete as a member of the Canadian bobsleigh team in Sochi. "He's almost been like an extra parental figure," she says.
Rahneva's tips for kids and parents
With so much athletic talent, an exceptional support network, and a valuable focus on her mental health, we're sure Rahneva has got what it takes to reach her Olympic goals in 2022. You know we'll be cheering on her from Canada! In the meantime, here are her tips for families.
Just have fun. "It's important for kids to want to participate, so don't make it about results or winning. Make it about friends and connection and your relationships with other kids, coaches and the other parents. It's so much bigger than just exercise or sport."
Do the groundwork. "Running is the foundation of most sports, and it is for skeleton racing. Try doing track and field drills, running, gaining strength, weight lifting—but really, running."
Create balance. "I love cuddling with my pooch Riley and my kitty Bravo, I love going for walks. I live close to the mountains in Calgary and go for hikes. I love biking, so I'll take my mountain bike out. I practice yoga and I go out for ice-cream with friends and I like to read books."
Give skeleton a shot! Kids as young as six years old can try the sport. "Come out to Calgary, push a sled, and get into it!"
Inspired? Try getting active with your family
If you're feeling inspired by Rahneva's story, now is a great time to get moving as a family. And here's a great way to keep track! Try out a variety of activities and movements, and mark them down each day when you do them. It's a great way to see your progress, build momentum and develop confidence and self-esteem while you're moving. Get your printable tracker right here: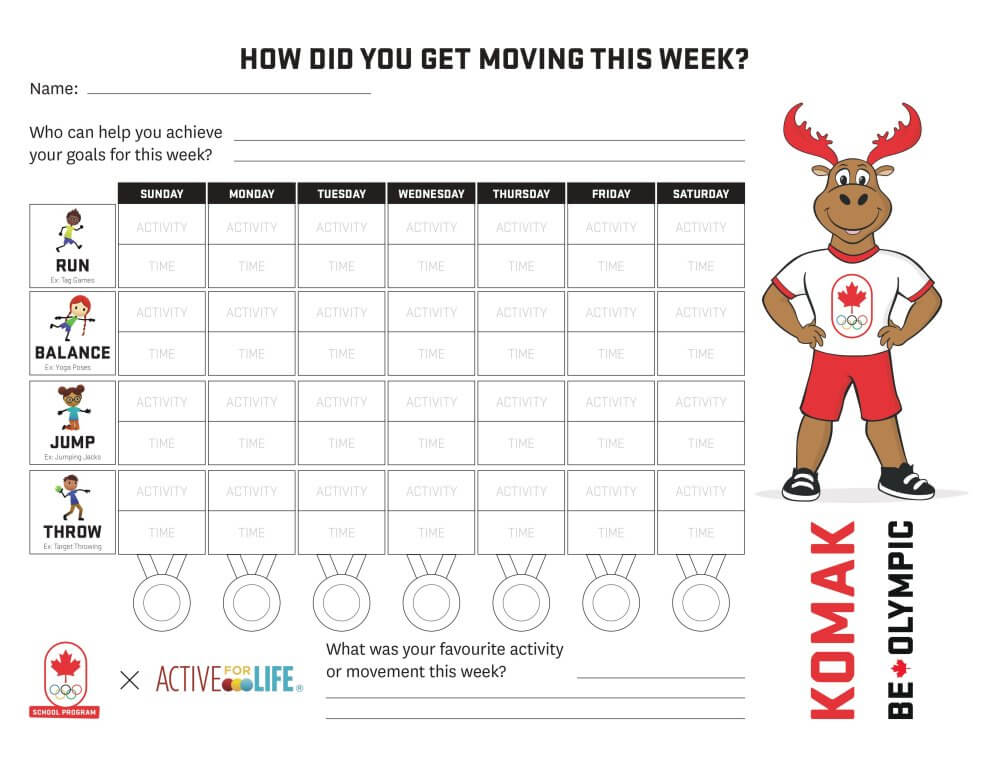 ---
Read more inspiring athlete stories:
Nine-time Paralympic gold medalist Benoît Huot on what it means to be a champion
Wrestling the sisterhood: Olympic gold medalist Carol Huynh on inclusion and camaraderie
Olympic soccer powerhouse Karina LeBlanc on finding her voice
Building strong minds: Olympian Philippe Marquis' tips for increasing confidence through sport
How failure builds resilience: Insights from Olympian Neville Wright