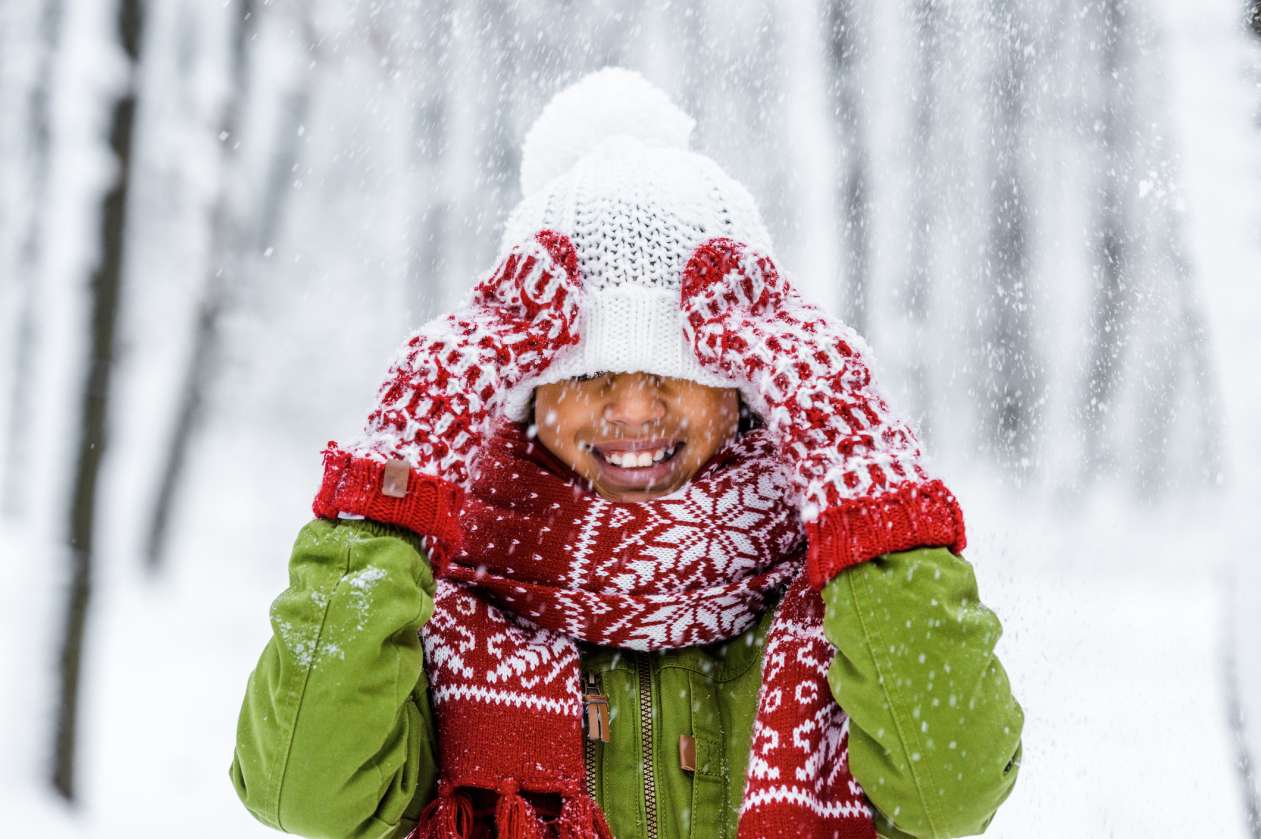 10 tips to make sure kids dress warmly enough in winter
Living according to the motto "no bad weather, only bad clothing" means we pay a lot of attention to how we dress for the weather. Not only does that apply for me and the kids but also my filmmaker husband whose job takes him from the Arctic to steamy jungles. (Sometimes in the same week.)
I often hear some parents say that kids don't need the same quality as adults. I understand they don't want to spend too much money on clothes kids outgrow, but I think our kids deserve to get properly dressed for the seasons for both comfort and movement. Being dressed for the weather is the first critical step to embracing the seasons.
This story originally appeared at Kari's blog, ActiveKidsClub, where you can purchase safety reflectors to help your family stay visible during the darker winter months.
Here are 10 tips to get kids dressed for the outdoors:
Thermal underwear or what Grandma called "long johns" is your best weapon against the cold. Look for merino wool, synthetic fibres, or blends of both, but never—ever—cotton. We only have merino wool in our house as polypropylene has been kicked out. I am bugging my husband to write a story about his Arctic trips and his experiences to show how wool is the best.
For your mid-layer you want to wear a sweater and pants made of poly or wool fleece. In this layer, wool isn't mission critical, but it is hands-down super toasty. (Notice there is no mention of cotton.) The amount or need of the mid-layer depends on how cold it is.
For your outer layer look for snow pants and a jacket that is waterproof and windproof.
Don't be fooled by big puffy jackets and pants as a one-stop shopping solution. Just because it's puffy doesn't mean it's warm. Especially if the fabric allows the insulation to get wet and your children turn into kidsicles. Big puffy snowsuits also make it hard for kids to move around, which also makes them cold and bored.
Look for a hat that covers their ears. Also: wool. (Am I sounding like a broken record?)
Mittens are warmer than gloves, and it is easier to put on small hands. Look for waterproof mittens.
Look for boots that are waterproof and make sure boots are big enough so kids can wiggle their feet.
I'm convinced every outdoor kid needs at least one pair of wool socks, for skating, skiing, or just playing. (Safe to say that we start wearing our wool socks daily starting in November and lasting until April.)
Don't believe claims by clothing manufacturers that an item is rated to a certain temperature. Treat it as a guide only, knowing that it is proper layering that keeps you warm.
When it comes to outdoor wear, you get what you pay for. We look at the cost as an investment to spending more time outside. If you spend $200 on a quality jacket and pants for 120 days of winter weather, that breaks down to $1.60 a day or about the same as a cheap cup of coffee. And remember that quality will last to the next sibling or you can sell or trade for the next season.