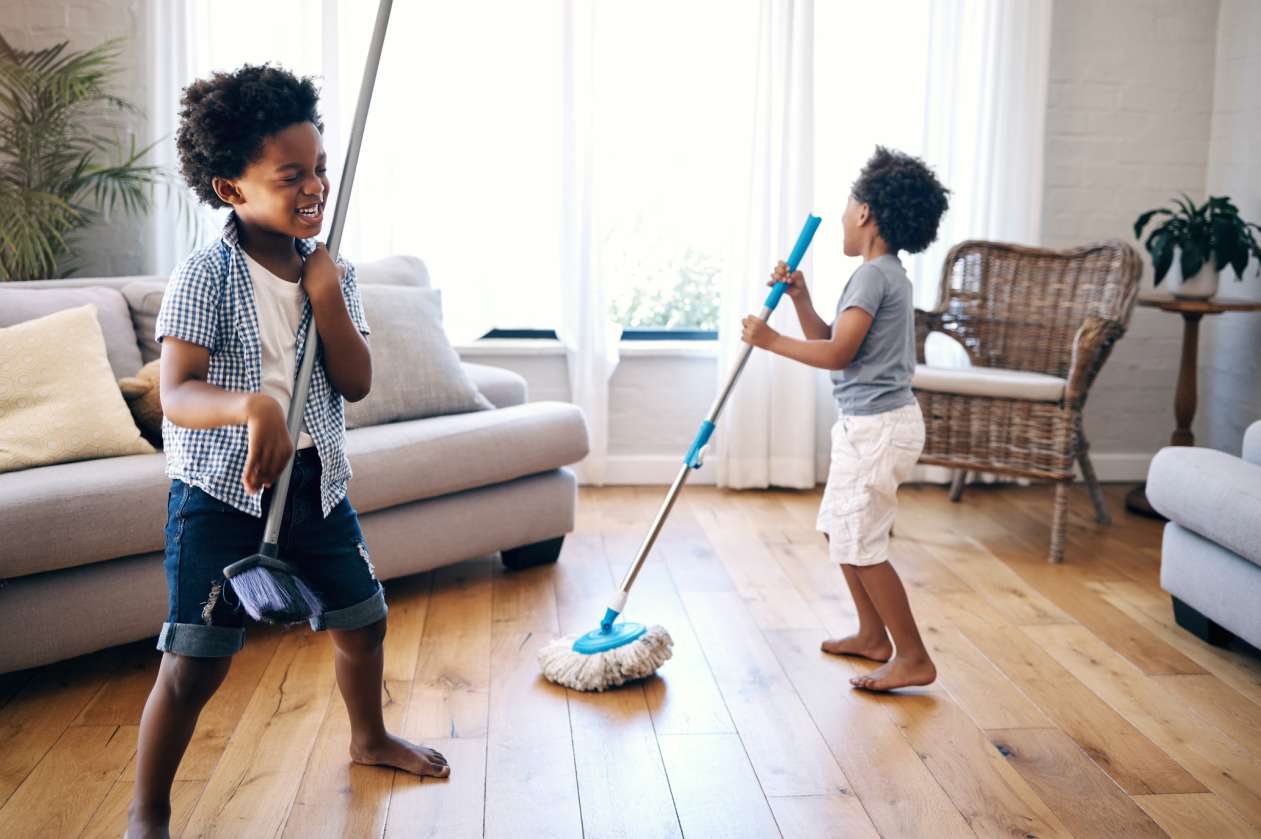 Keeping kids active when you're under the weather
Cough, sniffle, sneeze. 'Tis the season of grossness and our home has not been spared over the last few months. Back to school in the fall seemed to come with a rolled-out welcome mat for every lurking virus. "We haven't seen you in a while, come for a visit!" I envisioned my kids saying as they beckoned the invasion of germs.

While my two kids are blessedly on the mend and back at school, they've left me with the gift of another hacking cold, only about a week since the end of the last one. (Thanks, guys.) I write this huddled on the couch in my comfiest socks and sweater, my computer mouse sitting beside a box of tissues and hot tea. I feel, in a word, UGH.
But while I'm not at my best, the kids are still raring to go. "DO YOU WANT TO MAKE A SNOWMAN!?" my nine-year-old says while peering out the window at the coating of snow that fell during the day.
While I'd usually be all for an after-school session of active play outdoors, just getting out of bed to come downstairs seemed a monumental feat. Luckily, my kids are older now and I'm able to shoo them outdoors together to tackle their snow creation, but there have been times during this parenting journey when I've found myself sick and on my own with two young and active kids. And those have been some of my most challenging times.
What's that oft-repeated parenting phrase? Ah, yes: "The days are long, but the years are short." Well, some days are really, really long.

While the mental well-being and physical health benefits of kids being active are many, meeting the recommended physical activity guidelines isn't always easy when you're all confined to the house and the chief is under the weather. Luckily, you don't need fancy equipment to get moving. Being active can be as simple as doing jumping jacks or yoga in the living room, ninja courses through the hall, or providing children with the opportunity to explore and learn through hands-on tactile play that engages their senses.
So whether you're feverishly sweating under the covers, down and out with morning sickness, or just need "a few minutes peace, please!!" here are some ways to keep kids active on their own through the day.

Now, can someone pass the Kleenex box? Achoo!
Sensory activities
Gel sensory bags are a clean and creative way to play. Fill a large Ziploc bag with hair gel and food colouring, secure with duct tape, and adhere to a window with masking tape. Preschoolers can work on their fine motor skills as they trace letters and numbers and make lovely art! Baby-friendly sensory bags are also a unique way for little ones to explore delightful squishiness without any mess.

Sensory bins are another idea to keep kids playing independently and can be made with items found around the house. Use shredded paper, coloured rice, birdseed, kinetic sand, cloud dough, or dried pasta in a large bin or box. Add in small items like plastic dinosaurs, toilet paper rolls, scoops, and spoons for an invitation to explore.
Balloon fun
Grab a couple of new balloons that have been kicking around since the last birthday party, fill one with dried beans, and put it inside the other. Fill the outside balloon with air to make a great wobbly hand-eye coordination game that can be tossed back and forth. This game can be played while you're holed up on the couch with your child in front of you.
Spa day
I've been the lucky recipient of my son's massage services since he was a toddler, when he would waddle into my room with an armful of stuffed animals. "How about a special massage just for you, from me!" he'd declare, with orders to lie down and enjoy.
When you can barely muster the energy to leave your bed, this imaginative and low-key game will get the kids moving—while you don't have to. Have your little one bring their stuffies from their room one at a time, then massage your legs, arms, and back. For an added twist that always delights my guy, close your eyes and try to guess WHICH stuffy is being used! It sounds so simple, but my-oh-my, this is a great game for kids when Mom or Dad isn't feeling their best.
Dance party
For an at-home dance party, turn on the radio or your favourite music app to some groovin' tunes, or try out one of Active for Life's curated playlists that will have the kids showing off their smooth moves. Online videos with action songs such as "Shake Your Sillies Out" and the "Party Freeze Dance Song" can help encourage children to get active either by following the directions in a song or doing certain movements to act out the lyrics. When the dancing's done, cuddle up for some snuggles which are just about guaranteed to help you feel better.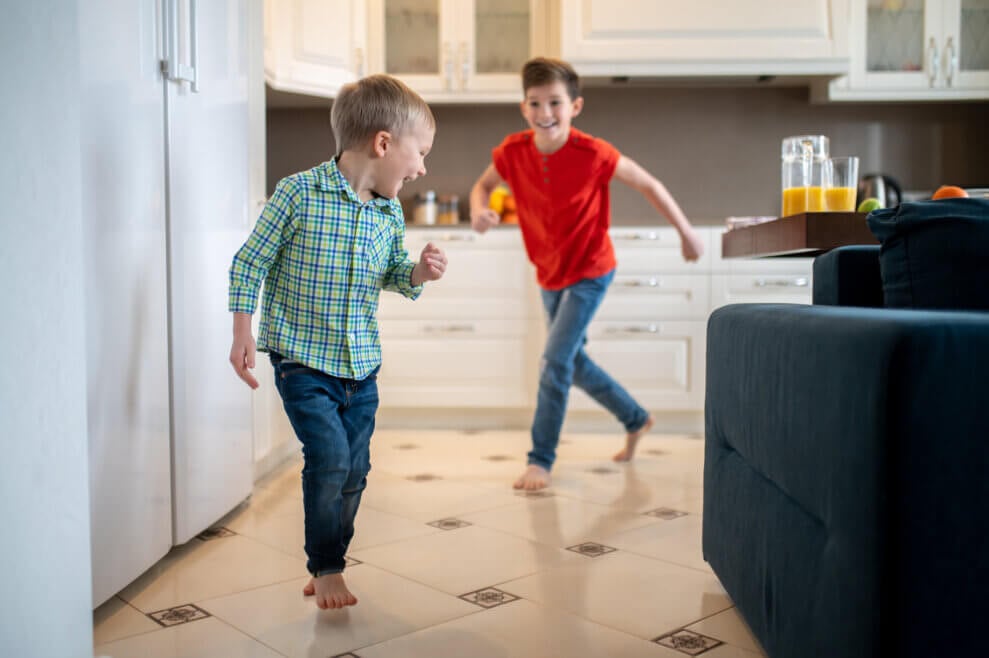 Search and find
When you're still feeling 100% is the time to think ahead and make your own indoor scavenger hunt sheet, or download and print out one of the many that you can find online. Kids will stay active as they search and cross off items such as a picture of a family member, an object with wheels, five things that are blue, or something that starts with the first letter of their name. Before they start, make sure they know that everything needs to be put away where they found it at the end of the game. Older kids who are okay on their own in the yard or at the park can hunt for objects outdoors or observe their natural surroundings with a printable adventure notebook.
Active videos
Kids of all ages can follow along to active videos that will get them moving like a superhero, burning up some energy with new movement challenges, or getting zen with yoga poses and breathing techniques. While you might not have the energy to join in, you can take notes for when you're feeling better.
Obstacle course
Build a ninja course inside the house using what you've got. Couch cushions, chairs, exercise balls, and yoga blocks can all be used as obstacles and keep kids occupied for hours while testing their balance and mobility. Kids can build their own course using coloured paper to mark steps, laundry hampers and socks for a throwing game, masking tape for floor mazes, or add in reciting a favourite poem or song while doing jumping jacks or push ups.

If all else fails, let them help clean the house. Sweeping the floors, wiping tables, and cleaning walls are great ways to get their bodies moving and helping out!
---
Read more about independent play: